Bartók Connections: new guide explores his works
(October 2007)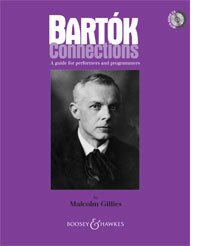 Malcolm Gillies explores themes in Béla Bartók's life and works, drawn from his new
Bartók Connections
guide.
It is impossible to pigeonhole Bartók, although many have tried. His music confidently defies easy 'solutions' to its forms or structures. Beneath a logical and orderly exterior there lies strong and relentless passion. His activity as composer, performer, teacher and ethnomusicologist resulted in a unique blend of features in his music. This is not just a matter of style, but also of ideology, pedagogy and personal intent. Below are ten themes that his music readily suggests. These themes are useful in connecting Bartók's life and his works, but also in connecting Bartók with other composers of his day, and beyond.
In the Beginning

Truly great composers begin a long way from their destinations. It is this startling journey of new inspirations and unexpected turns that distinguishes the genius from the everyday artist. Bartók's schoolboy and Academy exercises in composition are conservatively late-Romantic. Then, from around 1902/3 a more individual and charismatic voice emerges – still utterly Romantic in its vocabulary, but pushing towards something new, whether it be in setting an expressionist poem for male chorus (Evening), penning his first Lisztian-styled work for piano and orchestra (the op.1 Rhapsody), or in the simple arrangement of a Transylvanian folk song, 'Red Apple', that set Bartók on his quest for a clean and clear source for new compositional directions.
Bartók at Home

Vienna had its Second Viennese School of Schoenberg, Berg and Webern. Budapest, too, had its trio of 'greats' in this same generation: Bartók, Kodály and Dohnányi. The three Hungarians began in similar styles, but each then pursued a different course. Dohnányi remained comfortably post-Brahmsian, while Kodály explored more modern but strongly Hungarian directions. Bartók headed right through Hungarianism and modernism to achieve a stylistically blended, classic internationalism. To celebrate the fiftieth anniversary of the union of Buda and Pest in 1923, the Budapest Three were each commissioned to write a work and what a great investment this proved to be. The very titles reflect their different approaches and allegiances: Dohnányi produced his Festival Overture, Kodály his Psalmus Hungaricus and Bartók the trans-national Dance Suite that rapidly became his first big international success with
orchestras.
Bartók and Contemporaries
Bartók's ears were always open, even if he was a little more coy than Stravinsky about borrowing from others. He was a keen supporter of the International Society for Contemporary Music because of the opportunities it offered to review the latest musical trends. In 1926 he heard Stravinsky's new Piano Concerto, and immediately, with its stringless sound in his ears, set to work on his own Piano Concerto No.1. In similar ways, the sound of Szymanowski's war-time violin works broadened the palette of his own violin and orchestral writing in the early 1920s, and the revelation of Debussy's soundworld around 1907 hugely influenced his works for the following five years, including the opera Duke Bluebeard's Castle, the first of the Two Portraits and two of the Four Orchestral Pieces. His Violin Concerto No.2, finished in 1938, provided a very elegant answer to the twelve-tone school, demonstrating in its third movement, that "one can compose tonally, even using twelve tones".
Bartók at War
Sandwiched between Austria-Germany and Russia, Hungarians have, understandably, held a fatalistic attitude to war. For a millennium the Hungarians have been trampled over by marauding hordes from east or west, and sometimes squashed from both sides at the same time. Of course, every now and then they tried a bit of trampling themselves. Bartók's early symphonic poem, Kossuth (1903), depicted Hungarian heroism in the War of Independence of 1848-49 against the Austrians. But General Kossuth's battle is ultimately lost. As expressed in the concluding 'Marcia funèbre', "Hungary lies in deepest woe, in deepest mourning. A hopeless silence reigns." Bartók's music shows complex, less starkly programmed responses to the two world wars. Rather than a fast finale, his String Quartet No.2 (1914-17) ends with slow, grim and muted music – an unrelieved anticlimax to the work. So, too, as the world slid to war in 1939, Bartók rejected his drafted fast finale to the String Quartet No.6, and instead allowed the melancholy of his opening theme to infect and ultimately to consume all brighter, faster and sharper sounds in his final movement.
Bartók on Stage
Bartók's three stage works – an opera, a ballet and a pantomime – all date from the turbulent decade of the 1910s and each was problematic to him. His opera, Duke Bluebeard's Castle, forged a new folk-influenced course for Hungarian opera, but languished for years. The stage work he liked least (The Wooden Prince ballet) gained performance most easily, while the one he loved most (The Miraculous Mandarin pantomime) was never performed in Budapest during his lifetime, although it did achieve 1920s performances in Czechoslovakia and Germany – until Cologne's Mayor Conrad Adenauer shut it down. Its story was too coarse and its music too riotous for it to have an easy birth in Bartók's own time. In a 1932 letter to his publisher he lashed out: "As long as all kinds of rubbish are performed, but such a work as this is not, then all publicity for my orchestral works is just a waste of time." Time has now healed this insult, with The Miraculous Mandarin becoming one of Bartók's more performed works, at least in its orchestral suite version. And its plot is not quite so shocking in an age of ubiquitous on-screen sex and violence.
'Arabic' Bartók
By 1913 Bartók felt his career had stalled. He looked for new inspiration in a trip to North Africa (now Algeria), where he studied the music of the Berbers. He took great care in recording many of their pieces on his phonograph. This 'Arabic' music was so different – to his ears, so deliciously 'primitive' – that it opened up new compositional vistas galore. One of the earliest 'Arabic' examples was the third movement of his Suite for piano, with its urgent rhythms and fragmentary tunes. So, too, when he came to write Forty-four Duos, for young violinists, he included an Arabic tune. Other 'Arabic' moments include two movements of his Dance Suite, passages from his first two piano concertos, and a couple of his Mikrokosmos pieces.
Bartók in Love
Bartók's steely, percussive reputation belies an intensely passionate man. Half a dozen women, including his mother and his two wives, inspired or influenced a huge proportion of his output, as the dedications of his works make clear. But each woman's influence was different, and differently reflected in his music. His confused, high principled love for the violinist Stefi Geyer led to the twisted genius of the 'ideal' portrait of his Violin Concerto No.1, and then the grim 'She is Dead' music of the thirteenth of his Fourteen Bagatelles. His affection for a forester's teenage daughter during the First World War, led to his little-known Five Songs (BB71), with its curious centrepoint, 'Night of Desire'. And his immediate affinity with violinist Jelly d'Arányi led rapidly in the early 1920s to two violin sonatas, in Bartók's most extreme style. Violin Sonata No.1 drew early critical comment that the two instruments, like a man and a woman, seemed to be playing in the same time space but on entirely different planes. The opening of the First Sonata's second movement dispenses with the piano-man entirely, allowing the violin-woman to speak without interruption – a precursor of Bartók's complete essay for solo violin twenty years later.
Vocal Bartók
The voice was the essential folk instrument, so it is not surprising that Bartók wrote hundreds of pieces for solo voices or choirs and transcribed many thousands more. For programmers today the challenge is not just that the originals are in East European languages little known by singers and choirs, but also that translations into English or German can conflict fundamentally with the stress of those languages, and hence with the inflections of the music. There is no solution, as Kodály early realized, other than to transcend the inherent linguistic barrier, and embrace this beautiful music on its own terms. Bartók's music for voices is not just from his earlier years. In his later career he wrote for all manner of choirs. His Village Scenes, with its boisterous 'Lads' Dance', exists in a finely rendered arrangement for female voices and chamber orchestra. The Twentyseven Choruses are for children's and women's choirs, including the snappy song 'Loafer', while in the same year his From Olden Times, for unaccompanied male chorus, explores the world of the peasant, both its unhappy and its happy sides. The culminating work of Bartók's writing for voices has to be the Cantata Profana: The Nine Enchanted Stags, to a Romanian text that Bartók himself fashioned into Hungarian. Its interplay between soloists, choir and orchestra is nowhere better expressed than in the cantata's finale, which in a few lines sums up just about everything central to Bartók the artist:
Once there was an old man whose treasure was nine fair sons, fair and sturdy.
Naught of work he taught them, nay, neither trade nor farming,
But only to wander, hunting, nine huntsmen, a-hunting,
And farther, farther, on and on they wandered.
All were changed to stags, then, there in the forest shadows.
And so their antlers cannot pass through doorways, only roam the forest meadows and groves;
Their dainty legs can never stand the hearthstone, only tread the leafy mold;
Their slender bodies never can be clothed, but only wear the wind and sun;
Now their mouths no longer drink from crystal glasses, only cooling mountain springs;
From clear and cooling mountain springs.
Jazzy Bartók
The 'King of Swing', Benny Goodman, and Bartók are curious musical bedfellows. Yet in 1940 they came together in New York to perform and record Contrasts, which Goodman had commissioned from Bartók. The composer had diligently studied recordings of Goodman's trio, and came up with a work truly of 'contrasts', a kind of deliciously filtered Hungarian jazz. Many other jazzy turns are found in Bartók's Mikrokosmos pieces. He himself pointed out the Gershwin influence in No.151, but the influence is more than passing. Jazz pianist Andrea Keller observed that Bartók's Mikrokosmos pieces appear as if "arranged for jazz ensemble". With her ensemble, she creatively interpreted sixteen of them on the CD, Mikrokosmos, of 2003. And a recent review of Chick Corea's Trio Music could only comment that "the effect is often more like Bartók than anything else".
At the End
Was Bartók in some way corrupted by America, turning from his true, uncompromising self into something more 'accessible', more marketable? Certainly, works like Concerto for Orchestra (1943) and Piano Concerto No.3 (1945) have a glossier surface than many of their predecessors. They started with popularity, and have remained among his most performed works ever since. But, actually, Bartók had been returning to a more measured and tonal style for two decades, so his American works are just one further stage of development from the last European works, such as the Violin Concerto No.2 or his Divertimento. Personally, Bartók did not fit well into war-time America, but his compositions written there certainly suited the emerging tastes of post-War America. Drawing the full circle between Bartók's early and later years, in 1941 he also came up with an imaginative arrangement for two pianos of an early work that he much liked, the orchestral Suite No.2 (1905-7). And, for pure craft, nothing surpasses his Sonata for Solo Violin, written to Yehudi Menuhin's order in 1944. Its taxing fourpart Fuga pushes even the most ambidextrous violinist to the limit. At the end, Bartók's Viola Concerto remained unfinished but was sufficiently sketched out for it to be completed by Tibor Serly, and then later revised under Peter Bartók's supervision. It is now an essential work for all serious players of the viola.
© Malcolm Gillies, 2007
Visit the
Bartók Connections
website at
www.boosey.com/bartokconnections
> News Search