Glossary of musical terms
Although a good working knowledge of musical terms is indispensable to musician and music lover alike, how many could, hand on heart, say they really knew them all? Here are some familiar terms and some more exotic ones too. Some of them are obvious but irresistible ('tepidamente', 'hardi'), some wonderfully sonorous ('schmetternd', bisbigliando'), and a number will doubtless provoke the rather guilty reaction of "Oh, so that's what it means!"
It is, unfortunately, impractical to include some of the most interesting musical instructions because they are hardly in general use: Satie urging the pianist to play 'like a nightingale with toothache'; Messiaen asking for a sound 'like someone sharpening a scythe'. Moreover, a list of words in languages other than English necessarily omits such evocative instructions as Percy Grainger's 'clatteringly' and 'slow off lots'.
Many French terms have been omitted because for an English reader their meaning is obvious ('furieux', 'nerveux') or because they are exactly the same in English ('vague', 'nonchalant'). The enormous canon of terms found in German romantic music can only be touched upon, but it is a start.
Of course, knowing the words is just the beginning. The performer has to realise, for instance, that 'allegro' is a style as much as a speed, and that a Brahms 'grazioso' is nothing like a Mozart one. How often, though, has a performer wasted hours of practice time trying to get to the heart of the piece, only to find that, with just one word, which was there all the time, the music suddenly leaps into life? Ignore these words at your peril. They unlock the secrets of the score.
accusé – marked, emphasised
aigu – sharp, acute
allongé – extended, held
animé – lively, animated
apaiser – become calmer
appuyé – accented
arpégé – arpeggiated, spread

jaillissant – surging exuberantly
jouissance (avec) – joyously

laissez vibrer – allow to resonate, do not damp
léger – light
large – broad, expansive
lent – slow
lié – smooth, legato
lourd – heavy
lugubre – gloomy, lugubrious

main droite (M.D.) – right hand
main gauche (M.G.) – left hand
majestueux – majestically
martelé – hammered
mat – dully

nuancé – with light and shade

orageux – stormy

pincé – plucked
pressez – move on, accelerate
plaqué – not arpeggiated
puissant – powerfully

soupirant – sighing
sourd – muffled, muted
soutenu – sustained
suivez – follow

trainer – dragging
tranchant – cutting, incisive
trébuchant – stumbling

urgence (avec) – urgently

vide – without effect
voilé – veiled
volant – swift, flying


compiled by Neil Sissons
Neil Sissons is a pianist and composer. He has worked extensively as a repetiteur and accompanist, and has taught at the Guildhall School of Music & Drama and other colleges.
Mailing List
Sign up for news updates and offers via email
SIGN UP
Further Reading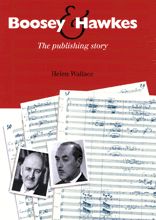 Boosey & Hawkes:
The publishing story
by Helen Wallace

A lively and detailed history from the 1930 merger to the present day.
Published 2007 (paperback) 244 pages, 150 illustrations

"A ripping yarn of a novel, if not a grand opera... Wallace's racy digest shows us how backroom businessmen continue to shape musical history."
Financial Times

"...a surprisingly gripping narrative. For those who wonder what really goes on in music publishing, it offers a fascinating read."
BBC Music Magazine
SHOP