Glossary of musical terms
Although a good working knowledge of musical terms is indispensable to musician and music lover alike, how many could, hand on heart, say they really knew them all? Here are some familiar terms and some more exotic ones too. Some of them are obvious but irresistible ('tepidamente', 'hardi'), some wonderfully sonorous ('schmetternd', bisbigliando'), and a number will doubtless provoke the rather guilty reaction of "Oh, so that's what it means!"
It is, unfortunately, impractical to include some of the most interesting musical instructions because they are hardly in general use: Satie urging the pianist to play 'like a nightingale with toothache'; Messiaen asking for a sound 'like someone sharpening a scythe'. Moreover, a list of words in languages other than English necessarily omits such evocative instructions as Percy Grainger's 'clatteringly' and 'slow off lots'.
Many French terms have been omitted because for an English reader their meaning is obvious ('furieux', 'nerveux') or because they are exactly the same in English ('vague', 'nonchalant'). The enormous canon of terms found in German romantic music can only be touched upon, but it is a start.
Of course, knowing the words is just the beginning. The performer has to realise, for instance, that 'allegro' is a style as much as a speed, and that a Brahms 'grazioso' is nothing like a Mozart one. How often, though, has a performer wasted hours of practice time trying to get to the heart of the piece, only to find that, with just one word, which was there all the time, the music suddenly leaps into life? Ignore these words at your peril. They unlock the secrets of the score.
abgestossen – staccato
ähnlich – similar, like
allmählich – gradually
andächtig – with emotion
angenehm – pleasant
anschwellend – becoming louder
aufgeregt – excited
äusserst – extremely

beklemmt – anxious, oppressed

drängend – moving on, accelerating
durchdringend – piercing, shrill

einfach – simple
eilend – hurrying
entfernt – in the distance
ergriffen – moved, stirred
erhaben – sublime, noble
erlöschend – dying away
etwas – somewhat

feierlich – solemn
Ferne (in die) – in the distance
fliessend – fluent, flowing
flüsternd – whispering
frei – freely
fröhlich – joyous

gedehnt – prolonged, slow
gefällig – pleasing, pleasant
gefühlvoll – with much feeling
gehalten – sustained, held
gehaucht – whispered
geheimnisvoll – mysterious
gemächlich – moderately slow
gemessen – measured
getragen – sustained, solemn
glänzend – brilliant, bright
gleichmässig – even, equal

heftig – violent, impetuous
heiter – cheerful, serene

hervortretend – emphasized, marked
herzlich – heartfelt, affectionate
hurtig – quick, agile

innig – heartfelt, fervent

klänglich – sonorous

leidenschaftlich – impassioned
lustig – merry, joyous

mässig – moderately
möglich (wie) – as possible
munter – merry, lively

rasch – quick, lively

schleppen – dragging
schmetternd – blaring, blaring
schrittmässig – measured, andante
schwach – weak, soft
schwer – heavy, ponderous
sehnsucht – longing
spasshaft – jocose
steigern – increase, intensify

träumerisch – dreamily
traurig – sad
treibend – driving, hurrying

ungeduldig – impatient
ungestüm – turbulent, violent
ungezwungen – free, unbridled
unheimlich – uneasy, sinister
unmerklich – imperceptibly
unruhig – restless

verhallend – fading away
verlöschend – dying away

weich – soft, delicate
wuchtig – weighty, vigorous
würdig – dignified, stately
wutend – raging, furious



compiled by Neil Sissons
Neil Sissons is a pianist and composer. He has worked extensively as a repetiteur and accompanist, and has taught at the Guildhall School of Music & Drama and other colleges.
Mailing List
Sign up for news updates and offers via email
SIGN UP
Further Reading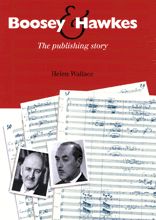 Boosey & Hawkes:
The publishing story
by Helen Wallace

A lively and detailed history from the 1930 merger to the present day.
Published 2007 (paperback) 244 pages, 150 illustrations

"A ripping yarn of a novel, if not a grand opera... Wallace's racy digest shows us how backroom businessmen continue to shape musical history."
Financial Times

"...a surprisingly gripping narrative. For those who wonder what really goes on in music publishing, it offers a fascinating read."
BBC Music Magazine
SHOP