Adams, John
:
Doctor Atomic
(2004-05)
173'
opera in 2 acts
Music Text
Deutsch
Libretto by Peter Sellars drawn from original sources
Scoring
soloists: M, A, 2T, 2Bar, BBar, B; chorus
3(II, III=picc).3(III=corA).3(II=Ebcl, III=bcl,dbcl).3(III=dbn)-4.3(III=picc.tpt).3.1-harp-cel-timp-perc(4):I=thunder sheet/glsp/tgl/tuned gong/crot/susp.cym/med tam-t/BD/2roto toms/chinese cym/SD/tuned gongs;II=chimes/lg.tam-t/susp.chinese cym/crot/BD/tgl;III=tuned gongs/lo gong/susp.cym/thunder sheet/med tam-tlg tam-t/hi susp.cym/xyl/crot/chimes/low susp.cym/antique cym/hi tgl/med tam-t/sm tam-t/med gong/alarm bell/BD;IV=lg chinese cym/susp.cym/tam-t/tuned gongs/BD/2 high tgls/bass chime-computer-controlled sound system-strings

NOTE: The hiring of a sound designer is a condition/requirement for permission.

For complete technical specifications go to: mhgrey.wordpress.com
Abbreviations (PDF)
Territory
This work is available from Boosey & Hawkes for the world.


For full details on this stagework, including synopsis and roles, please visit our Opera section.
World Premiere
01/10/2005
San Francisco Opera House, San Francisco, CA
Gerald Finley, bar / Kristine Jepson, mezz / Peter Sellars, dir / San Francisco Opera / Donald Runnicles

Press Quotes
Deutsch
"Doctor Atomic is a magnificent accomplishment that easily takes its place alongside the other Adams-Sellars triumphs — Nixon in China, The Death of Klinghoffer and El Niño — and in important respects goes beyond them. It contains music of unearthly splendour and gorgeous lushness, and its rich expressivity will take many hearings to absorb."
Los Angeles Times

"Since Britten's death some 30 years ago, the American composer John Adams has emerged as the most powerful voice in the creation of opera… Doctor Atomic is a moving and compelling work of moral, as well as musical, grandeur… one is left with a sense of the terrible magnificence of atomic fission as well as its unimaginable destructiveness."
Daily Telegraph
Recommended Recording
Gerald Finley / Jessica Rivera / Eric Owens / Peter Sellars (dir)
Chorus of De Nederlandse Opera
Netherlands Philharmonic Orchestra / Lawrence Renes
Opus Arte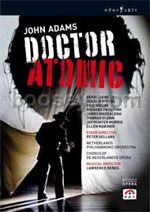 Email Newsletters
Sign up for news updates and offers via email
SIGN UP
ONLINE SCORES