Adams, John
:
A Flowering Tree
(2006) 113'
Opera in 2 acts
Music Text
Deutsch
Libretto adapted by John Adams and Peter Sellars from a South Indian folktale and poems translated by A.K.Ramanujan (E-S)
Scoring
Soloists: lyric sop.T.bar. Chorus: SATB (minimum 40)
Orchestra: 2(II=picc).picc.soprano recorder*.alto recorder*.2(II=corA).3(III=bcl).2(II=dbn)-4.2.3.0-timp.perc(4):I= glsp/wdbl/claves/pedal BD/SD/2susp.cyms/2tuned bongos (or roto toms)/tom-t/shaker/3 tpl.blks/cowbell/bongo/maracas/BD/2 Japanese Bowl gong/Chinese cym/2tgls/slapstick;II= chimes/tgl/tamb/wdbl/susp.cym/rainmaker (med.)/BD/cast/bongo/SD; III=maracas/tamb/rainmaker (low)/high tgl/low tubular wind chimes; IV=shaker/rainmaker (low)-harp-cel-strings(min: 12.10.8.6.5)
*OPTIONAL: recorder players play some very simple percussion (rain sticks, etc.), or they can play only recorder
NOTE: The hiring of a sound designer is a condition/requirement for permission.
For complete technical specifications go to:
mhgrey.wordpress.com
.
Abbreviations
(PDF).
Territory
This work is available from Boosey & Hawkes for the world.

For full details on this stagework, including synopsis and roles, please visit our
Opera
section.
World Premiere
14/11/2006
Halle E im MuseumsQuartier, Wien
Peter Sellars, director / Jessica Rivera, soprano / Russell Thomas, tenor / Eric Owens, baritone / Orquesta Sinfónica Juvenil Simón Bolívar / Schola Cantorum de Caracas / John Adams
Press Quotes
Deutsch
"The score is opulent, dreamlike, fiercely lyrical, at times shadowy and strange – unlike anything that the fifty-nine-year-old composer has written…"
The New Yorker
"…some of the most ravishingly beautiful passages of music that Adams has yet composed… [He] continues to develop and surprise — something of a late-flowering tree himself."
Daily Telegraph


"...a radiant sunburst of orchestral beauty. This score abounds in ravishing music, some of the most purely gorgeous music of recent years. ...Adams has grown into possibly our finest living composer. He never utilizes anything other than an utterly appropriate compositional element, a hallmark of this score's beauty and poise."
Audiophile Audition
"...this is Adams' most sensuous, spacious and evocative score, with delicate and colorful instrumentation evoking 'world music,' primitive rhythms echoing Stravinsky and mystical chanting for the chorus."
-- Janelle Gelfand,
Cincinnati Enquirer
Recommended Recording
Jessica Rivera, sop / Russel Thomas, ten / Eric Owens, bass-bar
London Symphony Orchestra / Schola Cantorum de Venezuela / John Adams
Nonesuch 327100-2
Click here to purchase this 2 CD set from Amazon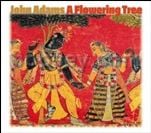 News stories for this title :
John Adams Artist-in-Residence at Mostly Mozart Festival
Adams: Doctor Atomic at the Met Opera and on DVD
Mailing List
Sign up for news updates and offers via email
SIGN UP
ONLINE SCORES