Panufnik, Andrzej
:
Piano Concerto
(1962, rev.1970/72) 23'
for piano and orchestra
Scoring
3(III=picc).2.corA.2.bcl.2.dbn-4.3.3.1-perc(2):xyl/cym(sm)/tam-t/tgl/BD/SD/TD-strings.
Abbreviations
(PDF).
Territory
This work is available from Boosey & Hawkes for the world.
Composer's Notes
My purpose in writing my
Piano Concerto
was to compose a virtuoso work for the pianist which would give him the chance to demonstrate his capacity for poetic expression as well as his technical skill and bravura. I wanted also to exploit and explore the sonoric range of the piano, through from sustained, singing notes to very dry, percussive sounds. In addition, I wanted to make the orchestra's participation one of real significance, with a powerful role to play, meanwhile of course never permitting it to overwhelm the piano part, relying rather on contrasts of textures of sound.
The
Concerto
has two movements: Molto tranquillo (very slow) and Molto agitato (very fast) - each of which impose upon the performer and listener a definite climate and character.
The first movement is an extremely quiet, contemplative dialogue between soloist and orchestra (while within the orchestra there is a further dialogue between the wind instruments and the strings). I made constant use of the palindromic form creating a kind of lyrical geometry in order to emphasise meditative and reflective feelings. As regards the musical material, I imposed upon myself a strict discipline, this movement being based on the intervals of one minor and one major second as a 'basic sound' within the framework of the mirror construction. To take examples, at the very beginning of the movement, the melodic line is developed in gradual stages. By the end of the movement it has reached fluency: 2 bars plus 2 bars reversed, ending with 3 bars plus these bars reversed and augmented to 5.
The second movement follows attacca, with a violent outburst from the orchestra. This movement again is based on only two intervals: this time a major third and minor third. By the persistent repetition of these intervals, I wanted to create an urgent sense of agitation, even turbulence. However, the middle section of this movement is in contrast quite lyrical in character and based on the material of the first movement (minor and major seconds), in order to achieve some unity and firm binding together of these two deeply contrasted blocks:
Molto tranquillo and Molto agitato.

Andrzej Panufnik


Reproduction Rights

This programme note can be reproduced free of charge in concert programmes with a credit to the composer
Recommended Recording
Ewa Poblocka / London Symphony Orchestra / Andrzej Panufnik
BMG Catalyst 8287664280 2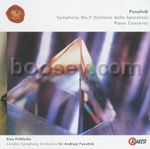 Mailing List
Sign up for news updates and offers via email
SIGN UP
ONLINE SCORES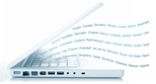 Explore our new library of over 800 online scores
VIEW SCORES