Clyne, Anna
:
See(k)
(2011) 26'
for orchestra
Scoring
picc.2.2.corA.2.bcl.2-4.3.2.btrbn.1-timp-perc(3):crot/SD;BD/tam-t;vib/susp.cym(L)-harp-pft-strings(34).
Abbreviations
(PDF).
Territory
This work is available from Boosey & Hawkes for the world.
World Premiere
5/24/2012
Brown Theater, Houston, TX
Nicolo Fonte, choreographer / Houston Ballet / Ermanno Florio
Composer's Notes
See(k)
was inspired by an artistic dialogue between myself and choreographer Nicolo Fonte. Before a note of music was written, we discussed various themes and directions for the ballet—using terms that embrace both music and dance alike. Our discussions, which were wide-ranging, avoided concepts of place or time, and allowed for an overall freedom and flexibility. It was from these dialogues, that I composed the score.
In our first conversation, we spoke of many forms of juxtapositions—"beautiful and ominous…dark with shards of light". Nicolo spoke of "'rhythmic power and momentum…events from nature…divided spaces…hidden places…blooming out of the folds, pleats…hidden behind a lens, looking watching…permanently becoming". However it was one comment that particularly caught my ear—"there should be pauses—short and pregnant". This reminded me of Balanchine, who in a 1964 interview, stated that "silence, also, is a beat to be danced, just as all divided time in music". Nicolo also offered another useful perspective regarding time within musical structures. "When you might be inclined to let a musical idea have a duration of 2 minutes, make it 3. Dance needs more time to let an idea fully develop."
From here, I began to create a structure to frame the ballet, and I started composing. The process of writing the score was very fluid and organic. As I completed sections, I sent audio files to Nicolo. Something interesting about this particular collaboration is that it enabled me to view my process from a different perspective. For example, having completed the first two sections, the first being fast, the second very slow, Nicolo and I spoke on the phone. I expressed that after this slow section, I imagined it gaining momentum and running wildly fast. He, in complete contrast, imagined it spilling into to a vast open space. I wasn't sure, but I gave it a go, and he was absolutely right! This is a great example as to how a good and trusting collaboration can push artists to veer from their natural tendencies and to find new and fresh directions.
— Anna Clyne
Reproduction Rights:

This program note may be reproduced free of charge in concert programs with a credit to the composer.
Press Quotes
"captivating…"
—
Houston Press
Mailing List
Sign up for news updates and offers via email
SIGN UP
ONLINE SCORES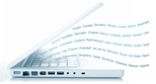 Explore our new library of over 800 online scores
VIEW SCORES