Britten, Benjamin
:
The Turn of the Screw
op. 54
(1954)
101'
Opera in a prologue and two acts
Music Text
Libretto by Myfanwy Piper, after a story by Henry James (E,F,Fn,G,I)
Scoring
Tr,3S,S(orM),2T 1(=picc,afl).1(=corA).1(=bcl).1-1.0.0.0-perc(1):4timp/BD/SD/TD/tom-t/ gong/cyms/tgl/wdbl/glsp/t.bells-harp-pft(=cel)-strings(1.1.1.1.1)
Abbreviations (PDF)
Territory
This work is available from Boosey & Hawkes for the world.


For full details on this stagework, including synopsis and roles, please visit our Opera section.
World Premiere
14/09/1954
Teatro La Fenice, Venice
Basil Coleman, director / English Opera Group / Benjamin Britten

Repertoire Note
Regarded by many as the finest of all his stage-works, The Turn of the Screw, Britten's final chamber opera, was written in the incredibly short period of just four months in 1954. The work is based on the novel of the same name by Henry James which Britten had known for many years: a tale of good versus evil, natural versus the supernatural, possession and exorcism, set within the domestic proprieties of the Essex country house of Bly - ingredients which would have had an obvious appeal for the composer. Above all, Britten's favourite theme of the corruption of innocence must have attracted him more than any other.
The story also lends itself to Britten's gifts for apt and distinctive musical characterisation, the relatively 'pure' and uncomplicated music for the opera's mortals contrasting strongly with the alluring, other-worldly music associated with the ghosts.

The work is one of the most tautly constructed and tightly-knit of all Britten's operas, the musical material almost wholly derived from the twelve-note 'Screw' theme heard near the work's opening. However, this very concentration helps give this work its overwhelming feeling of intense claustrophobia and its astonishing dramatic power can have a shattering impact in the theatre.

Reproduced by kind permission of the Britten-Pears Library
Recommended Recording
Peter Pears/Jennifer Vyvyan/Arda Mandikian/David Hemmings/Oliver Dyer/Joan Cross/English Opera Group Orchestra/Benjamin Britten
Decca 425 6722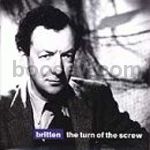 News stories for this title:
Email Newsletters
Sign up for news updates and offers via email
SIGN UP
ONLINE SCORES