Dean, Brett
:
Amphitheatre
(2000) 11'
Scene for orchestra
Scoring
2(II=picc).afl(=picc).2.heckelphone(or corA ad lib).1.bcl.dbcl.3.dbn-4.4.3.1-timp.perc(3):I=3roto-toms/crot/TD/SD/t.bells/marimba/xyl/cyms; II=7tuned gongs/2tam-t(med,lg)/chin.cym/4susp.cym/SD; III=4tom-t/lg BD/2susp.cym/chin.cym/SD/vib/steel drums-harp-strings.
Abbreviations
(PDF).
Territory
This work is available from Boosey & Hawkes for the world.
World Premiere
16/06/2000
Concert Hall, Brisbane
Queensland Symphony Orchestra / Daniel Harding
Composer's Notes
Deutsch
Amphitheatre
, commissioned by Symphony Australia for Daniel Harding's first Australian tour, is a dramatic scene for large orchestra. It is in one (essentially slow) movement, and takes it's title from the opening of German author Michael Ende's mesmerizing children's book Momo, in which he describes the ruins of an ancient Roman amphitheatre situated on the outskirts of a big, modern city. Amphitheatres came in all shapes and sizes; magnificent ones in major cities were fitted out with lavish golden carpets and sun-shades, massive columns and statues. Simple theatres in smaller towns made do with straw roofing and modest decorations. They were a reflection of the people and communities that built them, the main thing was that everyone had somewhere to gather in order to experience theatre, to satisfy their hunger for stories and spectacles, to be part of their culture.
The other unifying factor amongst most of these round or oval structures, whether large or small, was that they were made of massive blocks of stone. The initial musical idea in this orchestral amphitheatre, an oscillating chord change first heard in the brass, becomes the stone blocks upon which this piece's structure is built. Through a change of colours, from the low brass, to winds, strings and then back to brass we take in different perspectives of the same object, as if taking a walk around it's circumference.
The other motivic group that takes on more significance as the piece progresses consists of distant, heralding trumpet fanfares, reminiscences of past glories that took place in the old stone walls, momentarily replacing the stillness of time frozen. Like the tiered seating of these ancient arenas, radiating outwards from centre stage, the layers of sound and textures unfold and expand. In this process, the fanfares become increasingly larger than life and eventually almost grotesque in their directness.
However as quickly as these phantasies have errupted, so too do they dissipate, becoming once again little more than distant echoes of a bygone age. As Ende describes it, the day-dreaming tourist returns to his senses, takes a photo and departs from the scene. "Then stillness is reinstated to the stony roundness."
Brett Dean 2000

Reproduction Rights

This programme note can be reproduced free of charge in concert programmes with a credit to the composer
Press Quotes
"It is a beautifully conceived work that, despite its brevity, generates an expansive timelessness that conjures up the imposing landscapes of Sibelius. Dean's deft handling of a large orchestra is immediately appealing, yet the work has layers of structural and expressive complexity that beckon further hearing."
(Bronwen Arthur, The Australian, 19 Jun 2000)


"
Amphitheatre
encompasses clarity and succinctness in its brief musical message... It was a lesson in substance."
(Jeremy Vincent, The Australian, 11 May 2001)
Recommended Recording
Melbourne Symphony Orchestra / Markus Stenz
ABC 476 160-6
Click here to purchase this CD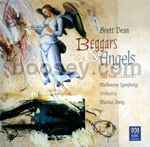 News stories for this title :
Brett Dean: From Australia to the American West
Chapela, Dean, MacMillan, Turnage at Cabrillo and Santa Fe
Mailing List
Sign up for news updates and offers via email
SIGN UP
ONLINE SCORES