Dean, Brett
:
Bliss
(2004/06-07/09) 150'
Opera in three acts
Music Text
English
Libretto von Amanda Holden nach dem Roman von Peter Carey (1981) (engl.)
Scoring
Major roles: 3S,M,3T,2Bar,BBar; minor roles: 2S,T,Bar; dancers; chorus (up to 48 voices); 3(I,III=picc,II=afl).2(II=corA,whirly tube).3(II=bcl,III=bcl,dbcl).3(III=dbn)-4.2.2ttbn.btbn.1-timp(=sm tgl,lg cym).perc(3):I=vib/tam-t/crot(2octaves)/tamb/7cowbell/3tuned gong/sizzle.cym/Chin.cym/lion's roar/seed rattle; II=dr kit(SD/pedal BD/hi-hat/4tom-t/3bongo/susp.cym/sizzle.cym)/4wdbl/glsp/1tuned gong/whip/tam-t(sm)/whirly tube; III=marimba/BD/2tgl(lg,sm)/ratchet/rainmaker/2tuned gong/t.bells/glsp/vibraslap/bell tree/police whistle/duck call-harp-pft(=cel)-elec.git-MIDI kbd-strings(min.12.10.8.6.4, last desk players of vln1&2 also to play whirly tubes; On-stage: cl, vln, git, upright piano; elec.vln.
Abbreviations
(PDF).
Territory
This work is available from Boosey & Hawkes der ganzen Welt.

For full details on this stagework, including synopsis and roles, please visit our
Opera
section.
World Premiere
12/03/2010
Opera House, Sydney
Neil Armfield, director / Opera Australia Chorus / Australian Opera and Ballet Orchestra / Elgar Howarth
Press Quotes
English
"Die erste stehende Ovation war für Peter Coleman-Wrights warme, ironisch und schön gesungene Darbietung der Hauptrolle, des Werbemoguls Harry Joy, der, nachdem er das Ausmaß der Dysfunktionalität seines Lebens erkennt, in eine moderne Version von Dantes Hölle absteigt. Die zweite stehende Ovation galt Brett Dean und seiner Librettistin Amanda Holden ...
Bliss
ist ein bedeutendes Werk und angesichts des Umfangs an Handlungsdetails, die Holden in die Geschichte einarbeitet, ungewöhnlich für eine Oper. Getragen von Deans wunderbarer Partitur, fesselt einen das Werk bis zum Schluß. Zu den erwiesenen Fähigkeiten Deans als Orchesterkomponist kommt hier ein bis dato ungeahntes Gespür für die menschliche Stimme hinzu. Die gesungenen Linien treiben das musikalische und dramatische Tempo voran, unterstrichen von schön ausgestalteten Instrumentalsätzen. Diese wurden mit einem immanenten Gefühl für die Ausdruckskraft der instrumentalen Timbres ausgearbeitet und vom Kontrapunkt und von feiner motivischer Ausführung 'überwacht'. Dirigent Elgar Howarth setzte dies mit Präzision und Einfühlungsvermögen um."
(Peter McCallum, Sydney Morning Herald, 15.03.2010)


"Am Schluß der Uraufführung, nach einer langen und facettenreichen Vorstellung, in der sich doch alles wie aus einem Guß zeigte, war es ermutigend festzustellen, daß es – jawohl! – hier eine australische Oper gibt, die so sicher in ihrer Form und ihrem Zweck ist, dass sie, richtig gehegt und gepflegt, über Jahre hinweg in allen kulturellen Klimata gedeihen müßte. Das bedeutet nicht, dass sie unbedingt ein Werk wäre, das 'einfach' zu verstehen ist. Im Gegenteil fordern die technischen und harmonischen Komplexitäten von Brett Deans Partitur, die ihr verbales Gegenstück in Amanda Holdens meisterhafter Verarbeitung von Peter Careys Roman finden, viel von den Hörern ... Careys Geschichte von Harry, dem Werbemanager, der neun Minuten lang tot ist und dann ins Leben zurückkehrt, nur um dahinterzukommen, daß seine familiäre und berufliche Existenz eine Hölle auf Erden ist, mag vor dreißig Jahren geschrieben worden sein, aber ihre Botschaft von den Gefahren des uns allen innewohnenden Materialismus hallt immer noch wider. Das Schöne an Neil Armfields konzentrierter, fließender Inszenierung ist, wie mühelos und dennoch bedeutungsvoll sie uns vorwärts in Harrys persönliches Inferno treibt ... ... Deans Partitur pulsiert vor Kraft und quillt über von Fantasie und Klarheit."
(Michael Shmith, The Age, 15.03.2010)


"Vereintes australisches Künstlertalent hat eine fesselnde Oper geschaffen.
Bliss
wurde mit selten bei einer Premiere anzutreffender Sicherheit und Selbstvertrauen aufgeführt. ... Bluesartig gedämpfter Trompetensound und jazzartige Trommelschläge begrüßen den ersten Auftritt des Callgirls Honey Barbara. Verstörendes Tutti-Gekreisch untermalt dramatische Momente. Aber Dean verwendet sein Orchestrierungstalent für höhere Zwecke. Schattierungen von Hell und Dunkel zeigen die Gefühle der Protagonisten ... Mit einer farbigen LED-Kulisse von Lichtdesigner Nigel Levings wurde
Brian Thomsons minimalistisches Bühnenbild in eine Serie von prächtigen Schauplätzen verwandelt – sowohl konkret wie symbolisch aufzufassen, ebenso fantasie- wie wirkungsvoll. Die Szenen waren erkennbar realistisch, aber auch leicht surreal, genau wie in Careys Roman. Die Rolle des Harry Joy wurde eigens für den Bariton Peter Coleman-Wright geschrieben. Es war ein weiterer Triumph für diesen außerordentlichen Künstler. Sicher und geschmeidig beherrschte er die ganze Bandbreite seiner Stimmlage und sang mit gepflegter klanglicher Wärme und unglaublicher Kraft ...
Bliss
ist in jeder Hinsicht ein Erfolg, und die Aussichten für diese Oper sind vielversprechend."
(Murray Black, The Australian, 15.03.2010)
Recommended Recording
Peter Coleman-Wright / Merlyn Quaife / Lorina Gore / Barry Ryan / David Corcoran / Taryn Fiebig / Kanen Breen / Shane Lowrencev / Henry Choo / Milijana Nikolic
Opera Australia Chorus / Australian Opera and Ballet Orchestra / Elgar Howarth
Opera Australia CD 00289 481 1820 5
Buy this CD from the ABC Shop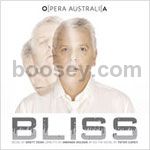 Mailing List
Sign up for news updates and offers via email
SIGN UP
ONLINE SCORES