Dean, Brett
:
Epitaphs
(2010) 20'
for two violins, two violas and cello
Territory
This work is available from Boosey & Hawkes for the world.
World Premiere
12/07/2010
Pitville Pump Room, Cheltenham
Brett Dean, viola / Australian String Quartet
Composer's Notes
Deutsch
"Co-commissioned by the Australian String Quartet, La Jolla Music Society and Santa Fe Chamber Music Festival"

I Only I will know
...in memory of Dorothy Porter

(Gently flowing, with intimate intensity)
II Walk a little way with me
...in memory of Lyndal Holt

(Moderato scorrevole)
III Der Philosoph
...in memory of Jan Diesselhorst

(Slow and spacious, misterioso)
IV György meets the "Girl Photographer"
...in memory of Betty Freeman; hommage à György Ligeti

(Fresh, energetic)
V Between the spaces in the sky
...in memory of Richard Hickox

(Hushed and fragile)
Epitaphs
was jointly commissioned by three parties, and premiered at the 2010 Cheltenham Festival in the UK. I saw in this commission the chance to explore the extended sonorities and textural possibilities of the "string-quartet-plus-one" formation, which so fascinated Mozart, Schubert and Brahms before me – and led to some of their finest and most profound utterances in chamber music. The work was especially informed by the very particular colouristic changes that arise by doubling the viola section, with the pair of violas frequently operating as a counterpart to the string quartet's regular pair of violins.
However, writing this work simultaneously offered me the opportunity to pay homage to several people, both personal friends and professional colleagues, who passed away during a relatively short space of time in the years 2008 and 2009.
Despite the sombre tone of the work's subject matter and purpose, it's intended that this suite of five memorial pieces be heard as much as a celebration of personal qualities, characteristics and achievements as it is also an expression of loss and contemplation; of energetic lives fulfilled as well as of lives cut short.
I. Dorothy Porter, Australian poet (1954–2008)
Sniff the air. Test the weather. Smell the storm of burning feathers; smell the storm of our last and final flight together.
The day we go; The place we go; Only I will know; Only I will know.

(Dorothy Porter, from "The Bluebird of Death"; Published in "The Bee Hut", Black Inc. Books, Melbourne, 2009)
II. Lyndal Holt, Australian solicitor, academic, and author (1962–2008)
Cancer forces us to recognise what is important in this earthly world. And most people come to believe that it is their relationships that matter most. I so appreciate everyone who is willing to take my hand and walk a little way on my cancer journey with me. Sometimes they have to hold me, a lot of the time we laugh.

(Lyndal Holt, from a newsletter of the Cancer Support Centre-Jacaranda Lodge, Sydney Adventist Hospital, Autumn 2007)
III. Jan Diesselhorst, Berlin Philharmonic cellist, (1954–2008)
Amongst his colleagues of the famous "12 Cellists" he was respectfully and affectionately known as "The Philosopher": a highly educated humanist and grappa connoisseur who never entered the warm-up room of the Philharmonie without a cultured book in his hand.

(From obituary, Potsdamer Neueste Nachrichten, 7/02/09)
IV. Betty Freeman, American arts patron, philanthropist and photographer (1921– 2009) / György Ligeti, Hungarian-born Austrian composer (1923–2006)
On the business card that Betty Freeman gave me when we first met in 2000, she endearingly referred to herself as "Girl Photographer". To have been a fly on the wall in Los Angeles in 1993 when Betty photographed György Ligeti, overhearing the conversations between two such irrepressible personalities, would have been truly fascinating.
V. Richard Hickox, British conductor and music director (1948–2008)
Former Artistic Director of Opera Australia, 2005–2008. Richard was to have conducted the premiere of my first opera, "Bliss".
Ecstasy touched me…I slid between the spaces in the sky
And smelt things living and dying in the valleys of the forest.

(Amanda Holden, from the libretto for "Bliss".)
Brett Dean, Sydney, March, 2010
Programme Note
Deutsch
Press Quotes
Deutsch
"... the highlight has to be the world premiere of Dean's
Epitaphs
...
Der Philosoph
, in memory of Jan Diesselhorst, featured an expansive and moving cello solo. By contrast,
Gyorgy Meets the 'Girl Photographer'
, in memory of the American philanthropist and photographer Betty Freeman, was more a celebration for a life well spent than an outpouring of grief ... Hushed, even reverent at times, this was music that emanated from the heart.
(Musicweb International, Jul 2010)


"
Epitaphs
is an individual and expressive work, with considerable technical challenges, but makes a superb and welcome modern addition to the string quintet repertoire."
(Larence A. Johnson, TheClassicalReview.com, 17 Aug 2010)
Recommended Recording
Brett Dean / Doric String Quartet
Chandos CHAN 10873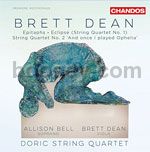 Mailing List
Sign up for news updates and offers via email
SIGN UP
ONLINE SCORES