Dean, Brett
:
Etüdenfest
(2000) 10'
for piano and string orchestra
Scoring
pft-strings(9.0.3.3.1).
Abbreviations
(PDF).
Territory
This work is available from Boosey & Hawkes for the world.
World Premiere
10/11/2000
Concert Hall, Brisbane
Australian Chamber Orchestra / Richard Tognetti
Composer's Notes
Deutsch
In winter 1997, I had the great pleasure of directing the first week of master classes to be held in the National Academy's new home in South Melbourne. It was a most inspiring time with these young, gifted string players from around Australia. Apart from working on solo repertoire and chamber music, we concentrated a lot of our energies on technical work, scales, arpeggios, studies and etudes. At the end of the week, as part of the final concerts, I organized a "prepared improvisation" entitled
Etüdenfest
for all students and staff, using as a basic starting point short "samples" taken from the technical studies of Sevcik, Schradieck, and other pioneers of violin schooling. So here we were making a free, textural group composition out of what are arguably the most uninspiring and mechanical examples of musical composition. For these aren't concert caprices in the manner of a Paganini. This is the very stuff of first putting hands on fingerboards and hair on strings, of changing position and getting from the heel of the bow to the tip. However I was not alone in being quite riveted with the sounds that came out, first very tentative as everyone found their way in this new adventure of improvising, then gathering momentum and confidence, ultimately leading to some extrovert solo spots by the most daring among us. This music that was written never to be performed was one of the performance highlights of the week. We had turned this "boring technical stuff" into a sound world all of its own.
The
Etüdenfest
you will hear tonight follows on from this idea, now however, as a fully notated composition using the varied textures and the technical drama of string playing, composed especially for the highly virtuosic players of the Australian Chamber Orchestra.
The initial idea is similar to the original Melbourne version, taking a very basic warming up exercise, and slowly adding to it in different forms as more and more players join in this communal practice session. In exploring different technical aspects of string playing so too do the textures change, from high, light and airy to dark and demonic. In the course of the piece, a beginner's study in left hand dexterity becomes a wild river of activity; later, a simple string crossing exercise turns into an impassioned song. Anyone who has chanced to pass the open windows of a music school or college will know the sense of Charles Ivesian abandon that can develop when the practice rooms are all full and exam time is approaching. In the closing desperate moments of this, (my very own mad music school), as the dark side of music study seems to have taken an irrevocable hold on the situation, a virtuosic pianist eagerly joins in the confusion from a room down the hall.
I composed
Etüdenfest
against the dramatic daily backdrop of Olympic television broadcasts and couldn't help drawing parallels between the discipline, sacrifice, passion and strict training regimen of an elite olympic athlete and the similar sacrifices and straight out hard work that we classical musicians have to maintain in order to achieve our goals, pursue our passion, perform at our best. My piece may then serve as a small monument to the countless hours of Sevcik and Co. that have been mastered by all the players here tonight in order to make the ACO the very special and, in the best sense of the word, elite orchestra that it is!
© Brett Dean, 2000



Reproduction Rights

This programme note can be reproduced free of charge in concert programmes with a credit to the composer
Press Quotes
"
Etüdenfest
takes as its starting point a series of the simplest technical exercises that young string players learn. Imaginatively varied and built upon, these little studies are given incarnations that are as intriguing and tricky as the originals are tedious..."
(Neville Cohn, West Australian, 17 Nov 2000)
"There was ecstasy and dread... It all adds up to a chilling experience, a kind of spiritual tremble, something of a shadow across a grave."
(John Carmody, Sun Herald, 26 Nov 2000)
Recommended Recording
Caroline Almonte, pft / Tasmanian Symphony Orchestra / Sebastian Lang-Lessing
ABC 476 3219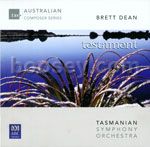 Mailing List
Sign up for news updates and offers via email
SIGN UP
ONLINE SCORES