Dean, Brett
:
Intimate Decisions
(1996) 10'
for solo viola
Territory
This work is available from Boosey & Hawkes for the world.
World Premiere
21/06/1997
Leicester
Brett Dean, viola /
World premiere of version
30/06/2011
Girdlers' Hall, London
Alexander Ivaskin, cello /
Composer's Notes
Deutsch
This piece for solo viola was commissioned by the German violist (and my Berlin Philharmonic colleague) Walter Küssner as part of a CD project of works for solo viola planned with a Canadian recording company for the 1998/99 season.
As the title implies, this is music of a private nature, and I must say I found the task of writing a work for a single string instrument strangely akin to writing a personal letter or having an intense discussion with a close friend. The piece opens with a short series of single motives: a minor 3rd, a major 7th,and a perfect 4th, all very distant in character, then a more assertive minor 6th - minor 9th motive, followed later by a chain of oscillating harmonics scating across the lower strings. Slowly these separate elements start reacting to one another, and the mood changes, developing from the distant nature of the opening to something more freely rhapsodic and determined, then evolving further through moments of sudden drama, anger, flighty virtuosity or even calm and tenderness.
After exploring the implications of this "conversation" and sinking to an uneasy quietness, the viola´s ensuing whisperings gather momentum, leading to an impassioned climax. The aftermath of this peak leaves an unresolved, gently rocking echo of what has been "discussed" in the guise of the harmonics from the opening.
The name
Intimate Decisions
comes from a painting by my wife, the Australian painter Heather Betts.
I gave the first performance on the 21st June, 1997 at the International Chamber Music Festival in Leicester, England. The first performance in Australia followed a week later in the Sth. Melbourne Town Hall at a recital of the National Academy of Music.
© Brett Dean, 1997


Reproduction Rights

This programme note can be reproduced free of charge in concert programmes with a credit to the composer
Press Quotes
"
Intimate Decisions
communicated fervor and mastery of instrumental colour."
(Melbourne Age, 30 Jun 1997)
"The work evolved from a series of bare intervals into an unstoppable wave of energy. The climax was an impassioned outburst, but the end of the piece returned to the private unease of the opening: a haunting melody, played with whistle-like harmonics, which gradually ebbed into silence."
(The Guardian, May 2002)
Recommended Recording
Brett Dean
SSO 200702 / BIS-CD-1696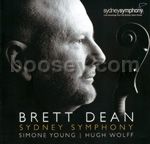 Mailing List
Sign up for news updates and offers via email
SIGN UP
ONLINE SCORES