Dean, Brett
:
Testament
- Music for orchestra (2008) 14'
after 'Testament: Music for twelve violas' (2002)
Scoring
2(I,II=picc).2.2.2-2.2.0.0-timp(=lg susp.cym)-strings (All string players require an additional bow without any traces of rosin on the hairs.).
Abbreviations
(PDF).
Territory
This work is available from Boosey & Hawkes der ganzen Welt.
World Premiere
07/03/2008
Federation Concert Hall, Hobart
Tasmanian Symphony Orchestra / Sebastian Lang-Lessing
Composer's Notes
English
Vor einigen Jahren kam das Projekt auf, ein Stück für Streicher zu schreiben, das in irgendeiner Weise mit Beethovens Leben und seiner Musik verknüpft sein sollte. Die Ideen, die aus der ersten Anfrage erwuchsen, haben eine längere Entwicklung durchlaufen. Sie wurden zunächst verwirklicht in der ersten Fassung von
Testament
für 12 Bratschen (2002) für meine früheren Kolleginnen und Kollegen von den Berliner Philharmonikern – einer Gruppe, mit der ich viele von Beethovens Stücken gespielt habe und der ich so viel verdanke. Eine wundervolle Erfahrung war es dann, meine Gedanken auf ein Orchester Beethovenscher Größe auszuweiten: Für das von Sebastian Lang-Lessing geleitete Tasmanian Symphony Orchestra entstand 2008 die Fassung mit je zwei Holzbläsern, Hörnern, Trompeten und Pauken sowie einer Streichergruppe in typisch klassischer Stärke.
Als ich mit der Arbeit an der Komposition begann, las ich Beethovens berühmtes "Heiligenstädter Testament" wieder – seinem letzten Willen, den er zu einem vergleichsweise frühen Zeitpunkt seines Lebens niederschrieb, als er von der Unheilbarkeit seines Hörleidens erfuhr. Eine besonders faszinierende Klangvorstellung ließ mich nicht los, nämlich das kaum hörbare, fieberhafte Geräusch von Ludwigs (imaginärer) Schreibfeder, die manisch auf Blätter aus Pergamentpapier schreibt.
Beethovens Testament von 1802 zeigt zweifellos dieselben Anzeichen seines ungestümen Temperaments, die man so leicht an anderen Beispielen seiner (kaum leserlichen) Manuskripte und Briefe erkennt. In diesem Fall kommen noch gesteigertes Pathos, Hoffnungslosigkeit und Selbstmitleid hinzu; sie machen den Text zu einem so außergewöhnlich bewegenden Dokument. "Ach", schreibt er an einer Stelle, "wie wäre es möglich, dass ich dann die Schwäche eines Sinnes angeben sollte, der bei mir in einem vollkommeneren Grade als bei andern sein sollte, einen Sinn, den ich einst in der größten Vollkommenheit besaß ..."
Testament
beginnt im Orchester mit Klängen einer hastigen, atemlosen, doch beinahe stummen Verzweiflung, wenn die Streicher mit Bogen ohne Kolophonium spielen und die Bläser ihren Instrumenten nur Luftgeräusche entlocken. Ohne die Reibung, die das Kolophonium-Harz erzeugt, gleitet der Bogen mit einem unheimlichen Hauchen über die Seiten; nur ab und zu entsteht dabei zufällig ein voll klingender Ton wie üblich. So erklingt das wesentliche Material dieses Stücks wie hinter einem Schleier – oder wie durch ein Ohrenleiden beeinträchtigt. Man sieht viel Bewegung, doch der Höreindruck bleibt vage.
Der ruhelose, scherzo-artige Charakter dieses 'Gekritzels' geht schließlich in einen langsameren Teil über, geführt von einer hohen, schwebenden Kantilene der Flöte. Die Gestalt dieser Kantilene ist aus der Vertonung einiger Worte von Beethovens Dokument entstanden – gleichsam ein Lied mit Worten, aber ohne Stimmen. Nach und nach wird der Raum von Zitaten aus dem langsamen Satz des 1. Rasumowsky-Quartetts op. 59 beherrscht, die jedoch abgebrochen werden, noch bevor sie sich zu einer einheitlichen Gestalt zusammenfinden können. Ein Gefühl von Verlust und Entfremdung bleibt in der Luft hängen, bis plötzlich, jetzt mit kolophonierten Bögen in allen Streichern, im ganzen Orchester der Schmerz, der in der Musik verborgen war, unwiderruflich hervorbricht. In der folgenden, schnellen Passage wird die verschleierte Unruhe der Eröffnungstakte ausführlicher entwickelt, zuweilen unverblümt aggressiv, dann wieder verinnerlicht und unschlüssig, oder auch überraschend heiter und geschmeidig, wobei bruchstückhafte Bezüge zu dem brillanten Finale von Beethovens op. 59 Nr. 1 auftauchen.
Diese ambivalente Stimmung bleibt bis zum Schluss von
Testament
bestehen, schwebend zwischen melancholischer Sehnsucht und Entschlossenheit. Ironischerweise war die Zeit, die Beethoven in dem ruhigen Dorf Heiligenstadt bei Wien verbrachte und während der er einsehen musste, dass sein Leiden unheilbar war, auch der Beginn einer der ergiebigsten Schaffensperioden in seinem Leben, in der bald die Eroica, die Rasumowsky-Quartette und andere epochale Werke entstanden. Die Zeit in Heiligenstadt war eine Phase der Erholung, der Einsicht und des Neubeginns.
© Brett Dean 2008
Recommended Recording
Tasmanian Symphony Orchestra / Sebastian Lang-Lessing
ABC 476 3219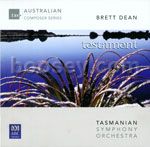 Mailing List
Sign up for news updates and offers via email
SIGN UP
ONLINE SCORES