Dean, Brett
:
The Annunciation
(2012) 23'
for SATB choir and small orchestra
Music Text
Deutsch
Bible (Numbers, 24:17), Graeme William Ellis (E)
Scoring
SATB choir*; 0.0.3.0-3.0.0.0-harp-strings(0.0.9.6.4, or 0.0.6.6.4); (*Each voice type is divided into up to three parts, so it is recommended to use at least 9 voices per voice type, with a minimum choir strength of 36 voices.
Abbreviations
(PDF).
Territory
This work is available from Boosey & Hawkes for the world.
World Premiere
22/12/2012
Thomaskirche, Leipzig
Thomanerchor / Gewandhausorchester / Georg Christoph Biller
Composer's Notes
Deutsch
I first heard the Thomana performing Bach's Johannes Passion in Melbourne in 2009 and was utterly mesmerized by the beauty and homogeneity of their sound. There aren't too many cultural institutions in the world that can boast an 800th birthday. To be part of that sense of history and continuity made this commission a great honour indeed.
Nevertheless, the challenge of being asked to write a Christmas work brings with it very specific expectations, both social and musical. It was a very interesting compositional conundrum to find the right "tone" for such a piece on such a significant occasion and yet simultaneously remain true to my own compositional style. I wanted to compose a piece neither too bleak nor too frivolous for a Christmas celebration.
Finding the right text was therefore the first interesting challenge. I wanted to use a new, especially written text. This resulted in several discussions with various writers, eventually meeting and discussing the project with the Melbourne poet Graeme William Ellis in June 2011. This was my great stroke of luck; Graeme's poetic approach acknowledges significant aspects of the Christmas story in beautiful, yet clear language that resonated with me musically.
We wished to capture something of the sense of drama and darkness out of which the Christmas story and the miracle of Christ's birth emerges. Graham directed me to the Old Testament's star prophecy, the first reference in scripture to Christ's eventual birth ("A star will come out of Jacob." Numbers 24:17.) From this starting point, our work then uses the story of the Three Kings as both vehicle and metaphor for this journey from dark to light.
The orchestration, with its multiple groups of three "kings" (3 clarinets, 3 horns, 3 violas, 3 celli, 2 basses and harp) is characterized by veiled colours, against which the voices of the choir emerge and provide the light for the work. I remember, on the first occasion that I heard the choir, being fascinated by the extraordinary interplay of consonants as a textural component, something that I had never heard so clearly annunciated from a choir before. I feel that this experience played a part in my sonic realization of Graeme's text.
Of course no one can possibly consider writing a work for this extraordinary musical institution without considering JS Bach and his legacy. The danger is when his shadow looms too dominantly over one's shoulder, and to measure one's own work against Bach's is ultimately a stultifying exercise. So while we looked at the shape, dimensions and performance history of the various cantatas of the Christmas Oratorio for inspiration and guidance, ultimately we shaped our work on our own terms, adopting the four movement form presented here.
The world premiere performances on Dec 22nd and 25th, 2012, were among the most satisfying that I as a composer and Graeme Ellis as librettist have ever had the privilege to experience. Not only the performance itself, brought to vivid life through the combined skills of the Thomana, the Gewandhaus musicians and Georg Christoph Biller, but also the manner in which our work was referenced and incorporated into the accompanying sermon, made for a very memorable occasion in which the larger purpose of commissioning a new piece of music seemed more manifest than is often the case.
© Brett Dean, April, 2013
Recommended Recording
Thomanerchor Leipzig / Gewandhausorchester Leipzig / Georg Christoph Biller
Kamprad / Bach-Archiv Leipzig (
vkjk.de
)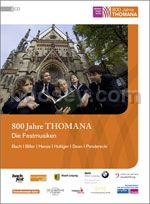 News stories for this title :
Brett Dean: three year residency with BBC Symphony
Mailing List
Sign up for news updates and offers via email
SIGN UP
ONLINE SCORES