Dean, Brett
:
Vexations and Devotions
(2005) 35'
for SATB choir, children's choir and large orchestra
Music Text
Deutsch
Michael Leunig, Dorothy Porter; additional texts compiled by the composer (E)
Scoring
2(II=afl).picc(=afl).2.corA.2.bcl.dbcl.2.dbn-4.3.2.btrbn.1-timp(=1susp.chin.cym).perc(3): I=vib/glsp/5t.bells/SD/hi-hat/pedal BD/2tom-t/1susp.chin.cym/tam-t/wdbl; II=crot(2octaves)/gongspiel(1octave:C3-C4)/BD/bongos/tamb/rainmaker/1susp.cym(sm)/flexatone; III=marimba/glsp/tom-t/susp.cym/mark tree/whip/flexatone-2harp-pft(=cel)-MIDI kbd(+sound engineer)-strings(16.14.12.10.8; min.14.12.10.8.7); 2bn also play mouth organs; members of the choirs also play 6 tuned bells, 4 water gongs and 5 alu-foils.
Abbreviations
(PDF).
World Premiere
17/02/2006
Concert Hall, Perth
West Australian Symphony Orchestra / WASO Chorus / Gondwana Voices / Matthias Bamert
Composer's Notes
Deutsch
Some projects simply take a long period to achieve their ultimate fruition.
Vexations and Devotions
started life in another form 5 years ago as part of a collaborative project entitled
Parables
, instigated by Richard Tognetti and the Australian Chamber Orchestra.
Parables
was conceived for chamber orchestra, children's choir and electronics and involved no less than 5 composers who, in their various ways, responded to the words and images of one of Australia's most revered visual artists, poets and philosophers, Michael Leunig. My collaboration with Michael at that time resulted in a movement entitled
Bell and Anti-Bell
which ultimately served as the catalyst for this new work.
The first movement of
Vexations and Devotions
is called
Watching Others
and opens with a dark, toccata-like instrumental restlessness in the lowest reaches of the orchestral landscape: low piano and brass, cellos, basses and the male voices of the adult choir collectively murmur and groan, occasionally venturing into higher realms and gathering momentum. After this initial agitation from the orchestra, the choir, at first tentatively, then more passionately, intones a text of quiet, contemporary despair by Dorothy Porter: "The loneliness of watching others on television..." This sets the scene for the following movements of this "sociological cantata".
Bell and Anti-Bell
uses as its premise a characteristically Leunig'esque point of departure: the alienating nature of modern communication systems. Here the electronically reproduced voice of an automated answering service stands as the pertinent symbol of our furthering estrangement from one another. For Leunig, the concept of being asked to "please hold for the next available operator" takes on humorous, yet dark and philosophical dimensions (as Leunig himself describes it, a descent into madness and emotional mess). This is further emphasised by the juxtaposing of these pre-recorded announcements with an ironic hymn of praise entitled "Sweet Secret Peace" that basks in the beauty of a newborn child. This hymn, sung by the children's choir, initially seems to be leading us into more spiritual and ennobling waters ("real and right and true, how beautiful are you!") but eventually reveals itself to be nothing more than one of the machine's more elaborate holding patterns. Eventually the voice itself loses its hold, and begins to question itself and everything around it.
In discussing our plans to develop and explore this theme further, Michael Leunig wrote to me: "While the human spirit can ultimately survive and be strengthened by great calamities and tragic events, it is reduced to rubble by the relentless, careless and vexatious banalities of modern life to which we have fatally adapted – the insidious, incremental accumulation of petty, everyday soul traumas which confound and constrict the vital flow of imagination and meaning as surely as cholesterol blocks the arteries."
A significant factor common to these varied vexatious tendencies, we agreed, was to be found in the erosion of a sense of organic language. Just as the recorded voice, in its attempts to reassure the caller that "your call is important to us" leaves one anything but content, so too does an examination of public language in other contexts reveal a significant gap between the words used and the meanings behind them. Therefore, another prominent Australian writer/thinker whose work has played a significant, though less direct role in the development of this project is Don Watson, former political speech writer and author of two highly readable, entertaining and passionate texts about the decay of public language entitled "Death Sentence" (2003) and "Watson's Dictionary of Weasel Words" (2004).
In the preface to the latter book, Watson writes, "Language has been made the machine of business and politics in the information age. But it cannot survive the experience and maintain its power to amuse, enchant, invent, comfort. It can't carry ideas and sentiments, bear the culture and be the culture's chief glory. It can't be machinery first and language second."
This became central to the germinating idea behnd the final movement,
The Path to Your Door
. In this movement, that quintessential source of genuine "weasel word" vocabulary, the contemporary business mission statement, with its lofty, bloated words, largely signifying nothing but a striving for financial reward, if not outright greed ("We envision to assertively pursue world class and high yield solutions for innovative and market-driven customer satisfaction") is juxtaposed with the beautiful poignancy of Leunig's poem, "The Path to Your Door" ("The path to your door is the path within..."), sung towards the end of the piece by the children's choir. The extended commercial claims of the adult choir, with their intentionally meaningless text, are given full reign to develop their vacuous anthem of corporate success to the fullest. Eventually, however, the direct and unencumbered purity of the children's voices serves as the ultimate foil; struggling to restore meaning, yet ultimately guiding us to a state of genuine, affecting wonder at the facets and nature of the real world around us.
Vexations and Devotions
was commissioned by the UWA Perth International Arts Festival, West Australian Symphony Orchestra, BBC Proms and Wesfarmers.
© Brett Dean, Melbourne, December 2005
Press Quotes
Deutsch
"This three-movement work reflects the de-humanisation of contemporary life as exemplified by reality television, automated answering services and meaningless corporate jargon. A sense of restlessness, even anxiety, pervades the work from its extremely effective opening, where chaotic orchestral rumblings and murmuring voices lead to a plaintive enunciation of the word 'loneliness'. Dean's score is complex and multilayered, creating an imaginative array of textures while mostly avoiding any sense of narrative... The juxtaposition of the children's voices to represent innocence in contrast to the world-weary adult choir was especially moving at the end of the work, and the use of an old-fashioned telephone ring in the second movement created an ominous, Hitchcock-like dramatic effect. Dean's writing demands much of the orchestral musicians and WASO responded extremely well under the direction of Matthias Bamert."
(Mark Coughlan, The Australian, 20 Feb 2006)


"The second movement in particular hit the proverbial nail on the head. I cannot imagine anyone in the audience who would not have identified with this movement... An abiding impression of this first performance is the seriousness of purpose that Dean has brought to bear on his writing for both orchestra and choir."
(Neville Cohn, The West Australian, 20 Feb 2006)
Recommended Recording
BBC Symphony Orchestra and Chorus / Gondwana Voices / David Robertson
BIS-2016 (SACD)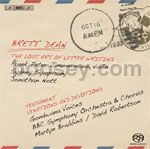 Mailing List
Sign up for news updates and offers via email
SIGN UP
ONLINE SCORES