Dean, Brett
:
Viola Concerto
(2004) 25'
for viola and orchestra
Scoring
3(I,III=picc,II=picc,afl).2(II=corA).2(II=bcl).2(II=dbn)-3.2.2.1-timp.perc(3):I=vib/5tom-t/SD/vibraslap/2tgl/sandpaper; II=xyl/sm tam-t/3chin.cym/5susp.cym/BD/tamb/5tuned gongs/3crot; III=marimba/crot(2octaves)/wdbl/tpl.bl/chin.cym/lg tam-t/cowbell/whip-harp-cel-pft-strings(12.10.8.6.5).
Abbreviations
(PDF).
Territory
This work is available from Boosey & Hawkes for the world.
World Premiere
15/04/2005
Barbican Hall, London
Brett Dean, viola / BBC Symphony Orchestra / Rumon Gamba
Composer's Notes
Deutsch
I've often mused upon the fact that so much music written for the viola is characterised by a particular sense of melancholy, invariably coupled with a busy, dogged brand of defiance or even gruffness. While we violists may look with a certain envy upon the joyous abandon of the finale of Tchaikovsky's Violin concerto, the high drama of the entry of the violin in the Brahms Concerto or the sheer, wide-screen magnificence of the Dvorak or Elgar Cello Concertos, we have a particular voice that is uniquely ours, and a very telling and touching one it is too.
Largely deprived of such masterworks of the classical and romantic periods, viola players generally tend to embrace the music of the 20th and 21st centuries with greater passion than our violin and cello playing colleagues.
Here, the solo viola repertoire undoubtedly also has its moments of joy and vigorously positive energy. The last movements of the Bartok concerto and of Hindemith's "Schwanendreher", for example, both lend the viola a folk-inspired voice of singular freshness and exuberance. But when it comes to finding the true essence of the viola's character, these are perhaps exceptions rather than the rule.
So it is then a unique privilege and challenge to have the opportunity to now approach the form of the viola concerto as both composer and performer. Above all, it filled me with thoughts about my own relationship with this curiously beautiful, somewhat enigmatic instrument of my choosing. Due to the unusually hands-on directness of writing a concerto for oneself, it also inspired thoughts upon the workings of music itself, removed from any sense of external programmatic influences or stories which inform so many of my other pieces.
Hence this work is simply entitled Viola Concerto.
More by coincidence than design, the piece follows the traditional concerto shape of three movements. Having completed the substantial second and third movements, I felt the piece required a "scene setting" of some kind. Thus, the work begins with "Fragment", a brief visit to a delicate sound world in which some of the work's main motives and instrumental colours are introduced in the orchestra, eventually enticing a high, floating cantilena response from the soloist.
"Fragment" however serves merely as a short satellite of serenity before the orchestra tumbles into the longer second movement, "Pursuit". As its name implies, this is a restless ride for all concerned, presenting the solo viola as a harried, lonely figure fighting against the latent threat of the orchestra, which seems only too keen to burst in and have its say whenever it gets the opportunity. A solo cadenza of bird-call inspired flageolets and high C-string yearnings forms a fleeting central reprieve before the chase resumes.
This is music of jagged virtuosity and rhythmic edginess, the kind of hybrid that might have arisen if Paul Hindemith had played in a band with Tom Waits...
The piece closes with "Veiled and Mysterious", an extended elegy in which the viola sings an unfolding "Klagelied" over icy sonorities of solo celli and bowed percussion. After a passage of sudden stillness and delicate question marks in the solo voice, the viola's line develops again in intensity, eventually awakening the orchestra into action, taking over from the viola to emerge in a large scale tutti section in which statements from throughout the piece are thrown into a melting pot, by turns stark and lyric. Out of the remnants of this material, the solitary figure of the viola solo resurfaces in an atmosphere of conciliation and dreaminess. Accompanied by the weaving lines of oboe and cor anglais, the viola, no longer hassled and pursued, guides us to a peaceful, if somewhat ambivalent conclusion with a revisiting of the bird- like harmonics from the middle movement.
© Brett Dean, 2005


Reproduction Rights

This programme note can be reproduced free of charge in concert programmes with a credit to the composer
Press Quotes
Deutsch
"Dean is a top-flight viola player as well as a upwardly mobile composer. His new
Viola Concerto
is a substantial affair, elegantly proportioned and full of colourful musical imagery."
(Andrew Clements, The Guardian, 21 Apr 2005)


"Dean has written something as personal as one would expect. The haunting and arresting sounds are all his own, and bright colours suggest a strong connection to his country's landscape. Indeed, the peaceful close, in which the previously hectic solo viola emerges purified, evokes a lullaby in which the earth seems to be singing itself to sleep."
(John Allison, The Times, 19 Apr 2005)
Recommended Recording
Brett Dean / Sydney Symphony / Simone Young
SSO 200702 / BIS-CD-1696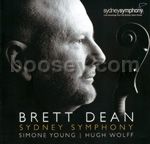 News stories for this title :
Brett Dean Curates the Toronto Symphony's New Creations Festival
Brett Dean premieres Viola Concerto in London
Mailing List
Sign up for news updates and offers via email
SIGN UP
ONLINE SCORES