Rautavaara, Einojuhani
:
Incantations
(2008) 23'
for percussion and orchestra
Scoring
2.2.2.2-2.3.2.0-timp.perc:t.bells-strings Percussion solo: marimba, 4 rototoms, 3 tam-t, 2 bongos, 2 congas, vib, crot, t.bells (C1 D1 E1 F1 G1 A1 Bb1 C2 C#2 D2 Eb2 E2 F2), 3 gongs, pedal BD, thunderstick..
Abbreviations
(PDF).
Territory
This work is available from Boosey & Hawkes for the world.
World Premiere
24/10/2009
Royal Festival Hall, London
Colin Currie, percussion / London Philharmonic Orchestra / Yannick Nézet-Séguin
Composer's Notes
When I heard recorded performances by Colin Currie, I was impressed by the virtuosity and musicality in handling the various kinds of percussion instruments. When asked, I was willing to compose a concerto for him to play, and when he visited Helsinki in the late 2007 I could already show him sketches for the work.
The title
Incantations
came to my mind early during the composing process – but to avoid too much conventional and monotonous "shamanism" I made use of rhythm in varying ways: 7/8, 3+2+3/8, 11/8 etc.
As melodic line is always important for me, marimba and vibraphone are often in the foreground in all three movements. The orchestra opens the work with a powerful motive. Then marimba takes over with fast ornamental passages. Variations follow each other until the movement closes with the opening motive. In the second movement the vibraphone dominates, the atmosphere is brooding, expressive and poetic. Third movement could be a shaman's dance in a jerky rhytm. A free cadenza gives the soloist an opportunity to improvise. It leads to a "grandioso" end based on the opening motive from the first movement.
Einojuhani Rautavaara, 2008
Recommended Recording
Colin Currie, percussion / Helsinki Philharmonic Orchestra / John Storgårds
Ondine ODE1178-2
Click here to purchase this CD from our online shop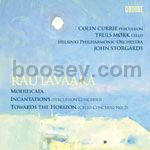 News stories for this title :
Rautavaara: interview about new percussion concerto
Mailing List
Sign up for news updates and offers via email
SIGN UP
ONLINE SCORES