Yun, Isang
:
String Quartet No.1
(1955) 35'
Territory
This work is available from Boosey & Hawkes for the world.
Programme Note
Deutsch
Isang Yun, who had previously distinguished himself in his native Korea as a composer of Korean songs, school anthems, and other works, received the Seoul Culture Prize for his
String Quartet I
and a piano trio in 1955 – the highest honor that his country had to present in this field. In order to further his development as a composer, he went to Paris for studies in 1956 and then in the following year to Berlin, where he became acquainted with Schönberg's twelve-tone technique. He established contact with the avant-garde circles in Darmstadt, Cologne, and Donaueschingen. In Berlin and Germany he became an internationally successful composer.
The
String Quartet I
does not belong to Yun's official oeuvre, which began with the
Five Pieces for Piano
(1958) and the
String Quartet III
(1959; rev. 1961). Nevertheless, with the present edition the publisher and the editor are responding to the wishes of musicians interested in performing his earlier works. The manuscript is regarded as lost. The present edition is based on the first printing of the quartet by the Society for Native and Cultural Research, which was published in Seoul and Pusan in 1955 (with the bowing instructions by Ahn Pyeng So).
Although Isang Yun later distanced himself from his three-movement
String Quartet I
and eliminated it from the catalogue of his works, he allowed parts of it to be performed in Germany. On 13 August 1958 the Mangelsdorff Quartet (with Mario Mangelsdorff, Günter Feldt, Klaus Heinrich, and Siegfried Gahlbeck) presented the second and third movements during the ceremonial act marking the opening of the Twelfth German Catholic Students Congress in Berlin's Kongresshalle (since 1987: Haus der Kulturen der Welt). It was only considerably later that string quartet ensembles from Korea – the Kumho Asiana Quartet in 2002 and the Novus Quartet in 2015 – enabled the work to experience further performances.
As Yun once stated to Luise Rinser, the
String Quartet I
was not the first work in which he dealt with this central genre of European music. It is situated at the end of his Korean compositional phase. Even then Yun was endeavoring to combine the European tradition of music for the concert hall with the music of East Asia but had not yet found a way to realize such interrelations convincingly.
He had not yet found his own language – his own stylistic means and a referential system for the inclusion of East Asian tradition: the sustained and sometimes long-drawn-out tone within a twelve-tone soundscape. In his
String Quartet I
he dealt with means that he had encountered in European models (such as Maurice Ravel, Claude Debussy, and Béla Bartók) – and in particular also with European rhythms and meters characterized by patterns of accentuation of which he was not always conscious.
Elements distinguishing the dramaturgy that was later typical of Yun and with which he would endeavor to lend cohesion to his formal designs are already present. The spacious, sumptuously vegetative formal structure is original: Yun arranges musical designs or thematic complexes sequentially, has them unfold contrastively, and mounts them to form a whole of mosaic or kaleidoscopic character. He aims at integration, arranges his material in layers, and at the ends of movements finds his way to a rhythmic unison. Back references and also recapitulations contribute to overarching, bridging interrelations transcending movement boundaries. The harmony is primarily diatonic; as a matter of principle Yun avoids conventional chordal constellations or sequences referring to a recognizable systematic method. Probably even then he viewed a work of art as an energetic sound stream and as a reproduction of a world with centrifugal parts joining together to form a harmonious whole.
All three movements exhibit a formal structure in tripartite formations – some of them containing subdivisions. The
Andante phantastique
second movement contains a middle section with three parts of its own (
Misterioso – Meno mosso – Misterioso
). The alternation of characters in the framing movements also already manifests itself in the indications of tempo and expression:
I.
Allegro moderato – Sostenuto – Più mosso
– [Reprise]
III. ||:
Allegro giocosamente – Allegretto
:||
Andantino espressivo
||
Allegro moderato – Più mosso
In the first movement the fifth-interval theme of appealing song character emerges from initially more finely meshed motivic cells – here Yun tends melodically toward an anhemitonic pentatonic scale, which lends the music Asian musical color. He varies his material; to the alternation of dotted and Lombard rhythms a march intonation is heard. He guides new material saturated with suspensions into a calmer tempo (
Sostenuto
) in triple time and then in quadruple time (
Più mosso
) goes over into syncopated rhythms. The violoncello – the instrument that Yun himself played – opens the
Andante phantastique
slow movement with a theme in which the fifth again forms the central interval. A siciliano rhythm dominates in
Misterioso
, the contrasting middle section. The third movement is of dance character and has a second theme reminiscent of Bartók. References back to the slow movement and the first movement (
Allegro moderato
) round off the construction.
Walter-Wolfgang Sparrer (2015/17) (English translation: Susan Marie Praeder)
Recommended Recording
Novus String Quartet
Aparté AP125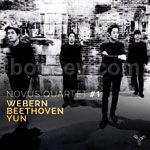 Mailing List
Sign up for news updates and offers via email
SIGN UP
ONLINE SCORES