MacMillan, James
:
Cello Sonata No.1
(1999) 22'
for cello and piano
Territory
This work is available from Boosey & Hawkes for the world.
World Premiere
30/05/1999
Assembly Rooms, Bath
Raphael Wallfisch (vcl)/John York (pft)
Composer's Notes
I Face
II Image
The work was commissioned by the Bath and Queensland Biennial Festivals of 1999 and specially written for its dedicatee Raphael Wallfisch. The most important element in the Sonata's two movements is the interval of a minor 3
rd
, from which emerges much of the music's material and which binds the ideas together.
The first movement
Face
begins with a lyrical, cantabile melody for the cello accompanied by delicate trills, shimmering tremolandi and scurrying scales on the piano. The cello gradually descends to its lowest register with a brooding and introspective theme. Against this the piano has a completely contrasting idea – an innocent and simple theme like a child's clockwork musical toy.
The cello writing becomes faster, evoking the dance lilt of a jig, but the piano gradually becomes more ominous. This leads to a central "fantasy" section of violence and brutality with strange, surprising sounds coming from both instruments.
Another dance-like episode follows for pizzicato cello, punctuated by brittle clusters on the piano. Towards the end of this section a short, keening, two-note figure emerges and provides the basis of the final section. The cello rises anxiously and expressively using only five notes (across a number of octaves) while the piano material is based on a martial idea that becomes increasingly agitated. The climax of this interaction leads to a short
coda
in which the music winds down through a number of earlier ideas.
The second movement
Image
is a mirror image of
Face
. The structural procession of elements is inverted, and the roles of the instruments are reversed. Even some of the themes are retrograded. The
coda
brings the music back to the melodic and tonal simplicities of the opening bars of the first movement, before fading serenely to nothing.
James MacMillan, 1999
Reproduction Rights

This programme note can be reproduced free of charge in concert programmes with a credit to the composer
Press Quotes
"One of MacMillan's main strengths is in finding new perspectives for old musical genres, and there are echoes here of the visionary force and depth of Bartók's Second Violin Sonata..."
Gramophone
Recommended Recording
Henri Demarquette
vcl
/ Graham Scott
pft

Deux-Elles DXL 1115
Click here to purchase this CD from Amazon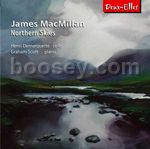 Mailing List
Sign up for news updates and offers via email
SIGN UP
ONLINE SCORES