MacMillan, James
:
St John Passion
(2007)
87'
for solo baritone, chorus and orchestra
Music Text
English
Rev. Standardfassung der Bibel (engl.); die Vulgata (lat.)
Scoring
1 baritone solo, small chorus(="narrator chorus", 8-24 singers of professional standard), larger chorus (professional chorus minimum 80 voices, amateur chorus minimum 120 voices) 2(II=picc).2(II=corA).2(II=bcl).1.dbn-4.3.3.1-timp.perc(1):t.bells/tuned gongs/tgl/Sanctus bells/5tpl.bl/SD/BD/susp.cym/sizzle cym/tam-t-chamber organ-strings
Abbreviations (PDF)
Territory
This work is available from Boosey & Hawkes der ganzen Welt.
World Premiere
27/04/2008
Barbican Hall, London
Christopher Maltman, baritone / London Symphony Orchestra and Chorus / Colin Davis CBE

Press Quotes
English
"James MacMillan hat eine Johannespassion vorgelegt, die das Premierenpublikum zu stehenden Ovationen hinriss." Independent

"Den Erzbischof von Canterbury sieht man nicht oft an der Spitze stehender Ovationen … Ganz offensichtlich teilte der Erzbischof die Auffassung des begeisterten Publikums, dass hier ein großartiges neues Werk Eingang ins Repertoire gefunden hat... Jesus wird von Christopher Maltman mit wunderbarer Autorität gesungen... MacMillan gibt ihm kunstvolle, deklamatorische Passagen voll Ärger und Bitterkeit. Hier geht kein demütiger Heiland zum Kreuz, sondern ein zorniger Rebell." Observer

"Davis ist ein schlauer Dirigent, und niemals war sein Instinkt genauer. Denn MacMillan hat ein meisterhaftes Werk vorgelegt, das alle Voraussetzungen hat, zu einem Klassiker des 21. Jahrhunderts zu werden... MacMillan ist ein Meister darin, Spannung aufzubauen und ein Drama entstehen zu lassen, unterstützt von seinem Feingefühl für Synkopen. Doch auch in Musik von großer Lyrik und Verletzlichkeit zeigen sich MacMillans Qualitäten. Jesus' Passage 'This is my body', ebenso wie das Crucifixus, eine traumähnliche Sequenz, die in einer anderen Dimension zu spielen scheint, sind von einem ungeheuren Gefühl des Wunderbaren durchströmt... Hypnotisierend ist eine Passage in 'Jesus and his Mother', wenn die beiden Chöre zusammen singen und ihre Linien sich wundervoll verflechten." Musical America

"Ein fesselndes und bemerkenswertes Werk; ein frischgebackener Klassiker." The Scotsman

"Ein strahlender Glanzpunkt, ein Werk, das sich mit einer Leidenschaft mitteilt, die von nichts übertroffen wird, das der 48-jährige MacMillan bislang geschrieben hat … Der Schluss des ersten Teils war meisterhaft: kein Lautsprechergeheul angesichts der näher rückenden Kreuzigung, stattdessen eine schicksalsergebene Meditation im Pianissimo, durchwoben von klagenden Instrumentalsoli." The Times

"Die mitreißende Aufführung geht über den erheblichen technischen Anspruch der Partitur hinaus, um die Gefühlstiefe und die enorme emotionale Wirkung zur Geltung zu bringen, die MacMillan in diesem beeindruckenden Werk erzielt hat." Daily Telegraph
Recommended Recording
Christopher Maltman / London Symphony Chorus
London Symphony Orchestra / Sir Colin Davis
LSO0671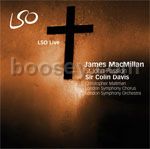 Mailing List
Sign up for news updates and offers via email
SIGN UP
ONLINE SCORES