MacMillan, James
:
The Berserking
(1990) 33'
Concerto for piano and orchestra
Scoring
2.picc.3(III=corA).3(III=bcl).2.dbn-4.3.2.Btrbn.1-timp.perc(3): 2timbales(high/low)/glsp/lg tam-t/mark tree/crot/tom-t(high)/xyl/ snare dr(high); snare dr(med)/anvil/vib/tom-t(low); v.lg BD/ loud claves/t.bells/ant.cym/snare dr(low)-cel-harp-strings (min:14.12.10.8.8).
Abbreviations
(PDF).
Territory
This work is available from Boosey & Hawkes for the world.
World Premiere
22/09/1990
Musica Nova, Glasgow
Peter Donohoe, piano / Scottish National Orchestra / Matthias Bamert
Composer's Notes
"Berserkers" were special warriors common to the Vikings and the ancient Celtic tribes, who would work themselves into a frenzy with mead, mushrooms and hyperventilation to achieve performances of ferocious courage in battle. Although deadly in combat, the berserking process was paradoxically a suicidal one since, having lost their senses, they were vulnerable to a more stealthy attack. As a Scot living in the modern world this behaviour seems very familiar! I see its pointlessness as resembling the Scots' seeming facility for shooting themselves in the foot in political and, for that matter, in sporting endeavours. (In fact the initial burst of inspiration for
The Berserking
came in 1989 after watching a soccer game in which Glasgow Celtic turned in a characteristically passionate, frenzied but ultimately futile display against Partizan Belgrade!).
But this piano concerto is not programme music. Instead, the abstract subject matter (in this case misplaced energy) has become the defining element in the work's material and structure. In the opening section there is a sense of swaggering futility in the way the energy is "misdirected" into climaxes without resolutions and maintained in a continual state of hyper-activity and excess.
The middle section is slow, reflective and delicate and has a simple verse and refrain structure like a folksong, creating an aura of traditional Scottish music. The relationship between soloist and orchestra changes from section to section. In the opening fast music they are in argument and opposition most of the time, each striving to dominate. In the slow section the piano is very much to the fore and in the final quick section they become equal partners, much of the time in unison and with frequent interlocking of fragments. The final section eventually reaches a more "meaningful" resolution. After the final climax there emerges something apparently new in piano, celeste and harp; but one can hear the contours of the melodic material from the slow section. The Celtic folk influence returns to leave its mark in the serenity of the final coda.
James MacMillan, August 1997
Reproduction Rights

This programme note can be reproduced free of charge in concert programmes with a credit to the composer
Press Quotes
"The violent energy of the outer movements, full of Stravinskian rhythms and brutal explosions of soloist and orchestra, encloses a lyrical core tinged with Celtic folksong."
BBC Music Magazine
Recommended Recording
Martin Roscoe/BBC Philharmonic/James MacMillan
Chandos CHAN 10092
Click here to purchase this CD from our online shop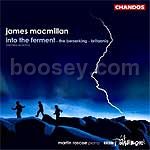 Mailing List
Sign up for news updates and offers via email
SIGN UP
ONLINE SCORES