Andriessen, Louis
:
De Stijl (De Materie part III)
(1984-85)
26'
for 4 women's voices,female speaker and large ensemble
Music Text
Beginselen der beeldendewiskunde by Dr MHJ Schoenmaekers, and Herinneringen aan Mondriaan by Mvan Domselaer-Middelkoop (Dutch)
Scoring
3(I=picc).0.0.2asax(II=barsax).2tsax.barsax.0-0.4.4.0-perc(2):2drum sets(hi-hat/cym/glsp(ad lib)/8boo-bams and/or syn dr/SD/BD/vib/4-5gongs/metal and heavy metal(e.g. 4 bumpers))-2pft(II preferably electronic)-synth(string orch/harp pre-sets)-upright pft(behind audience)=2gtr-bgtr-db(ad lib if no 2nd barsax) 4 women's voices (2S.SM) Ensemble should be balanced by electronic amplification.
Abbreviations (PDF).
Territory
This work is available from Boosey & Hawkes for the world.
World Premiere
09/06/1985
'Kaalslag', Amsterdam
Paradiso

Composer's Notes
The text sung by the four voices discusses the 'perfect line'. In the original book, a cross-figure is shown as two perpendicular lines: T

This is an example of a 'perfect straight line', according to the metaphysical theories of the author, Dr Schoenmaekers, who greatly influenced Mondrian's thoughts.

A 'boogie-woogie' piano is placed on the left side at the back of the hall. At rehearsal fig.29 – or earlier, depending on the size of the hall – the dancer begins moving extremely from the piano towards the conductor. She walks backwards, 'drawing out' the laser beam with her outstretched arm.

She should reach the conductor at rehearsal fig.39 and four bars before 40, lowers her arm so that a gigantic laser-T (created means of small mirrors) suddenly appears above the audience. At that moment, completely unexpectedly, the boogie-woogie piano part begins. The dancer, taking a microphone, starts talking about her memories of Mondrian (see score).

The English version of the spoken text my be chosen, though the 'exotic' authentic Dutch of the writer, painter and composer is preferred.

It is very important that the same person 'makes the T' and speaks the text. Some spotlights should be used during the performance of the dancer/speaker.

Louis Andriessen

Reproduction Rights
This programme note can be reproduced free of charge in concert programmes with a credit to the composer


Press Quotes
"De Stijl is a snarling, clotted, brilliant piece of work...all musical lines are warped, twisting continually between the pure geometries of conceptual music and the abrupt graffiti of jazz." Globe and Mail
Recommended Recording
Schönberg Ensemble and Asko Ensemble with Gertrude Thoma, conducted by Reinbert de Leeuw
Nonesuch 7559793422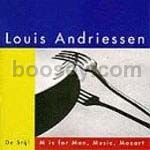 Mailing List
Sign up for news updates and offers via email
SIGN UP
ONLINE SCORES