Cherubini - Cullmann
:
Médée
(Medea)
- Original version with spoken dialogues
(1793-97)
165'
Opéra in three acts (original version)
Music Text
English
Libretto von François-Benoît Hoffman (frz.)
Scoring
2S,M,T,BBar; small roles:2S,1spoken role; silent roles; mixed chorus; 2(I=picc).2.2.2-4.0.1(+1 opt trb).0-timp-strings; wind instruments from orchestra and thunder machine off-stage
Abbreviations (PDF)
Territory
This work is available from Boosey & Hawkes der ganzen Welt.


For full details on this stagework, including synopsis and roles, please visit our Opera section.
World Premiere
13/03/1797
Théâtre Feydeau, Paris
Julie-Angélique Scio (Médée) / Pierre Gaveaux (Jason)

World premiere of version
06/03/2008
Theater an der Wien, Wien
Torsten Fischer, director / Iano Tamar / Zoran Todorovich / Arnold Schoenberg Chor / Wiener Symphoniker / Fabio Luisi

Repertoire Note
English
Die imposante Rolle der Médée entfacht sowohl Anteilnahme als auch Entsetzen, denn Cherubinis Musik lässt den Zuhörer Médées inneren Kampf, dieses Umkippen von Liebe in vernichtenden Hass, dramatisch hautnah miterleben. Dabei liegt der Nachdruck nicht auf der äußeren Handlung, sondern auf den psychischen Vorgängen der Figuren. In ihrer stilistischen Vielfalt, ihrer düsteren Größe und Erhabenheit sowie ihren großen, in sich geschlossenen musikalischen Szenen reicht Médée weit über die Opern der Zeitgenossen hinaus. Nicht ohne Grund rühmten Haydn, Beethoven, Mendelssohn, Schumann, Wagner und Brahms das Werk des italienischen Komponisten. Letzterer hielt Médée gar für "das Höchste in dramatischer Kunst".
Press Quotes
English
"Wie nahe dieses Werk an Beethoven herankommt, hört man, wenn eine Aufführung nicht das mit veristischen Effekten aufgeladene Musikdrama präsentiert, wie Maria Callas es installiert hat. Sondern wenn sie den ursprünglichen Intentionen des Komponisten zu folgen sucht. Die Neuausgabe enthüllt ein an vielen Stellen für unsere Ohren beinahe 'neues' Werk – so bieten Fabio Luisi und die Wiener Symphoniker einen bei aller Dramatik stets schlanken, klassizistischen Orchesterklang, arbeiten dabei das Sturm-und-Drang-Element der Partitur vor allem in den Ouvertüren zu den drei Akten heraus, in denen dunkle Wolken den Himmel des mediterranen Melos' verhüllen... Sublim ist Médées Musik, verletzlich trotz ihrer Expressivität." (Gerhard Persché, Süddeutsche Zeitung, 12.03.2008)

"Cherubini komponierte Médée auf einen französischen Text als Opéra-comique, also mit gesprochenen Dialogen zwischen den Musikstücken. Die im 19. Jahrhundert oft gespielte italienische Fassung mit den Rezitativen Franz Lachners verlieh dem Werk eine eher klassizistisch-starre Fassade. Dieser Eindruck könnte jetzt endgültig der Vergangenheit angehören. Im Vorjahr gab der Dramaturg Heiko Cullmann im Simrock-Musikverlag die Bearbeitung der französischen Erstfassung heraus, die schon in Wien erprobt wurde und alle Elemente der 'großen Oper' tilgt. Zum Vorschein kam jetzt ein aufregendes, psychologisch dicht gezeichnetes modernes Musik-Theater... Atmende Lineaments, klanglich fein ausgesteuerte Balancen, ein beredter Vortrag, subtile instrumentale Valeurs, rhythmisch-markante Energien im Überfluss, kurzum: vitale, herrlich junge Musik." (Gerhard Rohde, F.A.Z., 22.04.2008)

"Die zu Recht preisgekrönte Fassung befreit das Stück aus der untheatralisch nach großer Oper schielenden Überformung. Jetzt kommt ein herb aufregend die Zuschauer angehendes Musiktheater zum Vorschein. Vor allem aber wirkt in den Callas-Aufnahmen der klassizistische Aufführungsstil blutleer und starr. In Brüssel stellen sich mit Christophe Rousset und Les Talens Lyriques Meister der historischen Aufführungspraxis der Cullmann-Fassung, und das führt zu einem Konventionen und Regeln sprengenden Sturm der Leidenschaften." (Reinhard J. Brembeck, Süddeutsche Zeitung, 14.04.2008)

"Dass Médée einen erstklassigen, weil musikalisch spannenden und thematisch ganz nah ans Hier und Jetzt heranrückenden Abend ergeben kann, das erweist die Brüssler Monnaie. Das Gefühl des Bleiernen ist wie weggeblasen." (Peter Hagmann, Neue Zürcher Zeitung, 18.04.2008)
Recommended Recording
Michael, Streit, Stotijn, Le Texier, Van Kerckhove / Les Talens Lyriques & Chœurs de la Monnaie / Christophe Rousset (Brussels 2011, directed by Krzysztof Warlikowski)
Bel Air Classiques DVD & Blue-Ray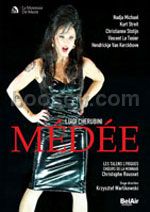 News stories for this title:
Email Newsletters
Sign up for news updates and offers via email
SIGN UP
ONLINE SCORES