Turnage, Mark-Anthony
:
A Slow Pavane
(2004-05) 5'
for piano trio
Territory
This work is available from Boosey & Hawkes for the world.
World Premiere
25/08/2005
Recital Hall, Concertgebouw, Amsterdam
Beaux Arts Trio
Programme Note
A Slow Pavane
, for piano trio, was commissioned by the Concertgebouw in Amsterdam in celebration of the fiftieth anniversary of the Beaux Arts Trio, written in 2004 (with some later revision), and first performed by the Beaux Arts in the Concertgebouw Recital Hall in August 2005. It is the last of three pieces for this combination which Turnage has composed since 2003, forming a triptych which may be played either separately or together: if all three are performed, it comes first.
The pavane is a Renaissance dance, for keyboard or ensemble, in a slow duple time, and usually in three strains, each repeated and varied; it is frequently associated with a mood of melancholy, as in John Dowland's celebrated sequence of pavanes called
Lachrimae
or
Seven Teares
. Turnage's piece has something of the solemn tread of his Renaissance models, though in changing metres with syncopation rather than in strict dance measures, and also their three-part outline. The first section sets streams of cool harmony over a low circling bass line, at first quietly and then in a free variant rising to a brief fortissimo before falling away. The slightly faster central section begins with an explosive two-part invention for the strings, which is then opened out into passionate parallel melodic lines against big piano chords. The third section is a free inversion of the opening, with the low bass line now upside-down and floating high in the violin above the streams of harmony, though with the dynamic level this time remaining quiet. There is a coda of bell-like chords.
Programme note by Anthony Burton
© Boosey and Hawkes Music Publishers Ltd 2006
Reproduction Rights
This programme note can be reproduced free of charge in concert programmes with the following credit:
Programme note by Anthony Burton
© Boosey and Hawkes Music Publishers Ltd 2006
Recommended Recording
Chamber Domaine / Thomas Kemp
Resonus Classics RES10106
Download only
Click here to purchase this album from Amazon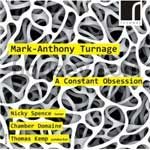 Mailing List
Sign up for news updates and offers via email
SIGN UP
ONLINE SCORES