Aa, Michel van der
:
Imprint
(2005) 14'
for Baroque orchestra
Scoring
2ob-hpd-strings(4.4.3.2.1); portative organ to be played by solo violinist; period instruments (415 Hz tuning) or modern instruments played in a Baroque way .
Abbreviations
(PDF).
Territory
This work is available from Boosey & Hawkes for the world.
World Premiere
27/08/2005
Lukaskirche, Lucerne
Freiburger Barockorchester / Gottfried von der Goltz
Composer's Notes
Deutsch
Imprint
takes Baroque articulation, stylistic conventions and virtuosity and develops them into full-blown modern Concerto Grosso. Monothematic material, maniacally repeated, becomes a virtuoso gesture. This material, introduced by the solo violin, spreads like wildfire through the rest of the orchestra, flung back and forth between instrumental groups. During the piece the solo violinist is required to place lead 'fingers' on the keys of a portative organ, producing, voice by voice, a faint chord audible only through the gaps in the virtuosic orchestral tutti. This chord is not only an imprint of the significant pitches in the piece, but it is also a theatrical gesture: these lead fingers embody the hand of a long-deceased Baroque composer.
The piece should preferably be performed on period instruments with 415 Hz Baroque tuning. It may, however, be performed on modern instruments provided they are used in Baroque style in terms of clarity of tone and are played without vibrato.
© Michel van der Aa, 2005
Press Quotes
Deutsch
"... a rhythmically taut, effective demonstration of collective virtuosity."
(Max Nyffeler, Frankfurter Allgemeine Zeitung, 29 Aug 2005)
"By far the most convincing work on the program ... Van der Aa was interested in more than sound colors, and transferred Baroque articulation, Baroque gestures, energy and virtuosity into a modern musical language."
(sda, Der Zürcher Oberländer, 29 Aug 2005)


"In
Imprint
Michel van der Aa plays an obliquely humorous game with the sound material – in a way one seldom hears with Dutch composers. Refreshing, like a Baroque blueprint developed ever further, ultimately suggesting a parody of the idea of the basso continuo by laying metal rods on certain keys of the organ."
(Thomas Meyer, Tages-Anzeiger, 29 Aug 2005)


"The shortest work of the evening, Michel van der Aa's fiery and brilliant
Imprint
, is surely the piece with the greatest chance of making its way into the repertoire. The Dutch composer dares as no other to not only exploit the languishing, sinewy and swelling tones of a Baroque string orchestra, but also to utilize the jagged contours and vitality of a robust, abrasive forte.
Imprint
is simply a pithy new interpretation of the standard Concerto Grosso, vigorously buffeted against dynamically craggy themes and woven into a net that sustains the piece."
(Jörg Königsdorf, Süddeutsche Zeitung, 7 Sept 2005)


"By far the most gripping piece was
Imprint
by the young Dutch sensation Michel van der Aa – not least because it was the only work to confront directly the irony of a 21st-century composer meddling in 18th-century sonorities. Van der Aa's response was twofold. He gave the work the frenetically patterned feel of a Vivaldi concerto, with the leader (the excellent Gottfried von der Goltz) gradually infecting the whole band with manic figuration. But as the piece progressed another process was at work. More and more lead weights were placed on the keys of a chamber organ, building up a permanently sounded chord that glimmered through the strings. For Van der Aa, this represented 'the hand of a long-deceased Baroque composer': a neat metaphor and a clever musical device."
(Richard Morrison, The Times, 22 Nov 2005)
Recommended Recording
Freiburger Barockorchester / Gottfried von der Goltz
harmonia mundi HMC 905187.88 (siemens arts program)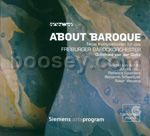 Mailing List
Sign up for news updates and offers via email
SIGN UP
ONLINE SCORES