Rorem, Ned
:
Cello Concerto
(2002) 25'
for cello and orchestra
Scoring
2.2.2.2-2.2.0.0-timp.-harp-pft-strings.
Abbreviations
(PDF).
Territory
This work is available from Boosey & Hawkes for the world.
World Premiere
28/03/2003
Kansas City, Missouri
David Geringas, cello / Kansas City Symphony / Michael Stern
Composer's Notes
Deutsch
Because a composer's music speaks louder than his words about that music, I tend to keep quiet about my own work—at least about its "emotional" content. (I do, however, talk a lot about other people's work). But a paragraph or two on the Cello Concerto might prove useful.
When David Geringas came to visit in early 2000 I was pleased by his wish for a new piece. Since I already had a Violin Concerto, and a Double Concerto for Violin & Cello, a Cello Concerto would round off a perfect program. I got around to it only two years later, completing the bulk of it during the summer of 2002.
Although I don't believe that non-vocal music can be proved to "mean" anything, even when given descriptive names like
La Mer
or
Pictures at an Exhibition
, it's still fun to give programmatic subtitles to various sections. Thus the eight movements of the Concerto are more or less literal descriptions:
1.
Curtain Raise
. It's just that.
2.
There and Back
. The 137 rapid measures are split down the middle from
whence they return to their beginning.
3.
Three Queries, One Response
. A rambling unison passage is followed by a
calm cello solo with piano ostinato; another rambling unison, then another calm
cello; a final rambling unison, then a final cello solo.
4.
Competitive Chaos
. A solo Violin vies with the solo Cello throughout this fast
movement which is labeled "Quick & Brutal".
5.
A Single Tone, A Dozen Implications
. While the soloist sustains a single
expressionless "E", the orchestra imposes, separately, a sequence of twelve
colors in varied intensities.
6.
One Coin, Two Sides
. Two versions of the same sonic play, the second being
scored for four cellos.
7.
Valse Rappelée
. The title of course echoes Liszt's
Valse Oubliée
, and is an
orchestration of one of my Dances for Cello from 1984.
8.
Adrift
. Against a weaving ostinato for harp & strings, the cello sings a long
long strain which gradually fades to nothing.
The scoring is modest: winds in pairs, 2 trumpets, two horns, (no trombones), no percussion except timpani, and strings.
Ned Rorem
Reproduction Rights

This programme note can be reproduced free of charge in concert programmes with a credit to the composer
Press Quotes
Deutsch
"The concerto is a kaleidoscopic piece, with lush colors and big, arching tunes that dwell somewhere between Shostakovich's tragic mode and Copland's cheerfulness. It featured eight episodic movements bearing chirpy titles (
A Single Tone, A Dozen Implications
). It was strongest when it was simplest, as in the
Three Queries, One Response
, where orchestral unisons are answered by a tranquil cello. Especially beautiful was
One Coin, Two Sides
, where Geringas played a lovely 'song' with the first three cellists. There were didactic moments, like
A Single Tone, A Dozen Implications
. Then a waltz. Then a fade into oblivion. The concerto is loaded with passages of lovely music."
(Paul Horsley, The Kansas City Star, 30.03.2003)
Recommended Recording
Wen-Sinn Yang, vcl
Royal Scottish National Orchestra / Jose Serebrier
Naxos 8.559315
Click here to purchase this CD from our online shop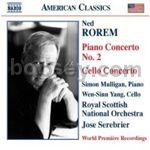 Mailing List
Sign up for news updates and offers via email
SIGN UP
ONLINE SCORES