Reich, Steve
:
Radio Rewrite
(2012) 19'
for ensemble
Scoring
fl.cl-2vib-2pft-elec.bass.gtr-1.1.1.1.0
This work requires additional technological components and/or amplification. .
Abbreviations
(PDF).
Territory
This work is available from Boosey & Hawkes for the world.
World Premiere
05/03/2013
Royal Festival Hall, London
Sound Intermedia / London Sinfonietta / Brad Lubman
Composer's Notes
Over the years composers have used pre-existing music (folk or classical) as material for new pieces of their own. This was particularly notable from the beginning of the 15
th
to the end of the 17
th
century when over forty settings of the Mass using the tune
L'homme armé
as its point of departure were written by composers Dufay, Ockeghem, Josquin des Pres, and Palestrina among others.
L'homme armé
was a popular secular song, yet writing a Mass was similar in scope then to writing a symphony in the classical or romantic period. Much later in the 19
th
century, Brahms wrote
Variations on a Theme of Haydn
and in the 20
th
century we find Stravinsky reworking the music of Pergolesi's for his own
Pulcinella
.
Radio Rewrite
, along with
Proverb
(Perotin) and
Finishing the Hat—Two Pianos
(Sondheim), is my modest contribution to this genre.
Now, in the early 21st century, we live in an age of remixes where musicians take audio samples of other music and remix them into audio of their own. Being a composer who works with musical notation I chose to reference two songs from the rock group Radiohead for an ensemble of musicians playing non rock instruments. The two songs chosen were
Everything in its Right Place
and
Jigsaw Falling into Place
. The story is as follows:
In September 2010 I was in Krakow for a festival of my music. One of the featured performers was Jonny Greenwood of Radiohead who had prepared all the backing tracks for my piece,
Electric Counterpoint
and then played electric guitar live against those tracks in concert. It was a great performance and we began talking. I found his background as a violist and his present active role as a composer extremely interesting when added to his major role in such an important and innovative rock group. Even Festival director Filip Berkowitz suggested I listen to Radiohead. When I returned home I made it a point to go online and listen to their music and the two songs mentioned above stuck in my head.
It was not my intention to make anything like 'variations' on these songs, but rather to draw on their harmonies and sometimes melodic fragments and work them into my own piece. This is what I have done. As to actually hearing the original songs, the truth is—sometimes you hear them and sometimes you don't.
Radio Rewrite
is in five movements played without pause. The first, third and fifth are fast and based on
'Jigsaw'
and the second and fourth are slow and based on
'Everything'
. It was completed in August 2012.
— Steve Reich
Reproduction Rights:
This program note may be reproduced free of charge in concert programs with a credit to the composer.
Press Quotes
"This is not so much a rewrite as a reimagining in Reich's hyper-real style; instantly accessible, instantly enjoyable. The two vibraphones lay a pearlescent luminosity over the insistent rhythm of the faster movements (based on
Jigsaw Falling into Place
), while the two slow movements (drawn from
Everything in Its Right Place
) are content to move from one block chord to another, enjoying the sensation of the progression while sprinkling a duet for woodwind over the top."
The Observer


"Steve Reich proved he's both achingly hip and a grand old man… His
Radio Rewrite
referred to two Radiohead songs, but it was a long way from being a 'cover version' or arrangement… It was a fine display of compositional mastery, which had nothing to do with remix culture, and everything to do with old-fashioned virtues of harmony and counterpoint."
Daily Telegraph
Recommended Recording
Alarm Will Sound/Alan Pierson
Nonesuch 7559-543123-2
To purchase this CD from our Online Shop, click here now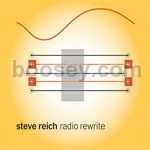 News stories for this title :
Steve Reich: Radio Rewrite unveiled in UK and USA
Steve Reich: Radio Rewrite premieres in UK and US
Mailing List
Sign up for news updates and offers via email
SIGN UP
ONLINE SCORES