Holloway, Robin
:
Fantasy-Pieces
op. 16
(1971)
28'
for chamber ensemble (on the Heine 'Liederkreis' of Schumann)
Scoring
2(I,II=picc).1.1.1-1.1.0.0-pft-strings(1.1.1.1.1) NB. Schumann's 'Liederkreis' may be performed between the Praeludium and the first piece. In that event the original (high) keys should be used and the resulting entity should be given without any breaks whatsoever.
Abbreviations (PDF)
Territory
This work is available from Boosey & Hawkes for the world.
Composer's Notes


On the Heine Liederkreis of Schumann

I Praeludium

II Half Asleep

III Adagio

IV Scherzo ostinato

V Finale: Roses – thorns and flowers

The work (which was originally entitle simply "Liederkreis") was written in 1971 to a commission from Michael Graham-Jones for a celebratory occasion at Oriel College, Oxford, marking the anniversary of his marriage there 25 years before. The choice of Schumann's relatively unfamiliar op.24 song cycle as its main allowed for a further stage in the process of assimilation begun the previous year in my Scenes form Schumann, op.13. There I had been using paraphrase techniques, which presupposed sources that would be familiar to most listeners – although my actual choices were in the first place determined by the fact that I loved these particular songs most of all, and therefore most wanted, as Stravinsky puts it, to 'make them my own'. The Fantasy-Pieces, on the other hand, are not paraphrases. Here the idea was to make abstract forms out of song-material, to align borrowed and original composition in a manner not injurious to either, and to make an integral work out of a source that was itself a unity. The expressive character of the work was determined by the circumstances of the commission, which also prompted some passing references to better-known Schumann cycles.

Apart from the Praeludium (no.8 n the song-cycle), only one piece, the Adagio, retains the shape of its source (no. 3). The first piece superimposes three songs (1,2 and 4); the Scherzo takes only the 13-note ostinato from the cycle's 6th song, though its climax, (the hinge of the whole work), is a return to the Praeludium as a link to the finale, a fantazia on the accompaniment of no.7 intermingled with the melody of no.5. Only Schumann's last song, the comparatively familiar 'Mit Myrthen und Rosen', is not used; but if, as originally envisaged, the complete Schumann Liederkreis is performed between the Praeludium and the main movements, 'Mit Myrthen und Rosen' can still be heard as the focal point both of its original context and of its new one.

Robin Holloway

Reproduction Rights
This programme note can be reproduced free of charge in concert programmes with a credit to the composer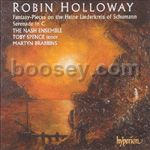 Email Newsletters
Sign up for news updates and offers via email
SIGN UP
ONLINE SCORES