Reich, Steve
:
Electric Counterpoint
(1987)
15'
for electric guitar and tape
Scoring
Gtr soloist and gtr ensemble, ensemble consists of 12 gtr and 2 elec. bass gtr (ensemble may be live or on tape). CD accompaniment available on rental

This work requires additional technological components and/or amplification.
Abbreviations (PDF)
Territory
This work is available from Boosey & Hawkes for the world.
World Premiere
05/11/1987
Brooklyn Academy of Music, Brooklyn, NY
Pat Metheny, guitar /

Composer's Notes
Electric Counterpoint (1987) was commissioned by the Brooklyn Academy of Music's Next Wave Festival for guitarist Pat Metheny. It was composed during the summer of 1987. The duration is about 15 minutes. It is the third in a series of pieces (first Vermont Counterpoint in 1982 for flutist Ransom Wilson followed by New York Counterpoint in 1985 for clarinettist Richard Stolzman) all dealing with a soloist playing against a pre-recorded tape of themselves. In Electric Counterpoint the soloist pre-records as many as 10 guitars and 2 electric bass parts and then plays the final 11th guitar part live against the tape. I would like to thank Pat Metheny for showing me how to improve the piece in terms of making it more idiomatic for the guitar.

Electric Counterpoint is in three movements; fast, slow, fast, played one after the other without pause. The first movement, after an introductory pulsing section where the harmonies of the movement are stated, uses a theme derived from Central African horn music that I became aware of through the ethnomusicologist Simha Arom. That theme is built up in eight voice canon and while the remaining two guitars and bass play pulsing harmonies the soloist plays melodic patterns that result from the contrapuntal interlocking of those eight pre-recorded guitars.

The second movement cuts the tempo in half, changes key and introduces a new theme, which is then slowly built up in nine guitars in canon. Once again two other guitars and bass supply harmony while the soloist brings out melodic patterns that result from the overall contrapuntal web.

The third movement returns to the original tempo and key and introduces a new pattern in triple meter. After building up a four guitar canon two bass guitars enter suddenly to further stress the triple meter. The soloist then introduces a new series of strummed chords that are then built up in three guitar canon. When these are complete the soloist returns to melodic patterns that result from the overall counterpoint when suddenly the basses begin to change both key and meter back and forth between E minor and C minor and between 3/2 and 12/8 so that one hears first 3 groups of 4 eighth notes and then 4 groups of 3 eighth notes. These rhythmic and tonal changes speed up more and more rapidly until at the end the basses slowly fade out and the ambiguities are finally resolved in 12/8 and E minor.

Steve Reich

Reproduction Rights
This programme note can be reproduced free of charge in concert programmes with a credit to the composer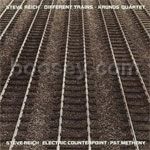 Email Newsletters
Sign up for news updates and offers via email
SIGN UP
ONLINE SCORES