Panufnik, Andrzej
:
Tragic Overture
(1942, recon. 1945, rev. 1955) 7'
for orchestra
Scoring
3(III=picc).0.2.bcl.2.dbn-4.3.3.1-perc(3):cyms/tam-t/BD/SD-strings.
Abbreviations
(PDF).
Territory
This work is available from Boosey & Hawkes for the world.
Composer's Notes
Tragic Overture
was composed in Warsaw in 1941 under the influence of the fear and horror of our daily life, and my agonizing sense of worse things to come. Tragic indeed was the fate of Warsaw - in 1943, the Nazi destruction of the Ghetto, and in 1944 the Warsaw Uprising, when the Russian Army, right close to the city gates, passively watched the Germans systematically flattening almost the whole of Warsaw, killing over a quarter of a million defenceless Polish men, women and children. During this uprising, I lost my
Tragic Overture
together with every note of music I had ever composed in my first thirty years of life. However,
Tragic Overture
being my most recent work, with its structure very deeply engraved upon my mind, I decided to reconstruct it immediately after the war, and to dedicate it to the memory of my only brother, a valiant member of the Polish Underground Army, who fought and lost his life in that tragic Uprising.
As regards the musical material, the whole work is constructed on one four-note cell which runs through from the beginning to the very end. Starting with this four-note cell motif played by the whole orchestra, the bassoon then introduces the first thematic idea, supported by the double-basses constantly transposing the same motif, now augmented. After a
tumultoso
of the whole orchestra, the flute introduces the second thematic idea, long notes
cantabile
, above a dialogue between the violins using the same motif, together with a related dialogue between violas and 'cellos who play only the rhythmic element of the motif in augmentation. In order to build up a tension in the middle of the overture, the same four-note cell motif is used both inverted, and doubly and quadruply augmented.
The third part of the
Overture
consists mainly of a modified repetition of the first part, but as a tutti fortissimo throughout. Towards the end, the percussion instruments enter in canon, repeating rhythmically the first thematic idea which was stated at the beginning of the overture by the bassoon. At the very end, the drums left alone drive the work to a violent, desperate last 'shout' by all the instruments of the orchestra.
Andrzej Panufnik


Reproduction Rights

This programme note can be reproduced free of charge in concert programmes with a credit to the composer
Recommended Recording
Polish Radio Symphony Orchestra/Lukasz Borowicz
CPO 777 497-2
Click here to buy this CD from our Online Shop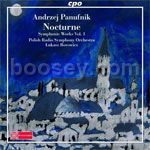 Mailing List
Sign up for news updates and offers via email
SIGN UP
ONLINE SCORES