Chin, Unsuk
:
Cello Concerto
(2006-8, rev.2013) 30'
for cello and orchestra
Scoring
3(II=afl,picc;III=picc).3(III=corA).3(III=Ebcl).3(III=dbn)-4.4(III=Etpt,IV=Etpt).4(I,II=ttrbn;III,IV=btrbn).1-timp.perc(4):3cyms(sm,med,lg)/2guiros/6metal.bl/8pop bottles/5SD(3sm,med,lg)/3tom-t/9tgl/BD/claves/crot/glass wind chime/glsp/maracas/marimba/pitched gong/sand box/sand paper/shocallo/tamb/2tam-t(sm,lg)/temple bells/TD/thunder-sheet/t.bells/vib/whip/xyl/2wdbl(sm,lg)/bongo(lg)-2harp-pft(=cel)-strings(16.16.14.12.10)
NB: double basses with 5 strings are required.
Abbreviations
(PDF).
Territory
This work is available from Boosey & Hawkes der ganzen Welt.
World Premiere
13/08/2009
Royal Albert Hall, London
Alban Gerhardt, cello / BBC Scottish Symphony Orchestra / Ilan Volkov
World premiere of version
10/06/2013
Nationaltheater, München
Alban Gerhardt, cello / Bayerisches Staatsorchester / Kent Nagano
Programme Note
Für das viersätzige Cellokonzert ließ sich Unsuk Chin von der "einzigartigen Kunstfertigkeit von Alban Gerhardt" inspirieren. Der Widmungsträger brachte es 2009 bei den Londoner Proms unter Ilan Volkov zur Uraufführung und stellte auch die Neufassung 2013 unter Kent Nagano in München erstmals vor. Als "das wichtigste Cellokonzert seit Lutoslawski 1970" bezeichnete "The Guardian" Chins transparentes Werk, das den Solisten trotz großer Orchesterbesetzung niemals zudeckt und die spezifischen lyrischen Qualitäten des Instruments bei allen technischen Schwierigkeiten ergiebig auslotet.
Nur sehr selten bezieht sich Unsuk Chin auf musikalische Traditionen ihrer Heimat Korea. Im Cellokonzert gibt es aber tatsächlich einen narrativen Anker: Der erste Satz
Aniri
ist nach einem Begriff aus dem koreanischen Pansori-Theater benannt und bezeichnet in diesen "Ein-Mann-Opern" die Erzählpassagen. Und wie der Akteur eines epischen Gesangs zieht der Cellist alle in seinen Bann. Eingeführt wird er durch kaum hörbare, zarte Tupfer der beiden Harfen: Sie geben den Zentralton
gis
vor, der im Laufe des Satzes immer wieder als orchestraler Sammelpunkt gesetzt und vom Solisten aufgegriffen wird. Röhrenglocken und Celesta kommen hinzu, immer freier löst sich die melodische Linie des Solisten. Mit höchst differenzierten Spieltechniken wie verschiedensten Flageolett-Graden oder dem Aufschlagen der Bogenstange auf der Saite werden die Spektren zwischen Gesang und Geräusch erkundet. Schattenhaft folgt das Orchester dem Cello, nimmt eine rhythmisch prägnante Figur auf, breitet ein verführerisch glitzerndes Feld über Arpeggien und Flageolettpassagen des Solisten aus – neun Triangel unterstützen den Eindruck des Flirrens und Schwebens. Die kurze Kadenz mündet wieder in den Zentralton
gis
. Das träumerische Verharren wird durch eine abrupte Detonation unterbrochen – in das orchestrale Verlöschen mischen sich improvisatorische, fieberhaft flackernde Impulse des Cellos. Mit deren Spielanweisung "as fast as possible" zollt Chin dem Cellokonzert ihres Lehrers Gyo¨rgy Ligeti Tribut.
Der frenetische, scherzohafte 2. Satz wurde nach der Uraufführung noch einmal überarbeitet, ja dessen Beginn sogar ganz neu komponiert. Dieser Satz war "der einzige, von dem ich bereits zu Beginn des Kompositionsprozesses eine sehr klare Vorstellung hatte. Was jedoch am Ende der Arbeit dabei herauskam, war etwas ganz anderes", so Chin vor der Revision. Mit motorischem Drive treibt der Solist das Geschehen an, unterstützt vom Ostinato des Schlagwerks. Wie Blitze fahren die Sechzehntelketten der Streicher nieder, obertonreich am Steg gespielt. Unerwartet in diesem rasanten kurzen Ritt entfaltet sich im Cello eine mit künstlichen Obertönen angereicherte Melodie, den ursprünglichen Gedanken Chins aufgreifend, ein stilisiertes Volkslied zu schreiben.
Als äußerster Kontrast und doch wie durch ein gemeinsames Aus- und Einatmen verbunden wirkt der anschließende 3. Satz. Diesmal etabliert der Solist den Zentralton
g
, um den sich eine delikate choralhafte Aura des Orchesters legt. In aller Empfindsamkeit spinnt das Cello eine Choralmelodie aus, statisch-schwebend von den tiefen Streichern begleitet. Nach einer Kulmination nehmen die Streicher den Choral auf, dann die Holzbläser, vom Cello in einer dunklen kontrapunktischen Gegenbewegung begleitet. Noch stärker spreizt sich das geisterhafte Satzende auseinander: das Cello entschwindet in die höchsten Flageolettregionen, das knorrige Kontrafagott zieht hinunter auf die Erde.
Nach diesen Sphärenklängen versetzt das Orchester dem Solisten im letzten Satz regelrechte Schläge: Harte Akkorde fallen auf ihn nieder, das Sextolenzittern der Violinen greift ihn, wie es in einer Uraufführungskritik bildhaft heißt, "wie ein Schwarm Hornissen" an. Den unablässigen massiven Tutti-Attacken setzt das Cello suchend umherschweifende Figuren entgegen. Von "psychologischer Kriegsführung" spricht Unsuk Chin. Nach einer Explosion von Orchesterfarben übernimmt der Cellist die zitternd aggressive Figur, bis plötzlich mit einer langgesponnenen Melodie noch einmal eine Reminiszenz an den
Aniri
-Satz aufleuchtet. Der epische Erzähler lässt sich nicht vom Kollektiv unterkriegen – er singt unbeeindruckt seine Seele aus, begleitet nur noch von einem drohenden Motiv der Kontrabässe. Die Schönheit in der Musik Unsuk Chins ist immer auch eine gefährdete.
Kerstin Schüssler-Bach
Press Quotes
"Bemerkenswert frisch ... ein bedeutender Neuzugang zum Solokonzert-epertoire."
(Andrew Clements, Guardian, 15.08.2009)
"Es ist ein Werk, das Extreme von (Beinahe-)Stille und explosiven Ausbrüchen auslotet ... Im Schlußsatz durchwandert der Cellist eine kahle Klanglandschaft wie der Überlebende einer globalen Katastrophe. Chins Konzert fordert höchste Aufmerksamkeit vom Hörer und einen einfühlsamen, virtuosen Solisten – beides war ihm gestern gegeben."
(Barry Millington, Evening Standard, 14.08.2009)

"Als Alban Gerhardt am Ende sanft in die Stratosphäre entschwebte, konnte nur die Befriedigung über einen so sorgsam vorbereiteten Zielpunkt die Enttäuschung aufwiegen, daß sich unsere Tür zu Chins Klangwelt für diesen Abend wieder geschlossen hatte."
(Neil Fisher, The Times, 17.08.2009)
Recommended Recording
Alban Gerhardt/Seoul Philharmonic Orchestra/Myung-Whun Chung
Deutsche Grammophon 481 0971


Buy this CD from our Online Shop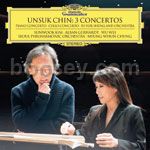 Mailing List
Sign up for news updates and offers via email
SIGN UP
ONLINE SCORES