Reich, Steve
:
You Are (Variations)
(2004)
25'
for voices and large ensemble
Music Text
Rabbi Nachman of Breslov (in English,) Psalms (in Hebrew,) Wittgenstein (in English,) and Pirke Avot (in Hebrew.)
Scoring
Voices: S.S.S.A.T.T*
Ensemble: 2.1.corA.3.0-0.0.0.0-perc(4):2mar/2vib-4pft**-strings (3.3.3.3.1 players, but can increase slightly***)

NOTE: This work requires additional technological components and/or amplification. All instruments and singers are amplified. Strings should use clip-on contact microphones if possible.
*1 or 3 to a part (6 or 18 singers). Voices must be amplified.
**Pianos can be either full grands, smaller grands, or, if absolutely necessary, 4 identical high quality Digital Pianos.
*** no amplification needed if more than 3 players to a part
Abbreviations (PDF)
Territory
This work is available from Boosey & Hawkes for the world.
World Premiere
24/10/2004
Walt Disney Concert Hall, Los Angeles, California
Los Angeles Master Chorale / Grant Gershon

World premiere of version
03/05/2014
Gewandhaus, Leipzig
MDR Sinfonieorchester / Kristjan Järvi

Composer's Notes

You Are (Variations) (2004) is in four movements with each movement a setting of a short text. The movements/texts are:

You are wherever your thoughts are

Shiviti Hashem L' negdi
(I place the Eternal before me)

Explanations come to an end somewhere

Ehmor m'aht, v'ahsay harbay
(Say little and do much)

The first text is an English translation from Rebbe Nachman of Breslov, one of the most magnetic and profound of the late 18th century Hasidic mystics. The quote is from his 'Likutey Moharan' I:21.

The second text is from Psalm 16 in the original Hebrew and translates as 'I place the Eternal before me'. The third is an English translation from the German of Ludwig Wittgenstein's 'Philosophical Investigations'.

The fourth quote is from Pirke Avot, one of the earliest parts of the Talmud and by far its most popular tractate. The Hebrew, from Rabbi Shammai, translates as 'Say little and do much'.

Since these texts are all quite brief, it was natural to repeat them with a somewhat different musical setting in each repeat. Hence variations were basically forced on me as a form by my choice of texts. The actual means of variation varies considerably.

Starting out, I made a harmonic ground plan with a short cycle of chords that would serve as the underpinning for all the variations, as has been done historically numerous times before. However, having completed the first setting of 'You are wherever your thoughts are', the second time I started to vary the harmonies. As I went on, they departed further from the original ground plan. I frankly enjoyed this immensely since I was following spontaneous musical intuition. In the third variation there are quotes from 'L'homme Armé', the popular song from the 14th century. Starting with the fifth variation I began piling all four pianos on top of each other with conflicting harmonies that produce something new and extremely energetic. In the sixth variation one may hear echos of James Brown.

The second text, in Hebrew, is sung and then immediately sung in canon, which is then repeated and augmented to create a kind of slow motion canon; marimbas, vibes and pianos drive it on in constantly changing meters. After a short pause the slow third movement begins, varying the repetitions of its text in changing, often minor, harmonies. The last movement, again in Hebrew, returns to the original tempo and is composed of augmenting canons, similar to those of the second movement.

What unites the piece harmonically is a constantly recurring D major dominant chord – usually with G, rather than A in the bass. This bright ray of D major light illuminates most of the piece, most intensely in the final movement.

'You Are (Variations)' is scored for 3 sopranos, 1 alto and 2 tenors with 2 flutes, oboe, english horn, 3 Bb clarinets, 4 pianos, 2 marimbas, 2 vibraphones and strings. The overall duration is a little more than 26 minutes. The piece was co-commissioned by the Los Angeles Master Chorale, Lincoln Center, and the Ensemble Modern.

Steve Reich - August 2004

Reproduction Rights
This programme note can be reproduced free of charge in concert programmes with a credit to the composer
Press Quotes
Deutsch
"You Are is an exceptional score… what is so impressive is the way Reich has written through the pithy texts to achieve music that feels as if we are watching (hearing) music bloom to fill not just the room but the consciousness. Part of this is Reich's brilliant and original variation technique… The music gets richer and richer. At the same time the text…has the quality of an injection of wisdom. Gradually it infects awareness, words, tones, rhythms and meanings. Then there is the sheer visceral sensation of compelling music, insistent in its rhythms, building complexities… a masterpiece."
Los Angeles Times

"You Are (Variations) incorporates "aphoristic truisms" from ancient Hebrew and more recent Wittgentstein… Like a jewel examined in changing light, the text rises and falls through the instrumental texture… The marvel of the work is the newness of its expression, the fresh sounds and messages Reich has found within materials that are already known aspects of his musical language… He continues to find new uses for his 'classic' minimalist techiques, as You Are (Variations) handsomely suggests."
Los Angeles Weekly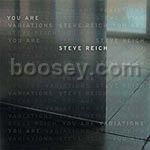 Mailing List
Sign up for news updates and offers via email
SIGN UP
ONLINE SCORES