100 Jahre Sacre: Faksimile-Ausgabe erscheint 2013
(January 2013)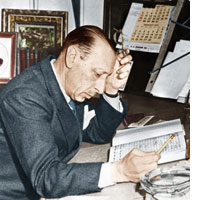 Am 29. Mai 2013 jährt sich zum 100. Mal die Pariser Uraufführung eines Jahrhundertwerkes: Igor Strawinskys Le Sacre du Printemps. Die Paul Sacher Stiftung Basel, die den Nachlass Strawinskys verwahrt, gibt aus diesem Anlass eine Jubiläumsedition in drei Bänden heraus: zwei kommentierte Faksimiles – das Partitur-Autograph sowie die vierhändige Klavierfassung – und ein Studienbuch mit Beiträgen führender Forscher.

Für alle an Musik und Kunst der Moderne Interessierten eine lohnende, ja eine wesentliche Lektüre!
Das für die Musik- und die Balletthistoriographie gleichermaßen epochale Uraufführungs-Datum des Sacre markiert den Durchbruch zur Moderne. Die "Bilder aus dem heidnischen Russland" sind ein europäisches Werk, ein Werk mehrfacher Autorschaft und Gattungszugehörigkeit, ein Meisterwerk von ganz außerordentlichen künstlerischen Potentialen. Der Sacre spiegelt ein Jahrhundert – das Jahrhundert spiegelt sich in ihm.

> Laden Sie hier unsere Subskriptionsbroschüre herunter (PDF)

Die Ausgabe:

Faksimile der Partiturreinschrift
hrsg. von Ulrich Mosch
Einleitung in Deutsch und Englisch
Dieses prachtvolle Manuskript zählt zweifellos zu den bedeutendsten Dokumenten nicht nur für das Schaffen Strawinskys, sondern innerhalb der Bestände der Paul Sacher Stiftung überhaupt.
Die kalligraphische Ausdruckskraft, für die der Komponist eine besondere Gabe besaß, prägt diese autographe Partitur in ganz besonderer Weise. Zugleich markiert das mit zahlreichen Korrekturen sowie Dirigier- und Verlagseintragungen versehene Manuskript den Beginn eines anhaltenden Ringens um die angemessene Niederschrift des Sacre, das mit umfangreichen Revisionen für die ab 1922 erscheinenden Druckausgaben noch mehrere Jahrzehnte anhalten sollte.
Mit dieser Edition erhält erstmals ein breiteres Publikum unmittelbaren Zugang zu einer ursprünglichen Form von Strawinskys Sacre und damit die Gelegenheit zur weiteren Auseinandersetzung mit diesem Jahrhundertwerk.

Faksimile der Klavierfassung zu vier Händen
hrsg. von Felix Meyer
Einleitung in Deutsch und Englisch
Bereits im Mai 1913, kurz vor der Uraufführung des Werks, erschien im Russischen Musikverlag eine vierhändige Klavierfassung des Sacre. Sie entstand primär zu Studien- und Probezwecken, ist jedoch in den letzten Jahrzehnten auch im Konzertsaal heimisch geworden.
Das Manuskript dieser Fassung – eine teils autographe, teils von fremder Hand aufgezeichnete, aber in vollem Umfang von Strawinsky durchgesehene und autorisierte Reinschrift – galt lange als verschollen und wird hiermit erstmals der Öffentlichkeit zur Kenntnis gegeben. Es erlaubt nicht nur eine textkritische Überprüfung der Druckausgabe, sondern gibt mit seinen Detailkorrekturen auch einen wertvollen Einblick in Strawinskys Bemühen um eine möglichst präzise und zugleich klaviergerechte Darstellung seiner Komposition.

Avatar of Modernity
The Rite of Spring Reconsidered
hrsg. von Hermann Danuser und Heidy Zimmermann
18 Essays in englischer Sprache
Der reich illustrierte Sammelband vermittelt in 18 Essays einen Überblick über die bisherige Forschung zu Le Sacre du Printemps und eröffnet neue Perspektiven auf das Werk und seine Wirkung. Die Umstände der Entstehung, die Kontexte und das revolutionäre Potential des Sacre werden – auch im Licht bislang unbekannter Quellen – untersucht und der kulturelle Hintergrund zwischen Archaik und Moderne verortet. Immer geht es auch um die kritische Reflexion von Mythen, die das Werk umgeben. Seine nunmehr über ein Jahrhundert andauernde internationale Rezeption wird unter verschiedensten Aspekten behandelt: choreographische und musikalische Interpretationen finden dabei ebenso Berücksichtigung wie kompositorische Reaktionen und analytische Ansätze.
Mit Beiträgen von Jan Assmann, Jonathan Bernard, Tobias Bleek, John E. Bowlt, Esteban Buch, Jonathan Cross, Lynn Garafola, Paul Griffiths, Edmund Griffiths, Claudia Jeschke, Stefanie Jordan, Andreas Meyer, Herfried Münkler, Robert Piencikowski, Swetlana Savenko, Arne Stollberg, Richard Taruskin und Stephen Walsh.

Reduzierter Einführungspreis verfügbar bis 31.03.2013!
Veröffentlichung im Mai 2013. Alle Titel können von jedem guten Musikgeschäft oder Online-Händler bestellt werden und sind auch erhältlich unter www.boosey.com/shop.

> Further information on Work: The Rite of Spring
Photo: Booseyprints.com
> News Search