2014/15 Highlights from Boosey & Hawkes New York
(August 2014)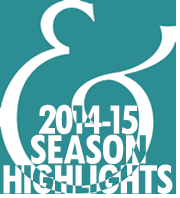 The upcoming season brings premieres and special events not to be missed! See below for a select list of upcoming events to look forward to this coming season.
John Adams
This October, the Metropolitan Opera mounts John Adams's critically acclaimed opera, The Death of Klinghoffer. In November and December, the English National Opera gives the world stage premiere of Adams's The Gospel According to the Other Mary, directed by frequent collaborator Peter Sellars. In March, the New York Philharmonic, under the baton of Alan Gilbert, gives the world premiere of Scheherazade.2 for violin and orchestra, written for renowned violinist Leila Josefowicz. In January, the St. Lawrence String Quartet gives the world premiere of a new Adams quartet at Stanford Live. The Brooklyn Academy of Music's Next Wave Festival also features an all-Adams evening with Alarm Will Sound in September.

Oscar Bettison
Oscar Bettison is busy these days… very busy. The composer sees the world premiere of a new work by the Talea Ensemble at Brooklyn's Roulette; the Berkeley Symphony, under the direction of Joana Carneiro, premieres Sea Shaped on the West Coast; Ensemble musikFabrik premieres a new work (a collaboration with film) in Germany; and recorder master Susanna Borsch gives the first performance of Bird Forms on a Neutral Background in the Netherlands. It all happens September through November!

Elliott Carter
Although he is gone, his music stays with us. The final premiere of Elliott Carter, The American Sublime, will be given by James Levine and the MET Chamber Ensemble this March at Carnegie Hall.

Unsuk Chin
This September, Kari Kriikku joins Alan Gilbert and the New York Philharmonic to give the US premiere of Unsuk Chin's Clarinet Concerto. February brings the West Coast premiere of the composer's 2007 opera, Alice in Wonderland (staged with video), with the Los Angeles Philharmonic and members of the Los Angeles Opera Chorus, conducted by Susanna Mälkki and directed by Netia Jones.

Anna Clyne
Internationally acclaimed percussionist Colin Currie gives the world premiere of Anna Clyne's Secret Garden in London this October; the world premiere of Postponeless Creature by members of the Chicago Symphony Orchestra at the CSO's MusicNOW series takes place in March; and in April, Clyne is the subject of a "Composer Portraits" concert at Columbia University's Miller Theatre in New York—an event that examines the composer through music and discussion. Jennifer Koh gives the world premiere of a new concerto for violin and orchestra with the Chicago Symphony Orchestra, conducted by Ludovic Morlot, in May. Koh also performs Rest These Hands, an arrangement of several movements from The Violin, with the Orpheus Chamber Orchestra this season.

Sebastian Currier
Sebastian Currier's intimate work for violin and double bass, Ringtone Variations, written for Anne-Sophie Mutter and Roman Patkoló, gets its US premiere this November at Carnegie Hall. In April, his new work for orchestra, Divisions, will be premiered by the Seattle Symphony, under the baton of Ludovic Morlot. In addition, May brings the premiere of Spark, written for the twelve cellos of the Berlin Philharmonic, and Glow, a new solo piano work to be premiered by Inon Barnatan in London.

Brett Dean
Brett Dean's recent work for trumpet and orchestra, Dramatis personae, receives its first US performances in November with the Andris Nelsons and the Boston Symphony Orchestra, featuring Swedish trumpet virtuoso Håkan Hardenberger.

Osvaldo Golijov
Osvaldo Golijov's worldly sensibilities extend throughout his compositional oeuvre. His critically acclaimed one-act opera, Ainadamar, receives its Japanese premiere in November by the Yomiuri Nippon Symphony Orchestra, conducted by Junichi Hirokami and directed by Awakuni Atsushi. In February, the New York Philharmonic and the Silk Road Ensemble with Yo-Yo Ma perform Rose of the Winds, celebrating Silk Road's 15th anniversary.

Henryk Górecki
Henryk Górecki's Third Symphony—one of the most popular works of the 20th century—reminded us of our humanity in its reflection on atrocity. After his death, the composer's Fourth Symphony keeps his spirit alive; realized by Górecki's son, the work receives its US premiere with the Los Angeles Philharmonic, conducted by Andrey Boreyko, in January.

Robin Holloway
This October, Robin Holloway's Serenade in C gets its US premiere by the New World Symphony in Miami Beach.

Karl Jenkins
This January, Distinguished Concerts International New York (DCINY) continues its annual celebration of Karl Jenkins. In addition leading the ensemble in a performance of the composer's mammoth work, The Peacemakers, DCINY Artistic Director Jonathan Griffith conducts the US premieres of The Healer and Llareggub.

Tod Machover
Tod Machover—composer, inventor, and everything in between—continues his exploration of analog and digital realms. His new work for flute and orchestra, written for Carol Wincenc, will be premiered in November by the Bemidji Symphony Orchestra and a new work for the Montreal Symphony Orchestra sees its premiere in May. Also currently in the works is a large ensemble piece for the Lucerne Festival, part of a series of works inspired by the sights, sounds, culture, and people of different cities around the world.

Steven Mackey
A new song by Steven Mackey, written for vocalist Shara Worden and So Percussion, receives its world premiere in March 2015. In May, his new work for orchestra, Mnemosyne's Pool, receives its world premiere by the Los Angeles Philharmonic, under the baton of Gustavo Dudamel.

James MacMillan
James MacMillan is Visiting Composer at the São Paulo Symphony Orchestra (OSESP) in 2014. His Woman of the Apocalypse receives its first South American performances with the orchestra, conducted by Marin Alsop, in October, among performances of other works. MacMillan's Piano Concerto No. 3 will also see its New York premiere with Alan Gilbert and the New York Philharmonic, featuring pianist Jean-Yves Thibaudet, in February.

Meredith Monk
Carnegie Hall welcomes Meredith Monk, the Richard and Barbara Debs Composer's Chair at for the 2014–15 season. Multiple concerts highlight the composer's extensive output as she celebrates her 50th season of performance.

Steve Reich
As Steve Reich continues to compose new works, we eagerly await their premieres. The world premiere of his new Quartet for two vibraphones and two pianos takes place this October in London before going to Germany and then Carnegie Hall in New York a couple of weeks later. Reich is also one of the major subjects of the Brooklyn Academy of Music's Next Wave Festival; the season's opening concerts feature Steve Reich with composer Philip Glass as they join together on stage for a series of three concerts in September that showcase masterworks by both composers.

Christopher Rouse
Christopher Rouse is the gift that keeps on giving. The New York Philharmonic, where he currently serves as Composer-in-Residence, has welcomed his music with open arms. The illustrious ensemble gives the world premiere of Thunderstuck in October, followed by the New York premiere of his popular Flute Concerto and performances of Iscariot in February. In addition, Supplica receives its West Coast premiere in September with the Pacific Symphony, conducted by Carl St.Clair.

Sean Shepherd
Harpist Sivan Magen gives the world premiere of a new work for solo harp by Sean Shepherd at Carnegie Hall in October. Coming this April, another new work, written for the Ensemble intercontemporain, conducted by Matthias Pintscher, premieres in Paris.

Mark-Anthony Turnage
After a dazzling season of performances in the United States, the appeal of Mark-Anthony Turnage is on the rise. Early September sees the US premiere of Erskine for drum kit and orchestra by Bramwell Tovey and the Los Angeles Philharmonic, featuring the work's namesake, Peter Erskine, as soloist. Also, the Philadelphia Orchestra, conducted by Yannick Nézet-Séguin, gives the US premiere of the composer's Piano Concerto, featuring Marc-André Hamelin as soloist.
> News Search
Mailing List
Sign up for news updates and offers via email
SIGN UP
ONLINE SCORES