2016/17 Highlights from Boosey & Hawkes London
(August 2016)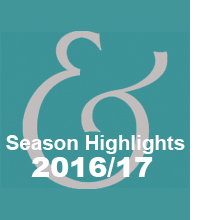 The coming season brings an extensive collection of new and recent works by Boosey & Hawkes composers, together with celebrations for Steve Reich's 80th and John Adams's 70th birthdays.
Sep– Jun, Berlin
Adams composer residency for 70th birthday

The John Adams composer residency with the Berlin Philharmonic spans the 2016/17 season in honour of his 70th birthday next year. Highlights include Adams conducting the German premiere of Scheherazade.2 featuring violinist Leila Josefowicz (15-17 Sep), the Berlin premiere of his Passion oratorio The Gospel According to the Other Mary conducted by Simon Rattle (26-28 Jan) and City Noir conducted by Gustavo Dudamel (8-10 Jun).
> Series info

Sep– Apr, Lyon
Adams composer in association for 70th birthday

John Adams is Composer in Association with the Orchestre national de Lyon for the coming season in honour of his 70th birthday year in 2017. Seven works are programmed including the French premiere of the Saxophone Concerto with Timothy McAllister as soloist, orchestral concerts conducted by Leonard Slatkin and a day of the composer's music (29 Apr).
> Series info

15 Sep, Bonn
Chapela Zimmergramm

The world premiere of Enrico Chapela's new choir and orchestra work, Zimmergramm, is presented on tour by the National Youth Orchestra of Germany at the Beethovenhalle in Bonn. The concert series featuring the Mexican composer also includes the German premieres of MAGNETAR with Johannes Moser as soloist at the Konzerthaus in Berlin (22 Aug) and Acoussence in Bonn (14 Sep), with all three concerts conducted by Alondra de la Parra.
> Concert info

27 Sep, Akron
Turnage Shroud

A busy season of Mark-Anthony Turnage premieres is launched with the world premiere of Shroud, his new work for the Emerson Quartet, touring from Tuesday Musical in Akron (27 Sep) to New York for a concert in the Chamber Music Society of Lincoln Center programme (23 Oct), the Philharmonie in Berlin (10 Nov) and the Wigmore Hall in London (13 Nov) with further dates in the USA including Costa Mesa, Seattle, Houston and Wolf Trap Park (Mar/Apr).
> Concert info

28 Sep, Sydney
Kats-Chernin The Witching Hour

The Australian World Orchestra gives the premiere of Elena Kats-Chernin's new concerto for 8 double basses and orchestra at the Sydney Opera House. The programme conducted by Alexander Briger receives its Asian premiere at the Esplanade in Singapore (1 Oct).
> Concert info

28 Sep/1 Nov, London
Dean Knocking at the Hellgate / From Melodious Lay

Brett Dean's Artist in Association role with the BBC Symphony Orchestra continues with two operatically linked works at the Barbican. Knocking at the Hellgate is a suite for baritone and orchestra drawn from Dean's first opera Bliss (28 Sep), while From Melodious Lay is a 'Hamlet Diffraction' for soprano, tenor and orchestra commissioned by the BBC (1 Nov), looking forward to his second opera Hamlet premiered at Glyndebourne next summer.
> Concert info

Oct–May, Amsterdam
Adams 70th birthday series

The Royal Concertgebouw in Amsterdam plays host to the ZaterdagMatinee's The World According to Adams series with seven works honouring the composer's 70th. El Niño provides a nativity celebration with the Dutch Radio Philharmonic Orchestra under Markus Stenz (10 Dec) and a starry concert performance of Nixon in China features the Dutch National Youth Orchestra (11 Feb). John Adams conducts the Dutch premiere of the Saxophone Concerto with Timothy McAllister (6 May)
> Series info

8 Oct, Cardiff
Jenkins Cantata Memoria

Karl Jenkins's newest choral and orchestral work is Cantata Memoria, a 50th commemoration of the Aberfan tragedy, when a coal spoil tip enveloped a school and houses in 1966, killing 116 children and 28 adults. The world premiere will be at the Wales Millennium Centre with singers Bryn Terfel and Elin Manahan Thomas, euphonist David Childs and harpist Catrin Finch joining the orchestra of Sinfonia Cymru conducted by the composer. Deutsche Grammophon releases the recording of Cantata Memoria in October.
> Concert info

15 Oct, London
MacMillan Stabat Mater

James MacMillan's new setting of the Stabat Mater for choir and string orchestra is premiered by The Sixteen and the Britten Sinfonia at the Barbican, conducted by Harry Christophers. This is the finale of a day of MacMillan choral events including the London premiere of Seven Angels by Ex Cathedra conducted by Jeffrey Skidmore. Following the London premiere the Stabat Mater travels on with The Sixteen to Saffron Walden, Norwich and Manchester with performances planned in Edinburgh and Glasgow in March 2017.
> Concert info

16 Oct, Warsaw
Górecki Two Tristan Postludes and Chorale

The posthumous premiere of Henryk Mikolaj Górecki's Two Tristan Postludes and Chorale is given by Sinfonia Varsovia conducted by Jerzy Maksymiuk at the Tansman Festival. The work dates from 2004 in a period when the composer was particularly fascinated by Wagner and the sense of turning away from earthly values he heard in Tristan. The music has been orchestrated from the short score by the composer's son Mikolaj Górecki, with strings joined by resonances from piano, harp, tubular bells and glockenspiel. The UK premiere follows with the Royal Liverpool Philharmonic Orchestra and young Polish conductor Patrycja Pieczara (3 Nov).
> Tansman Festival info
> Liverpool concert info

25 Oct, Stuttgart
Dean Music of Memory

The Stuttgart Chamber Orchestra gives the world premiere of Brett Dean's new work for string orchestra in the Liederhalle conducted by the composer. Music of Memory is an expansion of three movements from Dean's Epitaphs for string quintet, paying memorial tribute to Australian poet and writer Dorothy Porter, photographer and philanthropist Betty Freeman, composer György Ligeti and conductor Richard Hickox.
> Concert info

1 Nov, New York
Reich Pulse

An all-Steve Reich concert at Carnegie Hall celebrates his 80th birthday, including the world premiere of Pulse, scored for winds, strings, piano and electric bass, performed by ICE conducted by David Robertson. The programme also features Reich's Quartet and his video opera collaboration with Beryl Korot Three Tales with ICE joined by So Percussion and Synergy Vocals. Over the coming season Pulse travels to the Barbican in London (5 Nov), Paris Philharmonie (12 Nov), Cologne Philharmonie (13 Nov), the ZaterdagMatinee series in Amsterdam's Royal Concertgebouw (14 Jan) and Walt Disney Hall in Los Angeles (17 Jan).
> Concert info

4/5 Nov, 's-Hertogenbosch/Amsterdam
Glanert Requiem für Hieronymus Bosch

Detlev Glanert's ten-year residency with the Royal Concertgebouw Orchestra continues with first performances of his Requiem für Hieronymus Bosch for soloists, choir and orchestra. The 75-minute work was commissioned to celebrate the 500th anniversary of the artist. The premiere in Bosch's native city of 's-Hertogenbosch with the RCO, Netherlands Radio Choir and Markus Stenz, is followed by a performance at the Royal Concertgebouw in Amsterdam's ZaterdagMatinee series.
> Concert info

5-6 Nov, London
Reich Steve Reich at 80 weekend

The Barbican in London plays host to a major 80th birthday celebration for Steve Reich with the composer in attendance, including the European premiere of Pulse by the Britten Sinfonia under Clark Rundell. Other highlights include Drumming performed by students from the Guildhall School of Music and Drama and the video opera Three Tales. The weekend's finale features the London Symphony Orchestra, Paavo Järvi and Synergy Vocals in You Are (Variations), Daniel Variations and The Desert Music.
> Series info

10 Nov, London
Reich Runner

Steve Reich's Runner is premiered by The Royal Ballet in a new dancework within a mixed programme celebrating Wayne McGregor's 10th anniversary as Resident Choreographer. Runner is scored for a large ensemble of winds, percussion, pianos and strings and McGregor's new ballet, as yet untitled, is the latest in a series of his ballets set to Reich's music. Concert performances of the new work will follow presented by co-commissioners Signal, Ensemble Modern, Cal Performances and Washington Performing Arts/Ensemble including this season in Paris (12 Nov), Cologne (13 Nov) and Amsterdam (14 Jan).
> Ballet info

12 Nov, Tokyo
Turnage Hibiki

Mark-Anthony Turnage's new work for voices and orchestra, Hibiki, was commissioned by Suntory Hall in Tokyo for its 30th anniversary. Hibiki is Japanese for 'beautiful sound', and Turnage's work is intended as consolation after loss, whether war, earthquake or tsunami. His six threnodies and a dance combine orchestral and vocal movements for soprano or mezzo soloist or children's choir. Also in November is the premiere of Maya, part of the Swedish Chamber Orchestra's Brandenburg Concerto project with Turnage's new work matching the scoring of Bach's first concerto, featuring Maya Beiser as cello soloist (17 Nov).
> Hibiki info
> Maya info

17 Nov, Philadelphia
Rouse Organ Concerto

Christopher Rouse's new concerto for the king of instruments will raise the roof at Verizon Hall in Philadelphia, with over 7000 pipes resounding on the largest mechanical-action concert hall organ in the USA. Paul Jacobs is soloist and Yannick Nezet-Seguin conducts the Philadelphia Orchestra. Further performances this season are given by co-commissioners the Los Angeles Philharmonic (20 Apr) and the National Symphony in Washington (11 May), all with Jacobs as soloist. Other Rouse premieres this season include his Symphony No.5 by the Dallas Symphony Orchestra and Jaap van Zweden (10 Feb).
> Philadelphia info
> Dallas info

Dec-Apr, London
Adams John Adams at 70

The Barbican's 2016/17 season celebrates John Adams's 70th birthday in its Sounds that Changed America series. Highlights include a nativity-tide performance of El Niño by the London Symphony Orhchestra (4 Dec) and a concert performance of Doctor Atomic with the BBC Symphony Orchestra 25 Apr), both conducted by the composer. Other repertoire includes Scheherazade.2 performed by the LSO and Leila Josefowicz (8 Dec), Chamber Symphony and Grand Piano Music by the Britten Sinfonia (25 Feb) and Absolute Jest and Harmonielehre by the New York Philharmonic (1/2 Apr).
> Series info

10-11 Dec, Paris
Adams John Adams weekend

The Philiharmonie in Paris presents a weekend of John Adams's music including five concerts with three French premieres. The London Symphony Orchestra conducted by the composer performs El Niño and Scheherazade.2 with Leila Josefowicz as soloist, while the Orchestre national de Lyon present the Saxophone Concerto with conductor Joshua Weilerstein and soloist Timothy McAllister. Both string quartets are programmed by members of the Orchestre national d'Ile-de-France and the St Lawrence String Quartet respectively.
> Series info

Jan-Mar, Stavanger
Lindberg feature with Stavanger Symphony

Magnus Lindberg is featured composer with the Stavanger Symphony with five works featured in three concerts in early 2017 including four Norwegian premieres. Frank Peter Zimmermann is soloist in Violin Concerto No.2 and Nicolas Hodges in Piano Concerto No.2 in a pair of programmes with Chief Conductor Christian Vasquez on the rostrum (12 Jan/16 Mar). Other repertoire includes Al Largo, Vivo and the Concerto for Orchestra in a concert with Pierre-André Valade (23 Mar).
> Series info

5 Jan, New York
Gruber Piano Concerto

HK Gruber's new piano concerto for Emanuel Ax receives its world premiere at Lincoln Center with the New York Philharmonic under Alan Gilbert. The work moves through a series of colourful tableaux in a musical idiom close to that of his recent opera Tales from the Vienna Woods. The European premiere features Simon Rattle and the Berlin Philharmonic (16 Mar) with future performances planned by co-commissioners the Stockholm Philharmonic and the Tonhalle Orchester in Zürich.
> Concert info

19 Jan/21 Jun, London/Berlin
Turnage Remembering

Mark-Anthony Turnage is reunited with Simon Rattle for the first performances of Remembering by the London Symphony Orchestra and Berlin Philharmonic. Resembling a symphony in four movements, the 30-minute score is a memorial for Evan Schofield, the son of drummer and long-term Turnage collaborator John Scofield, and by extension the work offers sympathy to other parents who lose children before their time. The spring unveils Turnage's Martland Memorial for percussion and orchestra, featuring Colin Currie and the Britten-Pears Orchestra under Marin Alsop, including a performance at the Royal Festival Hall (7 Apr).
> Remembering info
> Martland Memorial info

19 Jan, London
Deutsch Mad Dog / Dr Futurity

Prize-winning Austrian composer Bernd Richard Deutsch is introduced to London audiences in the Philharmonia Orchestra's Music of Today series at the Royal Festival Hall. The UK premieres of music from his zany ensemble works Mad Dog and Dr Futurity are conducted by Jean-Philippe Wurtz. Mad Dog, which the composer describes as a zoomorphic play, also receives its US premiere this season in Miami with members of the New World Symphony under HK Gruber (3 Dec).
> Concert info

1-9 Feb, Helsinki
Aa composer feature at Musica Nova festival

The Musica Nova festival in Helsinki features the Finnish premiere of Michel van der Aa's chamber opera Blank Out, with soprano Katherine Manley on stage, baritone Roderick Williams on film, and the voices of the Netherlands Radio Choir on the soundtrack. The van der Aa feature also includes the Finnish premiere of Spaces of Blank with mezzo Nora Fischer and the Finnish Radio Symphony Orchestra under the festival's new Artistic Director André de Ridder and the clarinet concerto Hysteresis with Kari Kriikku and the Tapiola Sinfonietta.
> Festival info

17 Feb, Turin
Dean Electric Violin Concerto

Brett Dean has created a new version of his Viola Concerto, adapting the solo part for 5-string electric violin. The Electric Violin Concerto will be premiered by the RAI Orchestra in Turin within its Nuovamusica series, conducted by Francesco Lanzillotta with soloist Francesco d'Orazio who performed Dean's Electric Preludes at the BBC Proms in 2014. Håkan Hardenberger continues to champion Dean's trumpet concerto Dramatis personae, with performances in the coming season in Paris, Munich and Stockholm.
> Concert info

Mar, Glasgow
MacMillan Composer feature

Musical organisations in Glasgow join together for a month-long exploration of James MacMillan's music in March. The BBC Scottish Symphony Orchestra presents the Scottish premieres of the Viola Concerto with Lawrence Power and Symphony No.4, while the Scottish Chamber Orchestra performs the new Concertino for Horn and Strings, Tryst and joins The Sixteen for Stabat Mater. Other concerts are planned by the Hebrides Ensemble and Royal Conservatoire of Scotland and the series is presented in conjunction with Glasgow Life.
> BBC SSO concerts info
> SCO concert info

2 Mar, London
Yun Teile dich Nacht / Pièce concertante

The centenary of Isang Yun's birth is celebrated by the Philharmonia Orchestra at a concert in its Music of Today series at the Royal Festival Hall in London. Teile dich Nacht is a haunting setting of Nelly Sachs' poems, while Pièce concertante bursts with energy and playfulness. Yun's scorchingly expressive music draws equally on elements of old Korean music and on avant-garde inventions. Other centenary highlights include the Austrian premiere of his Cello Concerto with Matt Haimovitz as soloist with the Bruckner Orchester in Linz (12 Jun).
> Concert info

3 Mar, London
Glanert Megaris

The BBC Symphony Orchestra and BBC Singers join forces for the UK premiere of Detlev Glanert's Megaris at the Barbican. After Odysseus betrayed the siren Parthenope she cast herself into the sea and her body was washed ashore on the island of Megaris. Glanert's work bears the subtitle Seascape with Siren's Lost Lament and her other-worldly song is summoned up through the composer's writing for wordless chorus. Next spring also brings the first performances of a new version of Glanert's chamber opera Leyla und Medjnun at the Hannover State Opera (12 May).
> Concert info

4 Mar, Cologne
Borowski Piano Concerto

Johannes Boris Borowski's Piano Concerto receives its public premiere in Cologne with soloist Florent Boffard and the WDR Symphony Orchestra conducted by Manuel Nawri. This follows the work's recording on the Wergo label with the same soloist and conductor. Other Borowski premieres in 2017 include an "Encore" for ensemble in the opening concert of the new Pierre Boulez Hall at the Barenboim-Said Academy in Berlin (16 May) and String Quartet No.2 for the Minguet Quartett in Stuttgart's attacca series (17 Jun).
> Concert info

22 Mar, London
Lindberg Cello Concerto No.2

Anssi Kartunen is soloist in the UK premiere of Magnus Lindberg's Cello Concerto No.2 at the Royal Festival Hall in London, with the London Philharmonic Orchestra under Jukka-Pekka Saraste. The cellist and conductor are reunited for the work's German premiere with the Konzerthausorchester in Berlin (31 Mar). Lindberg's residency with the LPO includes its second performance of Two Episodes, recently premiered at the BBC Proms, with Christoph Eschenbach again programming the work to lead into Beethoven's Symphony No.9 (6 May).
> Concert info

24 Mar, Kansas City
Rautavaara Fantasia

Anne Akiko Meyers is violin soloist in the world premiere of the new Fantasia by Einojuhani Rautavaara with the Kansas City Orchestra under Michael Stern. This 15-minute rhapsodic work, one of the composer's last to be completed before his death in July this year, is scored for violin and small orchestra, and has been recorded on the eOne Music label. Anne Akiko Meyers couples Fantasia at its premiere with Ravel's Tzigane and is planning further performances of both the concerto and the violin and piano versions of Rautavaara's work.
> Concert info

20 Apr, Amsterdam
MacMillan Trombone Concerto

The world premiere of James MacMillan's new Trombone Concerto is given by Jörgen van Rijen and the Royal Concertgebouw Orchestra conducted by Iván Fischer. As a brass player, MacMillan has always written imaginatively for trombones and the new concerto promises to be a major addition to the repertoire for the instrument. The work is co-commissioned by the Royal Concertgebouw Orchestra, Royal Flemish Philharmonic Orchestra, Orchestre de la Suisse Romande, Oulu Symphony Orchestra, Dallas Symphony Association and Staatstheatre Cottbus.
> Concert info

Apr/May, Cologne
Chin Featured composer at Acht Brücken festival

The Chin retrospective at the Acht Brücken festival presented by Musik für Köln includes 10 works culminating in a new score for soprano and orchestra. Repertoire takes in the sheng concerto Šu, the Piano Concerto and the Double Concerto, together with Cantatrix Sopranica, Cosmigimmicks, Gougalon, Graffiti and Le Silence des Sirènes. Performers include the Ensemble Intercontemporain, Musikfabrik, the Bamberg Symphony, the SWR Symphony Orchestra and the Gürzenich Orchestra Cologne.
> Festival info

26 May, Manchester
Simpson Cello Concerto
As a highlight of his residency with the BBC Philharmonic, Mark Simpson's Cello Concerto is premiered by Leonard Elschenbroich under the baton of Juanjo Mena. The new work follows composer and soloist's earlier collaboration Night Music, for cello and piano, as heard on the recently released Simpson disc on the NMC label. Simpson's four season Composer in Association role with the BBC Philharmonic features his recent works, three new commissions and performances with Simpson as clarinet soloist.
> Concert info

5 Jun, Berlin
Birtwistle Deep Time

Harrison Birtwistle's new large-scale orchestral work, Deep Time, is premiered by Daniel Barenboim with the Staatskapelle Berlin at the Philharmonie. This follows Barenboim's commissioning of Exody during his tenure with the Chicago Symphony and his conducting of the premiere production of Birtwistle's opera The Last Supper at the Berlin Staatsoper. The latter work receives its first Scottish performance this season in a semi-staged performance in Glasgow with the BBC Scottish Symphony Orchestra under Martyn Brabbins with Roderick Williams as Christ (14 Jan).
> The Last Supper info
> Deep Time info

11 Jun, Glyndebourne
Dean Hamlet

Brett Dean's second opera, Hamlet, is premiered at the 2017 Glyndebourne Festival in a production by Neil Armfield. Vladimir Jurowski conducts eight performances with the London Philharmonic Orchestra and a starry cast including Allan Clayton in the title role, Sarah Connolly as Gertrude, Barbara Hannigan as Ophelia and John Tomlinson as the Ghost. Dean has worked with librettist Matthew Jocelyn on distilling a new opera from Shakespeare's classic play. The production will return for the Glyndebourne Tour in Autumn 2017 visiting Milton Keynes, Canterbury, Norwich, Woking and Plymouth.
> Opera info

Full information across the 2016/17 season can be searched at the Performances area of our website.
> News Search
Mailing List
Sign up for news updates and offers via email
SIGN UP
ONLINE SCORES