2018/19 Highlights from Boosey & Hawkes London
(August 2018)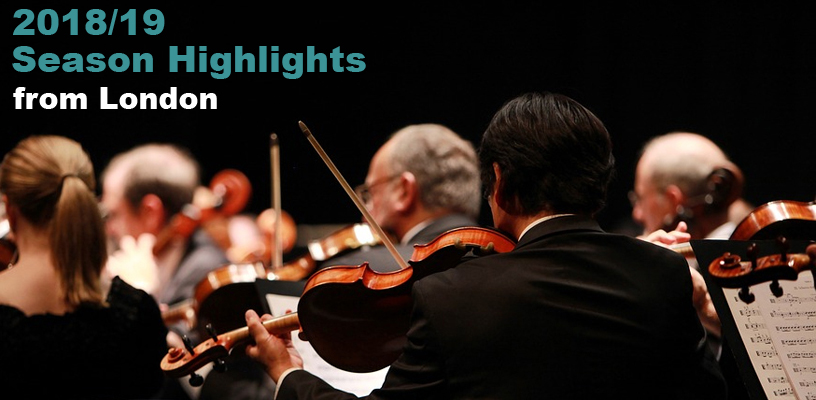 The coming season brings an extensive collection of new and recent works by Boosey & Hawkes composers, together with celebrations for Karl Jenkins's 75th and Louis Andriessen's 80th birthdays in 2019.
Here are highlights selected by Boosey & Hawkes in London taking place in Europe, Asia and Australasia.

For season highlights taking place in North, South and Latin America, click here.


2018
6 Sep, Brisbane
Kats-Chernin Lebewohl (world premiere)

The premiere of Elena Kats-Chernin's third piano concerto, Lebewohl, sees her reunited with soloist Tamara-Anna Cislowska and the Queensland Symphony Orchestra under Alondra de la Parra (6 Sep). The work reimagines a series of farewell contemplations from JS Bach to his beloved first wife Maria Barbara, who died and was buried in 1720 while the composer was away from Köthen on a trip with his employer Prince Leopold.
> Concert info 

6 Sep, London / 2 Nov, Berlin
Jenkins The Armed Man

Karl Jenkins's The Armed Man: A Mass for Peace is performed at Westminster Central Hall in London (6 Sep) and the Mercedez-Benz Arena in Berlin (2 Nov) with over 3000 voices conducted by the composer, as the centenary of World War I Armistice approaches. His new Lamentation, premiered at the Swansea Festival (6 Oct) sets poetry by the young Syrian war refugee Amineh Abou Keresh.
> Armed Man in London 
> Armed Man in Berlin 
> Lamentation in Swansea 

12 Sep, Frankfurt
Neuwirth Lost Highway (German premiere)

Olga Neuwirth's operatic version of David Lynch and Barry Gifford's film noir psychodrama Lost Highway receives its German premiere from Frankfurt Opera (opening 12 Sep) with 6 performances. The new production by Yuval Sharon, conducted by Karsten Januschke, is staged at the Bockenheimer tram depot.
> Opera info 

18 Sep, Turin / 19 Sep Milan
Golijov Azul (Italian premiere)

The MiTo SettembreMusica Festival in Turin and Milan plays host to the Italian premiere of Osvaldo Golijov's Azul. Enrico Dindo is cello soloist with the Orchestra Sinfonica Nazionale della RAI conducted by Stanislav Kochanovsky. The concerto is a set of cosmic reflections on the intense blue of sunny skies, journeying through a series of Baroque instrumental forms.
> Concert info 

25-29 Sep, Trondheim
Van der Aa feature including Blank Out

A special focus on Michel van der Aa's music at the Trondheim Chamber Music Festival featuring nine works. The first Scandinavian staging of the 3D opera Blank Out features Miah Persson on stage and Roderick Williams on film, plus highlights including the Norwegian premieres of Spaces of Blank with Christianne Stotijn, the clarinet concerto Hysteresis with Kari Kriikku and the Grawemeyer Award-winning Up-close.
> Festival info 

27 Sep – 19 Dec, Paris
Vivier feature at Festival d'Automne

The Festival d'Automne in Paris presents a major retrospective of Claude Vivier's music. Orchestral music includes Orion conducted by Christian Macelaru (27 Sep) and Siddhartha under Olari Elts (25 Oct). Events culminate in eight performances of Peter Sellars's staging of the opera Kopernikus at the Théâtre du Ville and Nouveau théâtre de Montreuil (4-19 Dec).
> Festival info 

27 Sep, Lille
Lindberg TEMPUS FUGIT (French premiere)

Magnus Lindberg's two year residency with the Orchestre National de Lille is launched with the French premiere of his recent orchestral work TEMPUS FUGIT under the baton of Alexandre Bloch (27 Sep). This season also brings the work's Japanese premiere with Hannu Lintu heading the New Japan Philharmonic (19 Oct) and Lindberg himself conducting the Turku Philharmonic (29 Nov).
> Concert info 

4 Oct, Berlin / 25 Oct, Amsterdam
Dean Cello Concerto (German/Dutch premieres)

Brett Dean's Cello Concerto, premiered in Sydney in August, travels with soloist Alban Gerhardt to the Berlin Phiharmonic under Sakari Oramo (4 Oct) and the Amsterdam Cello Biennale with the Antwerp Symphony Orchestra and Klaus Mäkelä (25 Oct). The new work follows the success of Dean's Viola Concerto and his Grawemeyer Award-winning violin concerto The Lost Art of Letter Writing.
> Berlin info 
> Amsterdam info 

4 Oct, Cologne
Birtwistle Keyboard Engine (German premiere)

Tamara Stefanovich and Pierre-Laurent Aimard perform Harrison Birtwistle's new two piano work Keyboard Engine at the Cologne Philharmonie (4 Oct), with further performances in Zürich (16 Nov), Luxembourg (11 Jan) and Amsterdam (2 May). New Birtwistle miniatures this season include a fanfare for Simon Rattle's opener with the London Symphony Orchestra (16  Sep) and a string duo for the Nash Ensemble at the Wigmore Hall (12 Apr).
> Concert info 

5 Oct, Graz
Deutsch Murales (world premiere)

Bernd Richard Deutsch's new commission for the Steirischer Herbst festival in Graz accepts the challenge of combining ensemble and orchestra, here Klangforum Wien and the RSO Vienna under Johannes Kalitzke. The ensemble is treated as a 'super-instrument' – like an organ with sixteen stops, and its confrontation with the orchestra generates the same energy in time and space that the composer has observed in Jackson Pollock's 1943 'Mural'.
> Concert info 

6 Oct, Cumnock / 4 Nov, London
MacMillan All the Hills and Vales Along (world premiere)

Tenor Ian Bostridge is soloist in James MacMillan's new oratorio, receiving first performances at the Cumnock Tryst festival (6 Oct) and with the London Symphony Orchestra and Chorus at the Barbican (4 Nov). Commissioned by 14-18 NOW, the work employs texts by the Scottish poet Charles Hamilton Sorley, who died at the Battle of Loos in 1915. The fourth movement sets his poem 'When You See Millions of the Mouthless Dead' discovered in his kitbag after his death.
> Cumnock info 
> London info 

31 Oct, Rome
Arnesen So that the World may Believe (world premiere)

Kim André Arnesen's new score for choir, trumpet and strings, So that the World may Believe, receives a prestigious premiere to open the Vatican's International Festival of Sacred Music and Art. The text combines Psalms 96 and 100 with poety by Susan Palo Cherwien. The programme at St Paul Outside the Walls also includes the Italian premiere of Arnesen's Holy Spirit Mass with conductors Mark Stover and Teri Larson.
> Concert info 

1 Nov, London
MacMillan Trombone Concerto (UK premiere)

The UK premiere of James MacMillan's powerful Trombone Concerto, following performances in the Netherlands, Finland, Germany and the USA, features soloist Peter Moore and the London Symphony Orchestra under Gianandrea Noseda (1 Nov). This season also sees the concerto travelling to Antwerp (24 Nov), Geneva (27 Nov), Lausanne (29 Nov) and Glasgow (17 Jan) with soloist Jörgen van Rijen.
> Concert info 

2 Nov, Rome
Adams The Gospel According to the Other Mary (Italian premiere)

John Adams conducts three performances of his passion oratorio The Gospel According to the Other Mary with the Santa Cecilia Orchestra and Choir (2-4 Nov). The Italian premiere is presented in co-production with the Romaeuropa Festival with soloists including soprano Kelley O'Connor, contralto Elisabeth De Shong and tenor Jay Hunter Morris.
> Concert info 

6 Nov, Berlin
Chin Gran Cadenza (world premiere)

Anne-Sophie Mutter and Ye-Eun Choi are soloists in Unsuk Chin's new work for two violins, Gran Cadenza, premiered at the Berlin Philharmonie. Manfred Honeck conducts the Staatskapelle Berlin in a concert celebrating 120 years of Deutsche Grammophon. Mutter and Choi plan to tour the work internationally, including the US premiere at Carnegie Hall in New York on 12 March.
> Concert info 

7 Nov, Sydney
MacMillan Percussion Concerto No.2 (Australian premiere)

David Robertson conducts the Australian premiere of James MacMillan's Percussion Concerto No.2 at the Sydney Opera House with soloist Claire Edwardes (7 Nov). The Sydney Symphony Orchestra with Robertson then tours the work to Europe with soloist Martin Grubinger, visiting Vienna (26 Nov), Berlin (28 Nov), Frankfurt (6 Dec) and Baden-Baden (8 Dec).
> Concert info  

7 Nov, Bournemouth / 9 Dec, Weimar
Turnage Testament (world premiere)

Kirill Karabits conducts the world premiere of Mark-Anthony Turnage's new work for soprano and orchestra, Testament. The score sets poetry from the conductor's native Ukraine, including Taras Schevchenko, Vasyl Stus and Serhiy Zhadan, spanning the Imperial, Soviet and modern eras. Following the premiere with the Bournemouth Symphony Orchestra and soloist Natalya Romaniw in Poole (7 Nov), Karabits conducts the German premiere with the Staatskapelle Weimar (9 Dec).
> Bournemouth info 
> Weimar info 

10 Nov, London
Lindberg Triumf att finnas till... (world premiere)

Magnus Lindberg's new work for choir and orchestra, translated as Triumph to Exist…, sets texts by the Swedish-speaking Finnish poet Edith Södergran. Dying early at age 31 in 1923, she combined elements of symbolism, expressionism and futurism. Vladimir Jurowski conducts the world premiere with the London Philharmonic Orchestra and Choir (10 Nov) and the Portuguese premiere follows in Lisbon with the Gulbenkian Orchestra and Choir under Hannu Lintu (31 Jan).
> Concert info 

23-25 Nov, Berlin
Bernstein 100 at Komische Oper

The Komische Oper builds a Leonard Bernstein 100 festival around the opening night of its new production of Candide directed by Barrie Kosky, with Allan Clayton in the title role and Anne Sofie von Otter as the Old Lady. The celebration also features Symphony No.2: The Age of Anxiety, On the Waterfront live with orchestra, chamber concerts and discussions including Bernstein's daughter Nina.
> Festival info 

29 Nov, London / 13 Feb, Sydney
Reich Music for Ensemble and Orchestra (UK/Australian premieres)

Following its world premiere in Los Angeles, Steve Reich's new Music for Ensemble and Orchestra travels to Europe for a performance by the London Symphony Orchestra under Kristjan Järvi at the Barbican (29 Nov). The Australian premiere by the Sydney Symphony Orchestra conducted by David Robertson is at the Sydney Opera House (13 Feb), and further performances are planned by the San Francisco Symphony, New York Philharmonic and Baltic Sea Philharmonic.
> London info 
> Sydney info 

6 Dec, Hamburg
Lindberg Accused (German premiere)

Sakari Oramo conducts the German premiere of Magnus Lindberg's Accused with Anu Komsi as the vocal protagonist and the NDR Elbphilharmonie. Premiered in 2015, the work explores the relationship between individual and the state through interrogations and trials in Revolutionary France, the Cold War in East Germany and modern America. Further performances with Anu Komsi are planned around Europe in Autumn 2019. 
> Concert info 

2019
16 Jan, London / 19 Jan, Amsterdam
Andriessen Agamemnon (UK/Dutch premieres)

First European performances of Louis Andriessen's new orchestral work Agamemnon, premiered by the New York Philharmonic in October, promise to be a highlight of his 80th birthday year. Marin Alsop conducts the UK premiere with the London Philharmonic Orchestra (16 Jan) and the Dutch premiere is given in a ZaterdagMatinee concert at the Concertgebouw by the Netherlands Radio Philharmonic Orchestra under JoAnn Falletta (19 Jan).
> London info 
> Amsterdam info 

19 Jan, Amsterdam
Chin Le Chant des Enfants des Étoiles (Dutch premiere)

Sharing the ZaterdagMatinee programme at the Concertgebouw with Andriessen's Agamemnon (see above) is the Dutch premiere of Unsuk Chin's Le Chant des Enfants des Étoiles. The Netherlands Radio Philharmonic Orchestra is joined by the Groot Omroepkoor under JoAnn Falletta. The oratorio-like score contemplates man's relationship with the cosmos, with texts drawn from 20th-century poets including Fernando Pessoa, Giuseppe Ungaretti and Octavio Paz.
> Concert info 

10 Feb, Cardiff / 3 Mar, Glasgow / 10 Mar, Birmingham / 16 Mar, Manchester
Jenkins The Armed Man (75th birthday tour)

Karl Jenkins celebrates his 75th birthday with a UK tour visiting St David's Hall in Cardiff (10 Feb), Royal Concert Hall in Glasgow (3 Mar), Symphony Hall in Birmingham (10 Mar) and Bridgewater Hall in Manchester (16 Mar). The programme includes The Armed Man: A Mass for Peace, his recent organ concerto 6000 Pipes, selections from Symphonic Adiemus and Palladio.
> Concert info 

17 Feb, Paris
Rautavaara Two Serenades (world premiere)

Festival Présences in Paris hosts the world premiere of Einojuhani Rautavaara's Two Serenades for violin and orchestra. Composed at the end of his life, the pair of serenades are dedicated to love and to life, and the orchestration was completed by Kalevi Aho. Hilary Hahn is soloist at the Maison de la Radio with the Orchestre Philharmonique de Radio France conducted by Mikko Franck.
> Concert info 

17 Feb, Saarbrücken
Little Soldier Songs (German premiere)

The first German staging of David T. Little's full-evening multimedia work is given by the Saarländisches Staatstheater, directed by Jochen Strauch. Soldier Songs combines elements of theatre, opera, rock-infused-concert music, and animation to explore the perceptions versus the realities of the Soldier, the exploration of loss and exploitation of innocence, and the difficulty of expressing the truth of war.
> Production info 

21 Feb, Liverpool
Turnage Symphonic Movements (UK premiere)

The Royal Liverpool Philharmonic presents the UK premiere of Mark-Anthony Turnage's Symphonic Movements, following performances in the USA and New Zealand. The five movement work, conducted in Liverpool by Carlos Kalmar, is a memorial for Richard Rodney Bennett, celebrating the wit and charm of the composer, pianist and jazz musician who was a close friend of Turnage.
> Concert info 

23 Feb, Manchester
Holloway Trumpet Concerto (world premiere)

Håkan Hardenberger is soloist in Robin Holloway's new work for trumpet and orchestra, premiered by the BBC Philharmonic under John Storgårds at the Bridgewater Hall in Manchester. The work follows the success of Holloway's concertante work with tuba, Europa & the Bull, and the composer turns here to another of Ovid's Metamorphoses, with the trumpet depicting Phaethon, the son of the sun god.
> Concert info 

28 Feb, Amsterdam
Adams Girls of the Golden West (European premiere)

Following its world premiere in San Francisco last autumn, John Adams's new opera about the women caught in the Californian Gold Rush travels to Dutch National Opera for seven performances. Peter Sellars's production is conducted by Grant Gershon, with the Rotterdam Philharmonic and an outstanding cast of young singers including Julia Bullock, Davone Tines and Paul Appleby.
> Opera info 

3-13 Mar, Berlin
Stravinsky festival at the Konzerthaus

The Konzerthaus in Berlin presents Absolute Stravinsky!, a festival combining classic repertoire such as the three early ballets for Diaghilev, the Violin Concerto and the Symphony of Psalms, with a range of novelties across the composer's output. Iván Fischer is master of ceremonies, conducting the Royal Concertgebouw Orchestra, the Budapest Festival Orchestra and the Konzerthausorchester, with the festival also embracing chamber concerts and experimental productions.
> Festival info 

17 Mar, Strasbourg
Ginastera Beatrix Cenci (French premiere)

Opéra National du Rhin presents the first French staging of Alberto Ginastera's Beatrix Cenci, with seven performances in Strasbourg and Mulhouse. Retelling the shocking tale of a late 16th Italian family, caught in a web of murder and perversity, Ginastera's opera homes in on the tragic fate of the heroine Beatrice. The new production by prominent South American director Mariano Pensotti is conducted by Marko Letonja with the Orchestre philharmonique de Strasbourg.
> Opera info 

19 Mar, Brussels / 25 May, London
Turnage Winter's Edge (world premiere)

Mark-Anthony Turnage's new string quartet for the Piatti Quartet, Winter's Edge, is premiered at the Flagey's Klarafestival in Brussels (19 Mar), with the first UK performance following at the Wigmore Hall (25 May). The quartet has recently recorded Turnage's Twisted Blues with Twisted Ballad for release on the Champs Hill label in October.
> Concert info

24 Mar, Augsburg
Little JFK (European premiere)

David T. Little's opera, exploring the last hours of President Kennedy in Fort Worth before his assassination in Dallas, has its European premiere staged by Theater Augsburg. The new production by Roman Hovenbitzer, conducted by Lancelot Fuhry, receives seven performances at the martini-Park.
> Opera info 

4 Apr, Liverpool
Kats-Chernin Ancient Letters (European premiere)

Harpischordist Mahan Esfahani is soloist in the European premiere of Elena Kats-Chernin's Ancient Letters, with the Royal Liverpool Philharmonic Orchestra conducted by Elim Chan. The work explores a lost world depicted in fourth century documents found on the Silk Road, drawing the composer back to her time spent living in the fabled city of Samarkand.
> Concert info 

28 Apr, Berlin
Glanert Oceane (world premiere)

Detlev Glanert's latest opera, based on a story by Theodor Fontane in his bicentenary year, is unveiled at the Deutsche Oper in Berlin. Donald Runnicles conducts five performances of the production by Robert Carsen with Maria Bengtsson as the mysterious woman from the sea who disrupts life and love in human society. Glanert has collaborated again on the libretto with Hans-Ulrich Treichel following their success with Caligula.
> Opera info 

5 May, Basel / 18 May, Seoul
Deutsch Sheng Concerto (world premiere)

Bernd Richard Deutsch's new concerto for sheng virtuoso Wu Wei is premiered by the Basel Sinfonietta. Baldur Brönnimann conducts the first performance at the Pantheon Basel in a programme that also includes the Swiss premiere of Isang Yun's Symphony No.2. Conductor and soloist reunite for the work's Asian premiere with the Seoul Philharmonic at the LOTTE Concert Hall (18 May).
> Concert info 

9 May, Cologne / 10 May, Amsterdam
Van der Aa Double Concerto (world premiere)

Violinist Patricia Kopatchinskaja and cellist Sol Gabetta are soloists in Michel van der Aa's new Double Concerto at the Cologne Philharmonie within the city's Eight Bridges festival (9 May). The Royal Concertgebouw Orchestra under Peter Eötvös give the Dutch premiere the following day at the Concertgebouw in Amsterdam (10 May).
> Cologne info 
> Amsterdam info 

16 May, Leipzig
Currier Aether (European premiere)

Sebastian Currier's new work for violin and orchestra, Aether, is a joint commission within the partnership of the Boston Symphony and Leipzig Gewandhaus – both led by conductor Andris Nelsons. Baiba Skride gives the world premiere in Boston (2 May) followed by the European premiere in Leipzig (16 May). Aether refers to the 19th century idea of the invisible substance connecting the celestial bodies, which Currier has explored in musical terms.
> Concert info 

23-26 May, Amsterdam
Andriessen at 80 festival

The Netherlands salutes its leading composer with a major festival at the Muziekgebouw in Amsterdam as an upbeat to his 80th birthday on 6 June. The six concert programmes include Asko|Schönberg in La Passione, I SOLISTI in De Staat, Nieuw Amsterdams Peil in a double bill of Odysseus' Women and Anaïs Nin, and recitals by electric violinist Monica Germino and pianist Ralph van Raat.
> Festival info 

14 Jun, Amsterdam
Birtwistle Responses (Dutch premiere)

Pierre-Laurent Aimard is soloist in the first Dutch performance of Birtwistle's recent work for piano and orchestra, Responses, with the Royal Concertgebouw Orchestra conducted as at its premiere by Vladimir Jurowski. Bearing the teasing subtitle, Sweet Disorder and the Carefully Careless, the work is constructed as an intricate multi-layered hocket between the soloist and the orchestral tutti.
> Concert info 

15 Jun, Manchester
Simpson Clarinet Concerto (world premiere)

Mark Simpson is soloist in his own new Clarinet Concerto, premiered by the BBC Philharmonic conducted by Ben Gernon at the Bridgewater Hall. This is the latest commission in Simpson's series of works for the orchestra under his role as Composer in Association, following his recent Cello Concerto for Leonard Elschenbroich.
> Concert info   


Also visit our Season Highlights from Boosey & Hawkes in New York for events in North and South America.

Boosey & Hawkes Composer News