Alan Curtis's Complesso Barocco edition restores Vivaldi
(January 2014)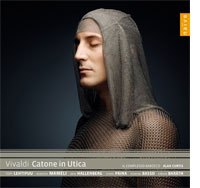 Vivaldi's opera Catone in Utica is completed in the Complesso Barocco series, with an acclaimed recording on Naive.
The latest release in Alan Curtis's Il Complesso Barocco series is a new performing edition of Vivaldi's 1737 three-act opera Catone in Utica. The opera sets one of Metastasio's most dramatic libretti, describing the last stand of the Roman Republic's army under Marcus Cato against the emergent imperial forces led by Julius Caesar. Curtis recorded the opera last year in Naïve's Vivaldi Edition, revealing some of the composer's finest, most mature and original arias, while demonstrating a highly effective solution to the challenge of the missing first act.

"For his new recording, Alan Curtis uses a completion by Alessandro Ciccolini, who, mindful that Vivaldi frequently adapted vocal music for his instrumental works and vice versa, has composed the missing passages using themes from the concertos as his starting point. His arias dovetail beautifully with Vivaldi's scheme of things... The performance is glorious. The conducting and the playing have tremendous energy, and the singing is to die for."
The Guardian

"Ciccolini and Curtis deserve enormous credit for transforming an incomplete obscurity into a coherent and compelling opera."
Gramophone

"The seemingly indefatigable Alan Curtis directs with liveliness and stylistic assurance and the cast could hardly be bettered. The opera survives incomplete, but this is a fascinating and apt reconstruction and there is some marvellous stuff here."
BBC Music Magazine

The full score and vocal score of Catone in Utica are in preparation for sale, including an appendix containing Ciccolini's cadenzas and da capo variations for all the arias. This will be followed by new editions of Handel's Giulio Cesare as recorded by Curtis in 2012 and Monteverdi's L'Incoronazione di Poppea, providing opera houses with practical, performing materials for these two major stageworks. Explorations of rarer repertoire will include Cesti's Il Pomo d'Oro, Conforto's Nitteti, and Handel's arrangement of Vinci's Semiramide as heard at the Wiener Kammeroper last October.

The Complesso Barocco edition was launched last year with the highly successful Drama Queens aria collection prepared for and toured internationally by Joyce DiDonato.

In celebration of the Gluck tercentenary, Alan Curtis conducts a concert performance of the composer's opera Demofonte at the Theater an der Wien on 23 November, the first performance of his new edition. The opera, which sets a libretto by Metastasio, dates from Gluck's early years in Milan and was premiered at the Regio Ducal theatre in 1743.


> Further information on Work: Catone in Utica
> News Search
Mailing List
Sign up for news updates and offers via email
SIGN UP
ONLINE SCORES