Alberto Ginastera: Premiere of Concierto Argentino
(November 2011)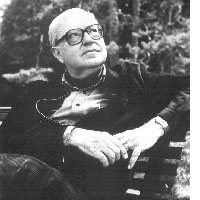 The Argentine composer's first work for piano and orchestra is reintroduced after more than 75 years
For decades, pianists have performed and championed the two piano concerti by celebrated Argentine composer Alberto Ginastera (1916-1983). Unknown to many is Ginastera's first piece for piano and orchestra, Concierto Argentino, written at age 19 in 1935. This early work was performed only once, by the pianist it was dedicated to, Hugh Balzo, and withdrawn following its premiere. On December 10, 2011, Concierto Argentino will be reintroduced for the first time in over 75 years in a concert paired with his Piano Concerto No. 1 (1961) and Piano Concerto No. 2 (1972), showcasing the complete arc of the composer's writing for piano and orchestra over his career. The featured soloist is pianist and Ginastera champion Barbara Nissman, who performs these works with the University of Michigan's University Symphony Orchestra and conductor Kenneth Keisler at the University of Michigan's Hill Auditorium.

Themes found in Concierto Argentino hint at works that followed shortly after in his young career, including melodies that appear in Panambi (1934-36); Three Argentine Danzas (1937); and Suite des Danzas Criollas (1946). Throughout the work are Latin-infused dance tunes and even a tango section. Nissman, the featured soloist, worked closely with the composer, first meeting him while performing Piano Concerto No. 1 in 1970 at the same venue. Nissman and Ginastera had a close professional relationship, with the composer eventually dedicating his final completed work to her, Piano Sonata No. 3 (1982).

Nissman will also perform the original version of Piano Concerto No. 2 in this concert. This performance is part of a festival celebrating the composer, titled Vivia Ginastera! (December 6-11), featuring lectures and concerts with other chamber works. A recording of Concierto Argentino, Piano Concerto No. 1 and the original version of Piano Concerto No. 2 featuring Nissman and the University Symphony Orchestra will be available at a later date.

> For more information on Alberto Ginastera, click here.
> For more information about the concert and festival, click here.
> News Search
Mailing List
Sign up for news updates and offers via email
SIGN UP
ONLINE SCORES