Andriessen: Writing to Vermeer in Heidelberg
(September 2018)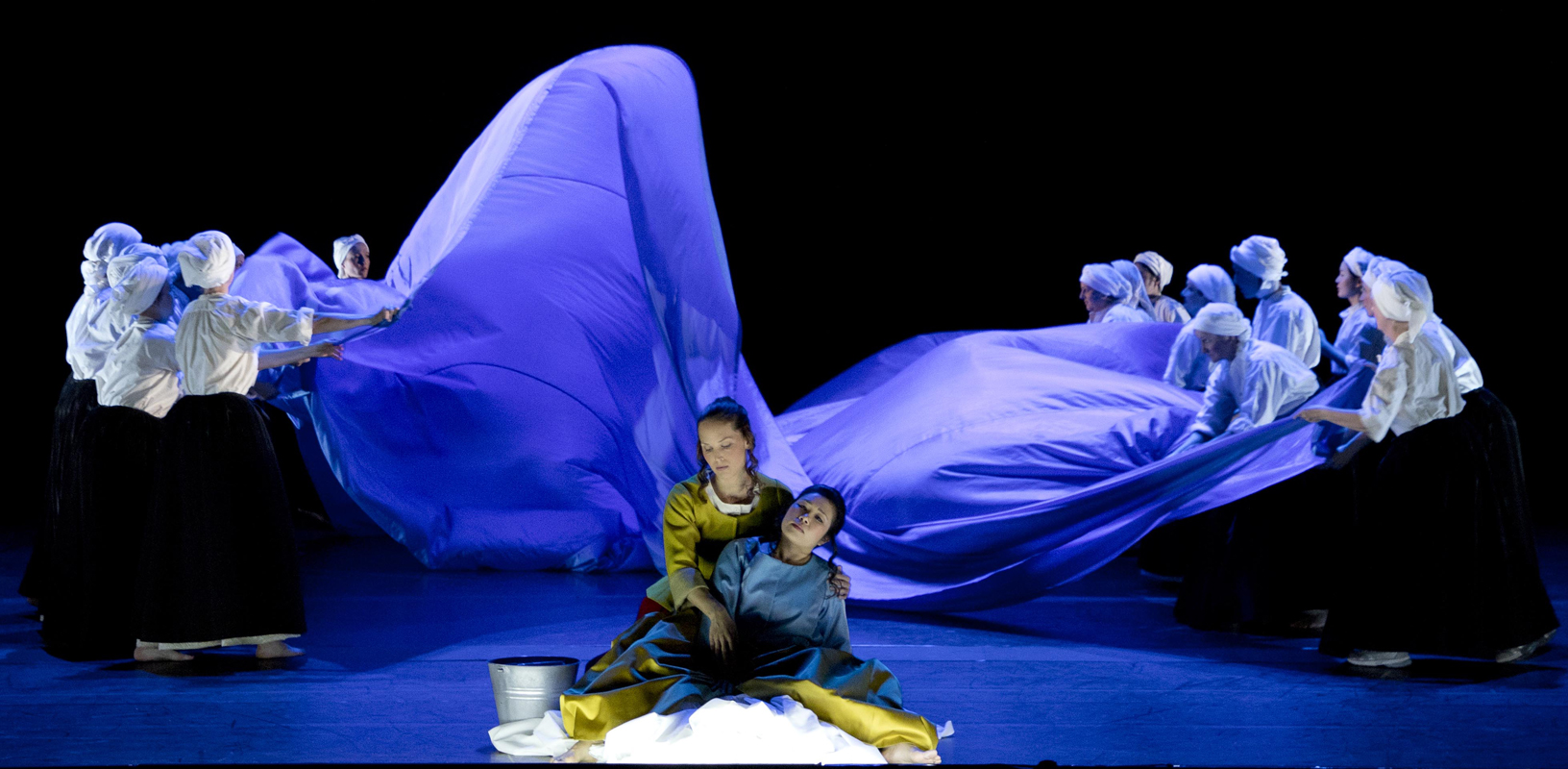 Louis Andriessen's opera about the Delft artist and the women in his life returned to the stage in Heidelberg in May, attracting plaudits from audience and press alike.
Louis Andriessen's opera Writing to Vermeer received its German premiere at the Theater Heidelberg in May - the work's first new production since its initial international run of performances in 1999/2000. Johannes von Matuschka's staging, conducted by Dietger Holm, offered an alternative vision of the opera, focusing on the intimate interiors of Vermeer's paintings. This was in marked contrast to the spectacular original production by Peter Greenaway and Saskia Boddeke with its sophisticated film sequences, torrential flooding of the stage and livestock in the theatre.
Writing to Vermeer is built from letters sent to the Delft artist by the women in his life, combining Andriessen's music with a libretto by Greenaway and electronic inserts by Michel van der Aa. It originally travelled from the Netherlands Opera to the Adelaide Festival and Lincoln Center in New York, the London Sinfonietta presented a concert performance at the Southbank Centre, and the opera was released on disc by Nonesuch in 2006. With a compact cast of female and children's voices and its medium-sized orchestra, the opera is well suited to smaller opera theatres, as demonstrated by the new production in Heidelberg.
"Overall, Writing to Vermeer is a very unusual piece. Minimal action and abundant artistic craft result in a total work that stimulates the imagination and tells of Vermeer's era, without becoming a history lesson."
Das Opernglas
"With his characteristic chamber music-like scoring, Andriessen assembles the most heterogeneous stylistic patterns in the manner of a pasticcio, mixing minimalist constructivism with jazz sounds, strict neoclassicism with lyrical vocal phrases, and composing baroque quotations from Sweelinck and Lully in his own idiom. Above all the opera captures a poetic, intimate, colourful tone… There was strong, unanimous applause."
Opernwelt
This autumm brings a special feature on the composer's music presented by the New York Philharmonic under its new Dutch Music Director Jaap van Zweden. The October series entitled The Art of Andriessen includes the world premiere of Agamemnon, commissioned by the orchestra with support from the Marie-Josée Kravis Prize for New Music. This 20-minute tone poem energetically depicts the Greek warrior and the characters surrounding him in the Trojan war. The score travels to Europe in January with performances by the London Philharmonic Orchestra conducted by Marin Alsop and the Netherlands Radio Phiharmonic under JoAnn Falletta within the Zaterdag Matinee series at the Concertgebouw.
Andriessen's 80th birthday falls on 6 June 2019 and the preceding month launches celebrations with a new work commissioned by the Los Angeles Philharmonic and a concert series at the Muziekgebouw in Amsterdam.
> Further information on Work: Writing to Vermeer
Photo: Theater Heidelberg/Sebastian Bühler

Boosey & Hawkes Composer News