Andriessen's De Materie at New York's Park Avenue Armory
(February 2016)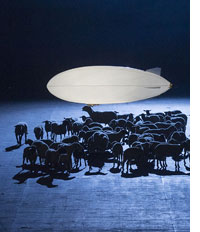 De Materie will receive its North American stage premiere at New York's Park Avenue Armory this March.
At the US West Coast premiere of
De Materie
(concert version) in April 2014, the
Los Angeles Times
noted that Louis Andriessen's piece "is the Dutch opera that the world at large had long been waiting for." This monumental work has received critical acclaim since the premiere at the Netherlands Opera in 1989. A stagework comprising soprano and tenor soloists, two speakers, eight voices, and a large ensemble,
De Materie
has garnered a commanding presence among the most edgy and juxtaposed operas written in the last few decades. The Park Avenue Armory in New York City has embraced Andriessen's music — specifically, this work — and has scheduled it for its North American stage premiere 22–30 March.
Andriessen's
De Materie
(Dutch for "Matter"), which will be directed by Heiner Goebbels, covers as much ground as one can imagine. Divided into four parts,
De Materie
traverses musical styles from the Renaissance to the boogie-woogie of the mid-twentieth-century. Andriessen incorporates disparate texts from Nicolaes Witsen, David van Goorle, Hadewijch, M.H.J. Schoenmaekers, M. van Domselaer-Middelkoop, Willem Kloos, and Marie Curie, commenting on topics spanning mysticism, shipbuilding, atomic energy, and literature.
De Materie
is what one makes of it; ambitious and inspired, the Park Avenue Armory's Wade Thompson Drill Hall makes a most appropriate location for a work that defies categorization.
For more information on the production,
click here
.


De Materie
will be performed by the International Contemporary Ensemble, under the direction of Peter Rundel, featuring ChorWerk Ruhr. Louis Andriessen and Heiner Goebbels will participate in a talk on Saturday, 26 March, moderated by Park Avenue Armory Artistic Director Pierre Audi. On 23 March, Andriessen will participate in the Armory's recently announced
Artist Studio series
, joined by pianist Jason Moran for an evening spotlighting jazz influences and other improvisations.
"Epic … an unclassifiable hybrid of theatre, narration, singing, instrumental music and philosophical reflection … [with] absolutely compelling materiality"
—
The Guardian
> Further information on Work: De Materie
Heiner Goebbels' production of De Materie (photo: Ruhr Triennale/Wonge Bergmann)
> News Search
Mailing List
Sign up for news updates and offers via email
SIGN UP
ONLINE SCORES