Anna Clyne: The Seamstress receives UK premiere
(December 2015)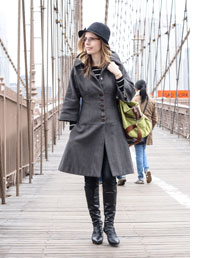 Anna Clyne's new work for violin and orchestra, The Seamstress, receives its first European performance at the Barbican in London on 15 January with Jennifer Koh and the BBC Symphony Orchestra.
British-born, American-resident composer Anna Clyne has shown a special affinity with composing for string instruments, and her recent work for violin and orchestra, The Seamstress, receives its UK premiere at the Barbican in London on 15 January. Jennifer Koh is soloist in this first European outing for the work, following her performances with the Chicago Symphony Orchestra and São Paulo Symphony Orchestra, and in London she is joined by the BBC Symphony Orchestra and its Chief Conductor Sakari Oramo. The Barbican performance will be broadcast on BBC Radio 3.

Anna Clyne describes The Seamstress as an 'imaginary ballet', drawing together elements of weaving and storytelling: "Alone on the stage, the seamstress is seated, unraveling threads from an antique cloth laid gently over her lap. Lost in her thoughts, her mind begins to meander and her imagination spirals into a series of five tales that range from love to despair, and that combine memory with fantasy." Clyne's starting point for the work was the recollection of a WB Yeats's poem A Coat which opens:

I made my song a coat
Covered with embroideries
Out of old mythologies
From heel to throat...

Memories of this Yeats poem, linked to the Irish roots on Clyne's mother's side, combine with the simple melodies she explored when learning folk fiddle in Chicago, to create the soundworld of The Seamstress. The Philadelphia Inquirer describes how "a sinewy, Irish-inflected theme... weaves its way into its own sphere, almost like a passacaglia that ties together the music's travels... The 22-minute work has plenty of solo opportunities for Jennifer Koh but with few of the violinist vs. orchestra dynamics of a concerto... The expansively melodic piece... is entirely winning."

> Visit the Barbican website

Starting as a cellist, and turning her attention to violin in recent years, Clyne has created a series of works focusing on strings, alongside her compositions for full orchestra. Her output includes two string ensemble works Within Her Arms (2008-09) and Rest These Hands (2014), together with the double violin concerto with strings Prince of Clouds (2012), which has been programmed widely by American orchestras with violin soloists Jennifer Koh and Jaime Laredo and released on disc (Cedille 90000 146). Clyne's collaborative project entitled The Violin was released as a DVD box set in 2014, featuring works for solo violin performed by Amy Kauffman and Cornelius Dufallo accompanied by stop motion animations by visual artist Josh Dorman (VisionIntoArt Records).

Anna Clyne's latest orchestral work, This Midnight Hour, again draws initial inspiration from poetry, here Baudelaire's early symbolist Harmonie du soir and Juan Ramón Jiménez's epigrammatic La Música. The new 12-minute work was toured in the Paris region in November by L'Orchestre national d'Île de France conducted by Enrique Mazzola, and its US premiere is scheduled by the Seattle Symphony under Ludovic Morlot in June.

New Clyne works to be premiered in 2016 include This Lunar Beauty for soprano and chamber ensemble, commissioned by Britten Sinfonia and the Wigmore Hall with performances in Norwich, Cambridge and London (15/19/20 January), a new orchestral work for the Baltimore Symphony under Marin Alsop for premiere in May as part of Clyne's current residency, a new score for 100 cellos entitled Lines commissioned by the Los Angeles Philharmonic for unveiling at the Piatigorsky International Cello Festival in May, and a new ballet score in collaboration with choreographer Kitty McNamee to be premiered at the Cabrillo Festival of Contemporary Music in August.
> Further information on Work: The Seamstress
Photo: Javier Oddo
> News Search
Mailing List
Sign up for news updates and offers via email
SIGN UP
ONLINE SCORES