Anna Clyne's 2015–16 Season Brings Multiple Premieres
(October 2015)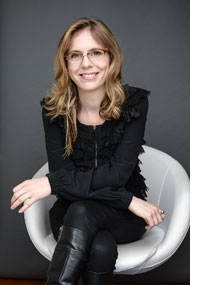 The upcoming 2015–16 season offers multiple world premieres for Anna Clyne.
After the success of last season's performances of her works including her violin concerto,
The Seamstress
, as well as
Rest These Hands
(an arrangement of several movements from
The Violin
), and
Postponeless Creature
(a movement from her upcoming multimedia chamber opera,
As Sudden Shut
), Clyne's composing schedule continues to exhibit her prolific output.
This season will see seven world premieres by Anna Clyne
, in addition to many performances of her existing works. Clyne is also in residence with the Baltimore Symphony Orchestra this season, a tenure highlighting new and recent compositions and collaborative education activities.
Click here
to view a full list of upcoming performances of Anna Clyne's works.
On 19 September, the Grand Valley State University New Music Ensemble premiered Clyne's
Just As They Are
at New Music Detroit's Strange Beautiful Music VIII series in Detroit, MI. Inspired by the musical philosophy of John Cage, Clyne quotes the pioneering composer in her work: "I like sounds just as they are. I love the activity of sound. I don't want a sound to pretend that it's a bucket – or that it's urm – president – or that it's in love with another sound [laugh]. I just want it to be a sound."
Just As They Are
is scored for amplified ensemble and features pre-recorded audio of John Cage speaking. The piece was commissioned by Grand Valley State University's Department of Music and Dance and is approximately five minutes in duration.
On 17 October, the intrepid vocal group Roomful of Teeth will premiere Clyne's
Pocket Book VIII
at National Sawdust in Brooklyn, NY (part of the SONiC Festival), a work written as a gift specifically for the ensemble. Running approximately five minutes in duration,
Pocket Book VIII
is set to Shakespeare's Sonnet 8.
Pocket Book VIII
is conceived as part of a larger, forthcoming Shakespeare sonnet project.
The world premiere of Clyne's new orchestral work,
This Midnight Hour
, performed by L'Orchestre national d'Île de France, will take place 13 November. The orchestra brings the work to multiple locations on a tour of Paris and its outlying suburbs (as well as at the Philharmonie's newly constructed concert hall). About the work, Clyne notes: "The opening to
This Midnight Hour
is inspired by the character and power of the lower strings of L'Orchestre national d'Île de France. From here, it draws inspiration from two poems—one by Charles Baudelaire and another by Juan Ramón Jiménez. Whilst it is not intended to depict a specific narrative, my hope is that the music will evoke a visual journey for the listener." The two poems referenced are Baudelaire's early symbolist "Harmonie du soir" and Jiménez's epigrammatic "La Música."
This Midnight Hour
, clocking in at 12 minutes in duration, was commissioned by L'Orchestre national d'Île de France and the Seattle Symphony.
In addition to the premieres taking place in 2015, several works will see their first performances next year. A new work written for the Britten Sinfonia,
This Lunar Beauty
—inspired by and incorporating text from W. H. Auden's poem of the same name, as well as his "The More Loving One"—will be premiered 15 January at St. Andrew's Hall in Norwich, Norfolk. Marin Alsop will also give the premieres of two new compositions by Anna Clyne: a
new work
to be premiered by the Baltimore Symphony Orchestra in May, and a
new ballet score
(collaborating with choreographer Kitty McNamee) to be premiered at the Cabrillo Festival of Contemporary Music in August. (This season, Alsop also brings Clyne's hit concert opener,
Masquerade
, to the Chicago Symphony Orchestra in November, and just recently, featured the work to open the first concert of the Baltimore Symphony's subscription season on 17 September.) Also in May 2016,
Lines
, written for one hundred cellos, will be premiered at Walt Disney Concert Hall in Los Angeles, CA as part of the Piatigorsky International Cello Festival.
Click here
for more information about Anna Clyne.
Photo: Javier Oddo
> News Search
Mailing List
Sign up for news updates and offers via email
SIGN UP
ONLINE SCORES