Bernstein 100: Rattle concerts and Total Immersion in London
(December 2017)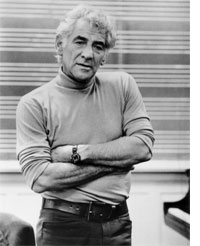 London celebrations for the Bernstein centennial over the coming months include Simon Rattle conducting Wonderful Town and a Total Immersion day devoted to the composer including a rare performance of Songfest.
A highlight of Simon Rattle's first season as Musical Director of the London Symphony Orchestra is the all-
Leonard Bernstein
programme on 16 December at the Barbican. The orchestra's centennial cycle of the composer's three symphonies is completed with Bernstein's second,
The Age of Anxiety
, part symphony, part tone poem, part piano concerto, with Krystian Zimerman as soloist, one of the leading interpreters of the work. Inspired by W H Auden's epic poem of the same name, Bernstein's work is a set of variations following four strangers struggling to combat their loneliness and isolation in an increasingly industrialised world.
The second half of the concert is a performance of Bernstein's musical
Wonderful Town
, a Rattle speciality, telling of two sisters seeking success and bright lights from their basement apartment in New York City. The all-star cast includes Danielle de Niese, Alysha Umphress, Nathan Gunn and Duncan Rock, joined by the London Symphony Chorus. A repeat performance of
Wonderful Town
is given at an early evening concert in the Half Six Fix series at the Barbican on 21 December.
The London Symphony Orchestra tours
The Age of Anxiety
with Rattle to the Philharmonie in Paris (18 December) and the Konzerthaus in Dortmund (20 December), both with Zimerman as soloist. Rattle's New Year's Eve programme with the Berlin Philharmonic at the Philharmonie includes
Three Dance Episodes
from
On the Town
and
Take Care of This House
with Joyce DiDonato as soloist (29-31 December).
The New Year launches the Bernstein centennial year of 2018 itself, paving the way towards the composer's birthday on 25 August. One of the highlights opening the year is a BBC Total Immersion day at the Barbican devoted to the composer on 27 January, featuring three concerts, film and conversation. A chamber programme at 1.00 pm sees Guildhall Musicans in
Arias and Barcarolles
,
Clarinet Sonata
,
Touches
and
Prelude, Fugue and Riffs
. The BBC Singers' concert at 5.00 pm culminates in the chamber version of
Chichester Psalms
, together with
Missa Brevis
and choral works conducted by Ragnar Bohlin.
The main evening concert brings a rare performance of Bernstein's
Songfest
with vocal soloists and the BBC Symphony Orchestra conducted by David Charles Abell. The 40-minute work was originally commissioned for the American Bicentennial Year in 1976 but was completed the following year. Scored for two mezzos, tenor, baritone, bass and orchestra,
Songfest
builds a picture of America through the words of 13 poets embracing 300 years of the country's history. The subject matter of their poetry is the American artist's experience as it relates to his or her creativity, loves, marriages, or minority problems (blacks, women, homosexuals, expatriates) within a fundamentally Puritan society. The evening programme is opened with the
Candide Overture
and includes the Plato-inspired
Serenade
for violin and orchestra.
The breadth of concert activity for Leonard Bernstein 100 demonstrates the global popularity of his music beyond American shores. January alone brings stagings of
Wonderful Town
in Toulon, its first French production, and at the Dresden Staatsoperette,
On the Town
in St Gallen in Switzerland,
Candide
in Wroclaw in Poland while the
West Side Story
film is presented with live orchestra in Barcelona and Perth, Australia. Special Bernstein programmes take place in January in Birmingham, Gothenburg, Helsinki, Hiroshima, Jerusalem, Kuala Lumpur, Lljubljana, Shanghai and Tel Aviv. Events in February start with an extraordinary Bernstein Marathon in Budapest, promising 11 concerts and 500 minutes of music, presented by Müpa and staged at the Béla Bartók National Concert Hall and the Festival Theatre on 4 February.
For full information on Leonard Bernstein at 100 events around the world visit:
https://leonardbernstein.com/at100
.
16 December 2017
7.30 pm, Barbican, London
Symphony No.2, 'The Age of Anxiety'
Wonderful Town
(concert version)
Krystian Zimerman/Danielle de Niese/
Aylsha Umphress/Nathan Gunn/Duncan Rock/
London Symphony Orchestra and Chorus/Simon Rattle
21 December 2017
6.30 pm, Barbican, London
Wonderful Town
(concert version)
Danielle de Niese/Aylsha Umphress/
Nathan Gunn/Duncan Rock/
London Symphony Orchestra and Chorus/Simon Rattle
www.lso.co.uk
27 January 2018
BBC SO Total Immersion day


1.00 pm, Milton Court, London
Arias and Barcarolles/Clarinet Sonata/
Touches/Prelude, Fugue and Riffs
Guildhall Musicians
5.00 pm, St Giles' Cripplegate, London
Hashkiveinu/Missa Brevis/
Simchu Na/The Lark - Soldier's Song/
Chichester Psalms

BBC Singers/Ragnar Bohlin
7.30 pm, Barbican, London
Candide Overture/Serenade/Songfest
Sophia Burgos/J'Nai Bridges/
Fleur Barron/Nicky Spence/Nmon Ford/
BBC Symphony Orchestra/David Charles Abell
www.bbc.co.uk
> Further information on Work: Songfest
Photo: Paul de Hueck courtesy of the Leonard Bernstein Office, Inc.
> News Search
Email Newsletters
Sign up for news updates and offers via email
SIGN UP
ONLINE SCORES