Bernstein on Broadway: back in print
(April 2008)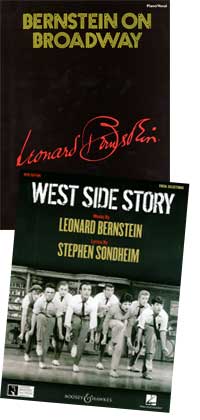 One of the classic collections of Leonard Bernstein's theatre songs has made a welcome return to print (978-0-634-09573-3). Bernstein on Broadway contains the most popular numbers from West Side Story, On The Town, Wonderful Town, Candide and Peter Pan, amounting to 30 songs in total. The album has been produced in close collaboration with the Leonard Bernstein Music Publishing Company and includes a foreword by John Mauceri and information about each stage work. Songs include: America • I Feel Pretty • Lonely Town • Maria • New York, New York • Ohio • One Hand, One Heart • Somewhere • Tonight • and more.

Buy Bernstein in Broadway from our online shop.

Also just released is a newly revised and expanded version of vocal selections from Bernstein's West Side Story. This classic collection celebrates the legacy of one of the most famous musicals of all time with 13 newly engraved songs, including five not featured in the original edition. Also featured are a show biography, plot notes, facsimiles of Bernstein's original manuscripts, and 16 pages of photos from various productions. Songs include: America • Gee, Officer Krupke • I Feel Pretty • Maria • One Hand, One Heart • Something's Coming • Somewhere • Tonight • and more.

Buy Vocal Selections from West Side Story from our online shop.

Bernstein's Candide is travelling around Europe, with Robert Carsen's controversial staging reaching English National Opera in June. Already seen at the Théâtre du Chatelet in Paris and at La Scala in Milan, Carsen's vision recaptures the satirical bite of Voltaire's original, with 'West-Failure' clearly situated in the White House and a parade of contemporary political leaders.

Buy a vocal score of Candide from our online shop.

> Further information on Work: Candide (Scottish Opera version)
> News Search