Bernstein's Wonderful Town in Manchester and on UK tour
(March 2012)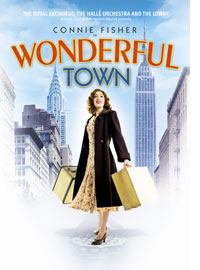 A new production of Bernstein's hit musical, Wonderful Town, opens in Manchester on 31 March starring Connie Fisher, followed by a three-month UK tour.
31 March sees the curtain go up on a new production of Bernstein's Wonderful Town, combining three Manchester companies: The Royal Exchange Theatre, The Hallé Orchestra and The Lowry arts centre. The cast is headed by Connie Fisher, star of London's West End production The Sound of Music, and musical forces are conducted by Mark Elder.

Set in 1950s New York, Wonderful Town tells of two small-town American girls from Ohio who move to a bohemian neighbourhood in Manhattan to pursue their dreams. Though down on their luck, they find the Big Apple soon works its magic through a breathless sequence of musical numbers, including Ohio, It's Love and 100 Ways to Lose a Man.

Following the Manchester run, the new production tours throughout the UK until 7 July, visiting 12 cities and amounting to 87 performances in all. This April sees Wonderful Town receive its Russian premiere in a Moscow production conducted by Wayne Marshall.

2012 is the 50th anniversary of Bernstein's West Side Story and celebrations include screenings of the classic 1961 film accompanied by live orchestra at the Royal Albert Hall in London between 22 and 24 June. The re-mastered film is shown in high definition with the original vocals and dialogue, while the Royal Philharmonic Concert Orchestra is conducted by Jayce Ogren. This follows similar events at the Hollywood Bowl with the Los Angeles Philharmonic last summer, with a cheering crowd of 22,000, and with the New York Philharmonic and Chicago Symphony Orchestra last autumn.

This year is also the 40th anniversary of Bernstein's Mass, and Kristjan Järvi conducts the stagework following his acclaimed recent recording on Chandos. The Adelaide Festival staged a new production in
March, with Jubilant Sykes repeating his role of the Celebrant, and further performances under Järvi are planned in Europe.

Wayne Marshall was conductor for a revival of Candide in Vincent Boussard's production at the Schillertheatre in Berlin last autumn and for a new staging at the Teatro dell'Opera in Rome in January.

> Further information on Work: Wonderful Town
> News Search