Birtwistle: Shadow of Night reviews
(April 2002)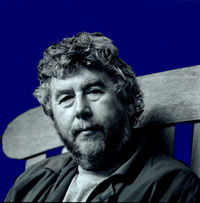 "
Harrison Birtwistle
's most impressive orchestral canvas to date". So wrote the Financial Times of
The Shadow of Night
, commissioned and premiered in January by the Cleveland Orchestra conducted by Christoph von Dohnányi. The review went on to describe how the "mesmerising" performance revealed the work's trajectory as "a powerfully concentrated 30-minute arc with a slow-burn, cumulative effect, capturing the listener with a multiplicity of open melody and intricately developed power of suggestion… Birtwistle comes across as an old master."
The Shadow of Night
was conceived by the composer as something of a mirror companion to his
Earth Dances
: whereas the 1985 work is volcanic in its forward-driving energy,
The Shadow of Night
is slow and reflective, exploring the world of melancholy as understood and celebrated by Elizabethan poets and composers. Birtwistle draws his title from a poem by George Chapman (1559-1634) which is one of the fullest explorations of the theme, extolling melancholy as an inner sombreness more fully alive than the illusions of daylight, and inhabiting a place "where night's blackbird her sad infamy sings".
"…the nature of melancholy is explored in music of hallucinatory audacity…In conceiving the work, Birtwistle drew inspiration from two dark sources: John Dowland's song,
In Darkness Let Me Dwell
, and
Melencolia I
, an engraving by Albrecht Dürer. These references inform
The Shadow of Night
in ways that are often elusive, which is as things should be: they are
starting points for a composer who has always taken his own path."
Cleveland Plain Dealer
"…an unsurpassed balance of form and content."
Financial Times
"
The Shadow of Night
does not grow; it changes… What changes are the fantastic varieties of light sent down on the different sections of the orchestra… Sir Harrison's vocabulary of orchestral sounds is extraordinary and, indeed, often so beautiful that its hedonism turns melancholy into sheer, and perhaps counterproductive, pleasure."
New York Times
(in Cleveland)
"As multilayered figures occur and pitches get stacked up, the sonorities shimmer, as if you are hearing not just harmony but the aura of harmony. On the surface this is intentionally static music that creeps along. But the kind of deep listening this transfixing performance invited revealed constant happenings: surges and spurts, overlapping and disconnected motives, inevitable collisions… Sir Harrison is one of the most ingenious composing minds around…"
New York Times
(at Carnegie Hall)
> Further information on Work: The Shadow of Night
Birtwistle photo: Richard Kalina
> News Search
Mailing List
Sign up for news updates and offers via email
SIGN UP
ONLINE SCORES