Birtwistle at 80: conversations, festivals and premieres
(April 2014)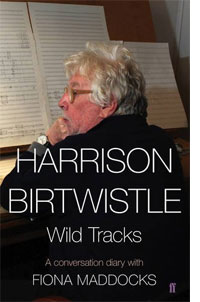 Harrison Birtwistle's 80th birthday is celebrated this summer, bringing a new book of conversations, festival features and premieres of his latest works.
The 80th birthday of Harrison Birtwistle falls on 15 July, and this year of celebrations continues with the publication on 15 May of a new book of conversations between the composer and Fiona Maddocks, entitled Wild Tracks (Faber 978-0571308118). Assembled over a six month period in 2013, the conversation diary offers rare insights into the challenges, uncertainties and rewards which have shaped Birtwistle's life and work since childhood, and which remain with him today as he enters his ninth decade.

The book views the composer in the privacy of his Wiltshire studio and garden, and in the public glare of the elite Salzburg and Aldeburgh Festivals. But mostly he is at his kitchen table, talking about the essential aspects of his life - family, cooking, cricket, landscape, pruning trees - and reflecting on the never easy process of composition. What distinguishes him and his remarkable music is an ability to see the extraordinary in the everyday, giving rise to work that is both elemental and profound. For anyone concerned with the future of music this book is essential reading.

> Buy the new book from our Online Shop

A major festival of Birtwistle's music is presented by the Barbican Centre between 16 and 30 May. The Birtwistle at 80 series opens with a semi-staged performance of Gawain [published by Universal Edition] with John Tomlinson in the role of the Green Knight and the BBC Symphony Orchestra conducted by Martyn Brabbins. As a tie-in, NMC is re-releasing The Royal Opera's recording of the opera originally on the Collins Classics label. Other highlights include a rare performance of Birtwistle's 'sheep-counting' opera Yan Tan Tethera [UE] in a semi-staging, Earth Dances [UE] by the London Symphony Orchestra conducted by Daniel Harding, and an all-Birtwistle concert conducted by Oliver Knussen including Cantus Iambeus, Fantasia on all the notes, and Silbury Air [UE]. The Barbican hosts a Birtwistle study afternoon on 25 May, including lectures by Jonathan Cross, Fiona Sampson and Paul Griffiths, and ending with Birtwistle in conversation with Fiona Maddocks.

> Birtwistle at 80 series at the Barbican

May also sees performances of Birtwistle's new song cycle setting texts by David Harsent, Songs from the same Earth, premiered at the Aldeburgh Festival last summer, and travelling with tenor Mark Padmore and pianist Till Felner to Deutschlandsberg in Austria (9 May), the Concertgebouw in Amsterdam (13 May) and the Wigmore Hall in London (18 May). Birtwistle is featured at the Brighton Festival with performances of his dramatic pastoral Down by the Greenwood Side [UE] (9-11 May) and Orpheus Elegies (11 May). A pair of new stagings of Punch and Judy [UE] open at the Berlin Staatsoper (16 May) and the Kammeroper in Vienna (22 May).

Birtwistle's most recent large-scale work, Responses for piano and orchestra, receives first performances by its co-commissioners next season with Pierre-Laurent Aimard as soloist. Following its premiere in Munich the concerto, which bears the subtitle Sweet disorder and the carefully careless, travels to Porto (1 November), London (6 December) and Boston (9 February 2015). The UK premiere of Responses by the London Phiharmonic Orchestra under Vladimir Jurowski is part of a four-concert Birtwistle mini-festival at the Southbank Centre and St John's Smith Square (4-7 December), also including the premiere of the composer's new Construction with Guitar Player, a London Sinfonietta 80th birthday tribute concert including In Broken Images and Theseus Game, and a performance of The Axe Manual by Colin Currie and Tamara Stefanovich.
> Further information on Work: Songs from the same Earth
> News Search
Mailing List
Sign up for news updates and offers via email
SIGN UP
ONLINE SCORES