Birtwistle: reviews of The Silk House Sequences
(January 2016)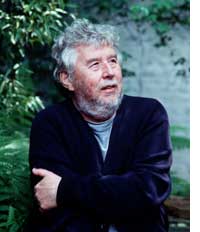 Harrison Birtwistle's third quartet composed for the Arditti Quartet, The Silk House Sequences, was premiered at the Wigmore Hall in London in November, before travelling to Milan, Huddersfield, Paris and Witten.
Harrison Birtwistle's third work for the Arditti Quartet, The Silk House Sequences, was premiered at the Wigmore Hall in London in November, travelling on to Milano Musica and the Huddersfield Contemporary Music Festival. The French premiere at the Paris Philharmonie followed in January and the German premiere is at the Witten Days for New Chamber Music in April. Immersing themselves in Birtwistle, the Ardittis last autumn performed the 9 Pieces for String Quartet and The Tree of Strings on a tour of Colombia and on an all-Birtwistle programme in Cardiff. Performances of these works can be heard on the Arditti's recent Birtwistle disc on the Aeon label (AECD1217).

The new quartet is named after Birtwistle's Wiltshire home, The Silk House, which was a silk factory in an earlier incarnation. As The Times noted, "if the title suggests smooth elegance, opulence and languor, forget it. At 81, Birtwistle is writing music that's as bristling, rhythmically abrasive, dissonant, tightly knit and mysteriously dramatic as ever."

"Birtwistle's 25-minute single movement returns to one of his long-established principles, that of meshing and layered musical clockworks (the sequences of the title) that generate a large-scale form of tremendous energy."
The Guardian

"…a tessellation of mechanised, ostinato-based small sections, spikily gestural but with nudgings of polyphony, and a stark challenge to performers in the matter of rhythm and unorthodox ensemble. Thanks to the Ardittis' calm aptitude for the most savage modernist idioms, it emerged rather wonderfully as a unified span, the sequences flowing confidently together, right down to the final, unexpected unison A."
Sunday Times

"…a perpetual motion of reinvented patterns…"
The Observer

The Holland Festival has announced the Dutch premiere of Birtwistle's The Cure in a music theatre double bill with The Corridor in June, featuring Mark Padmore and Elizabeth Atherton and the London Sinfonietta conducted by Geoffrey Paterson.

The composer has recently completed Five Lessons in a Frame, to be premiered by the London Sinfonietta on 9 June, and is embarking on a new orchestral work.
> Further information on Work: The Silk House Sequences
Photo: Hanya Chlala/ArenaPAL
> News Search
Mailing List
Sign up for news updates and offers via email
SIGN UP
ONLINE SCORES