Boosey & Hawkes Appoints Jude Vaclavik as Director of Promotion
(September 2017)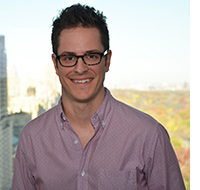 Vaclavik joins Boosey & Hawkes' promotion team in the company's New York office.
Boosey & Hawkes is pleased to announce the appointment of Jude Vaclavik as its new Director of Promotion in the New York office. Vaclavik will lead the development and implementation of composer and repertoire promotion strategy for the company's expansive activities in North and South America.

Vaclavik comes from The Juilliard School, where he worked in several different capacities over the years—as Assistant Director for Performance Activities in the Pre-College Division, and most recently as the Artistic Producer for Digital Content at Juilliard's Global Ventures Division, where he directed the vision for Juilliard Open Studios, an Apple "Best of 2015" app. Vaclavik is himself an active composer, having been commissioned by the New York Philharmonic, Lubbock Symphony Orchestra, and New York City Ballet's Choreographic Institute, among others. He holds a bachelor, master, and doctor of musical arts degree in music composition from The Juilliard School, where he studied with Christopher Rouse.

Vaclavik steps into the Director of Promotion position previously held by Steven Lankenau, who was named Vice President of Boosey & Hawkes, Inc., in 2016. In this role, Lankenau oversees the operations of New York's Editorial, Rental Library, Grand Rights Licensing, and Promotion departments. Since joining Boosey & Hawkes in 2010, Lankenau has orchestrated promotion campaigns for the centennials of Britten, Ginastera, and Bernstein, and developed major promotion initiatives for John Adams, Steve Reich, and Elliott Carter.

Boosey & Hawkes represents classical masters such as Bartók, Britten, Copland, Prokofieff, Rachmaninoff, and Stravinsky; major figures such as John Adams, Steve Reich, Osvaldo Golijov, and Meredith Monk; and current innovators like Anna Clyne, David T. Little, and Sean Shepherd.
> News Search
Mailing List
Sign up for news updates and offers via email
SIGN UP
ONLINE SCORES